By Leigh O'Connor. Images by Nikki To, supplied.
Starting his kitchen career at KFC as a teenager, Nic Wong now holds the reins at Sydney Japanese hot spot Cho Cho San in Potts Point.
Part of the Harbour City's ever-evolving restaurant scene for more than 10 years, Nic honed his craft on the pans at iconic eateries such as Rockpool, Billy Kwong, Ester and The Apollo under the tutelage of Aussie masters like Neil Perry and Kylie Kwong.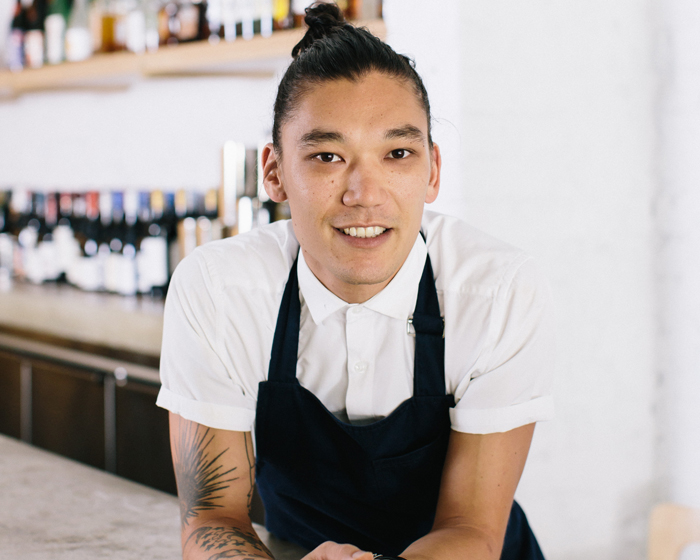 "Working for Neil was a life changing experience – his value and respect for good produce was very inspiring for me," Nic reveals.
"Neil always strived for greatness, which taught me to never settle for anything less."
As Head Chef at Cho Cho San, he approaches Japanese dining with a fresh perspective and skilled palate. Frequent trips to the Orient have brought the utmost respect for Japanese cuisine, but Nic is determined to put his own, Australian style spin on Tokyo Izakaya style fare.
An Izakaya is an informal Japanese pub, best for casual after-work drinking and tapas plates to share, so expect to snack on a pork katsu steam bun, kingfish, sesame and cucumber; or from the Hibachi grill, teriyaki fish collars and charcoal chicken.
"I hold Japanese tradition in high regard, we try to replicate this at Cho Cho San with a contemporary approach. I value my trips to Tokyo and like to think of it as my second home," he explains.
With a career path that would be the envy of any young Chef, Nic shrugs it off and says in his Chinese/Burmese family of doctors and lawyers, he is probably the 'black sheep.'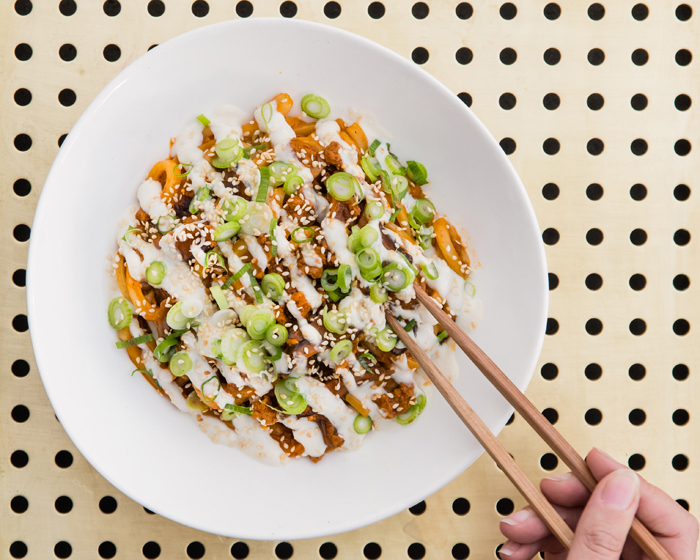 Cho Cho San's Japanese Bolognese.
His earliest memories in the kitchen are of making traditional Burmese laksa with his father and grandmother and taking his mother breakfast in bed.
"I loved my grandmother's steamed egg cake and mum's spaghetti Bolognese. My father taught me a lot about cooking, our culture of balance and generosity and how to have fun. I started taking cooking more seriously as an art form by the time I was 20."
These days he rates a dish of raw scallop, corn custard and seaweed as his most eyebrow-raising plate to hit the restaurant table.
"Texturally it was very confronting – it was a love it or hate it dish – however it got people interested to try something new."
As for his go-to staple ingredient for 2019 – it's fresh Australian seaweed for its clean, natural flavour – evident in Cho Cho San menu choices such as salt and vinegar seaweed crisp with avocado. As a spear fisherman and sea urchin diver in his spare time, it is not surprising he would choose such an ingredient.
"Sea urchin is my vice – I love this underestimated ingredient. Being in the ocean away from noise has such a soothing and calming effect."
Whether following tradition or plating up innovative new fare, Nic Wong is at the forefront of pushing the boundaries of Japanese cuisine for the Australian palate.