Australia, have you thought about where your food comes from and how it gets to your fork?
From Farm to Fork, an initiative of Landcare Australia, is a fundraising campaign all about getting together to enjoy awesome Australian food, while supporting the farmers that make it possible.
Some 157,000 farmers on 135,000 Australian farms produce 93% of the total volume of food consumed in Australia and feed 40 million people outside Australia each day.*
From Farm to Fork will support the farmers who are working to make sure our land not only produces the food we need now, but produces enough food to feed our kids – and our kids' kids. It's about helping these farmers respond to the growing number of challenges they are facing while keeping our landscapes healthy and productive.

These challenges are real.
You can change this!
Put Australia on your plate this Spring by hosting a From Farm to Fork Feast at your home, workplace, school or in your local community and asking your guests to donate -you can host any event that showcases the awesome array of Australian food we're lucky enough to enjoy! How about a traditional BBQ or a vegetarian feast? Whatever your idea, make sure it's fresh, sustainable and from the land. Click here to register.
You could also give your health a boost by taking part in a Fresh Living Challenge by eating Australian grown fresh food and raising funds -this means no processed foods, no junk food or softdrinks. Take the challenge for either a week, a month or if you really want to challenge yourself, take our special 60 day challenge. Click here to register.
Or nominate your favourite restaurant this Spring and ask them to raise a fork to our farmers and host a special From Farm to Fork restaurant event. Click here to nominate.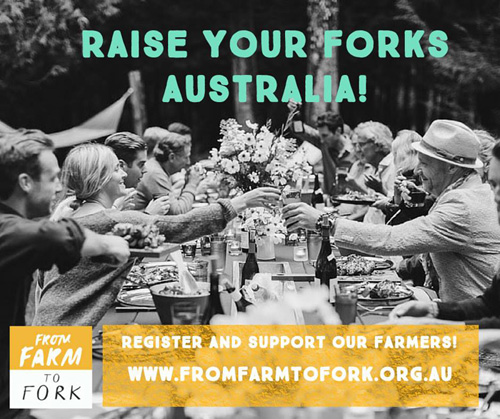 The impact of your participation in From Farm to Fork will help with 3 great initiatives that will support our farmers, help kids understand where their food comes from, and support the amazing work being undertaken by local Landcare groups that focus on agriculture.
We all love having Australian food on our forks, so get involved and support your farmers today.
If you would like to register, click here or if you would like further information contact fromfarmtofork@landcareaustralia.com.au or 02 8440 8806.
Interact on social media: @FromFarmtoFork on Instagram; From Farm to Fork15 on Facebook and Twitter-handle #fromfarmtofork15
*See facts here.