By Annabel Rainsford.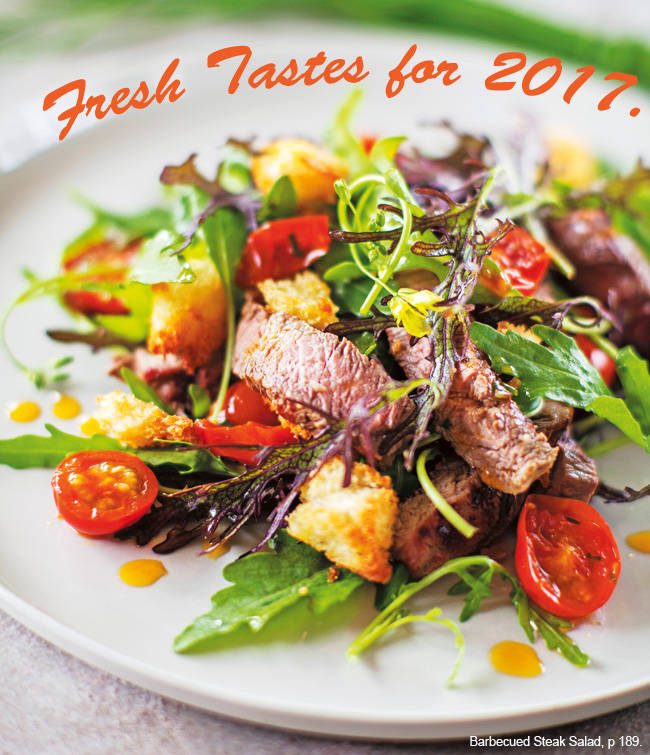 Living in the country and making the most of nearby farmers' markets two to three times a week, it's easy to see why Belinda Jeffery can craft salads with such finesse. Share in her passion for fresh, vibrant and beautiful salads in her latest cookbook, The Salad Cookbook, another stunning culmination of recipes to add to her cookbook collection.
Always hunting for innovative and surprising ways to combine seasonal flavours and textures together, Belinda provides a plethora of options to choose from, spanning from brunch, lunch and snack salads, through to substantial dinnertime dishes. Pair these with her dressings and even dessert salads, and a whole meal can develop from the rustic pages inside.
Standing by good food prepared simply, Belinda shares in tricks of the trade, with delicate salads that show off elegance, bedazzled in dainty edible flowers, to the bold salads that join the party with marinated meats and punchy dressings. Find tips for oils and vinegars, and learn how best to work with seasonal changes in produce, while still mixing it up.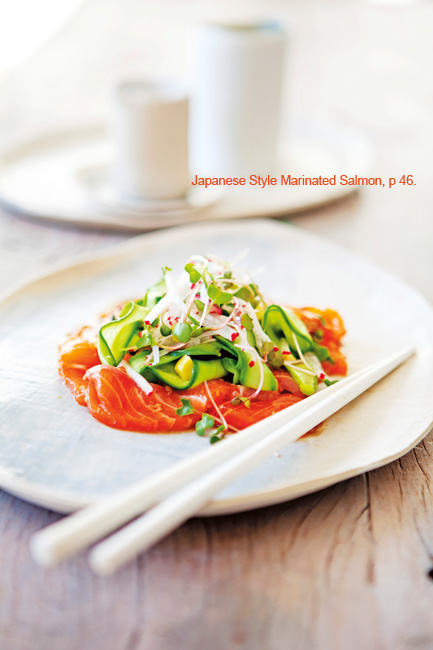 While Belinda hints at sourcing produce from your local region, recipes draw influence from around the world as seen in dishes like Japanese style marinated salmon, pickled cucumber and radish salad. A great example of a dynamic option, this dish transgresses from a perfect four person entrée option to a two person dish for Summertime mains. Loved by Belinda for its fresh feel and gentle nature, opt to enjoy this dish with chopsticks, picking through textural contrasts of silky salmon, smooth avocado, tangy radish and pickled cucumber. Certainly an accommodating option for mains, chow into a barbecued steak salad with cherry tomato vinaigrette, crunchy bread and greens, offering a little bit of everything in one serve. While the ingredients seem basic, Belinda explains how the finer details can really transform the ordinary and every day into so much more. This salad can also be enjoyed for lunch the next day – that's if there are any leftovers at all.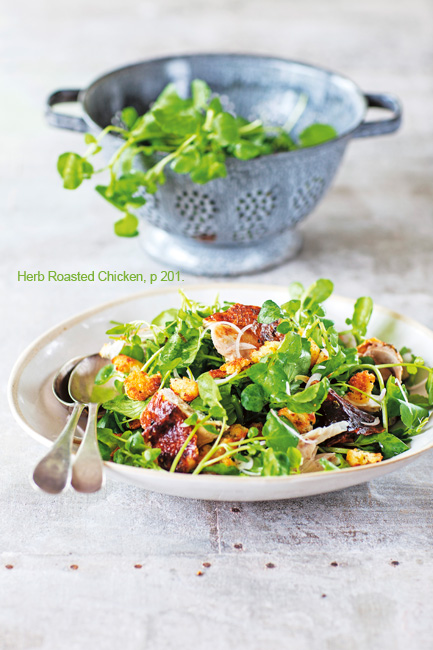 Some salads are served family gathering style, piquing interest at what may lay inside the bowl in the middle of the table. Perhaps find herb roasted chicken, fried bread and watercress salad to delve into together, sharing in subtle flavours and curious textures of this dynamic combination. Jump between the decadence of fragrant tender chicken pieces and naughty chunks of olive oil fried bread for the exciting fluffed up greens packed with nutrients that give the body a boost.
Not forgetting dessert, fruit salads are given a total make-over to result in mouth-watering excellence. Think caramelised roasted pineapple, mango and peach salad with flavours like cardamom and orange-scented yoghurt 'cheese' for a surprising citrusy twist. A squeeze of lime here, a sprinkling of seeds there and suddenly even the most basic daily ingredients are transformed into a tastebud tingling masterpiece of colour and vibrancy.
If you haven't already, it's time to make friends with salad. Let Belinda Jeffery introduce you to The Salad Book, available for purchase today.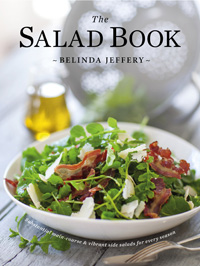 Recipes and images from The Salad Book by Belinda Jeffery with Photography by Rodney Weidland, Lantern RRP $39.99.