As Winter brings an icy chill around the country, we turn to hearty family dishes to warm the soul and appease hungry appetites. It's a comfort to always find pasta in the cupboard, garlic and parsley in the garden – that's all you need to make a tasty, tempting plate of goodness.
Whether it's spaghetti, penne, lasagne, fettucine or bow tie…pasta is an everyday meal for the masses and sure to bring smiles to faces around the dinner table.
Here's five of our favourite plates to have you saying 'Pasta la Vista, baby'!
A comforting and Wintery pasta bowl, this black lentil and vegetable bolognese has a sauce with texture, chunks and deep flavour from herbs, red wine and lentils – which stay intact and act as a replacement for meat in a classic ragu.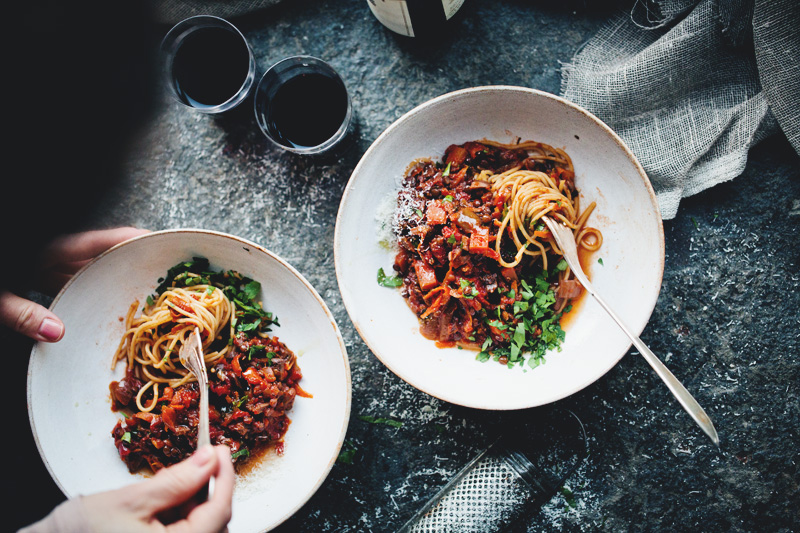 Lentils add both protein and a nice, soft and chewy consistency, while the addition of extra veggies such as mushrooms and eggplant, will add even more meaty texture – it's also a great way to sneak more vegetables into the kids' dinner!
With everyone spending a bit more time at home, it's not surprising our recipe repertoire is running dry and we are in need of culinary inspiration. How about a recipe that's easy enough to cook in under 30 minutes, but is also great for getting the kids involved and their hands busy?
Try these homestyle lamb meatballs with pasta and ricotta, a family favourite from Three Blue Ducks' Chef Darren Roberston. Give the kids the all-important job of mixing and rolling the meatballs with their hands – not only is it messy fun, they will also get to see the finished product on their plate.
Paccheri pasta with pork sausage is one of celebrity Chef Guy Grossi's go-to recipes and an ideal choice for a Winter weeknight dinner with the famiglia. From the menu of The Cellar Bar, this dish has fed many a Melburnian since Guy's father Pietro first stopped in for a drink in the 1960s.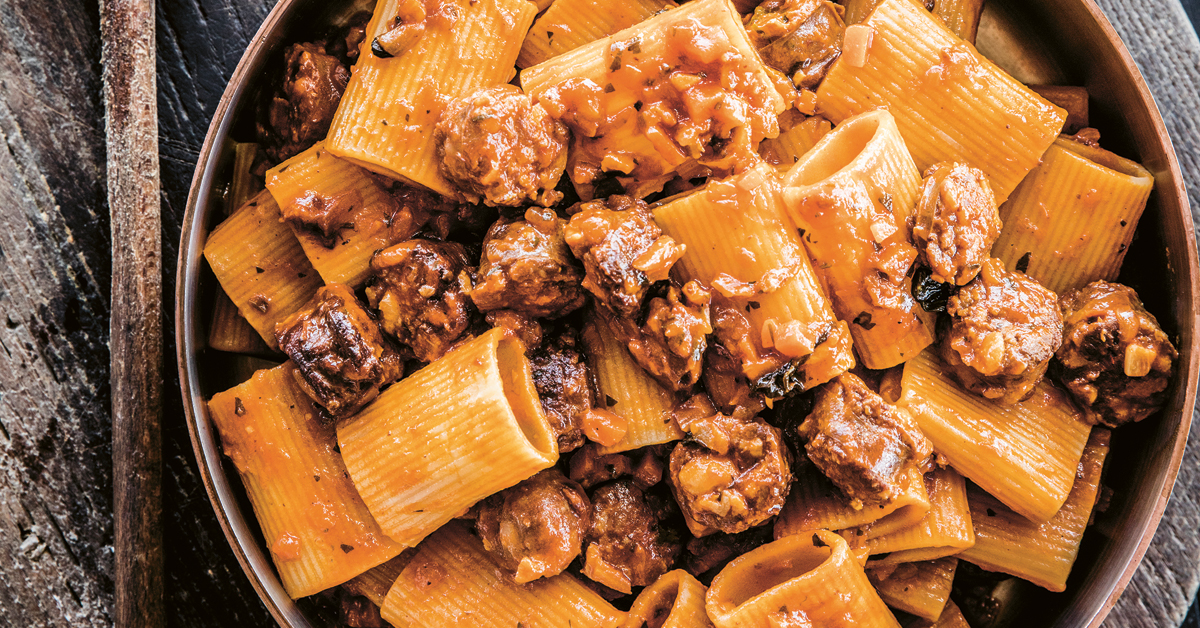 "These gorgeous large tubes of pasta originate from Campania and Calabria. They go well with a variety of different sauces, but seem to work perfectly with this rustic ragu. Legend has it that this pasta derives its name from the Italian word for slap, after the sound they make when the sauce hits the pasta," Guy Grossi.
Braised oxtail is a beautifully versatile dish, which can be served spooned over soft polenta, creamy mash, or pasta as in this recipe, with red wine, Italian tomatoes, onion, celery and carrot.
It takes about 3 1/2 hours for the ragu to become mouth-wateringly tender, but it is well worth the wait when you deliver braised oxtail pasta to the table, along with some crunchy bread.
For a delicious, hearty and always satisfying combination of plump mussels and earthy, creamy legumes in a flavourful fragrant broth, try this bowl of ditalini pasta with mussels and beans.
The brothy sauce makes this something halfway between a pasta and a soup and it is always served with a spoon. Instead of the borlotti (cranberry) beans, you can also use cannellini beans; or even potatoes, peeled, diced into 1cm cubes and boiled together with the pasta.
Just remember when meal time rolls around and you are racking your brains as to what to serve the family - keep calm…eat pasta!