By Leigh O'Connor.
"To say this collection of recipes, gathered from across the Subcontinent, is deeply personal would be an understatement. Food and the memories of food – who it was eaten with, the taste, the location and the emotional occasions they carry – are my lifeblood." ~ Peter Kuruvita.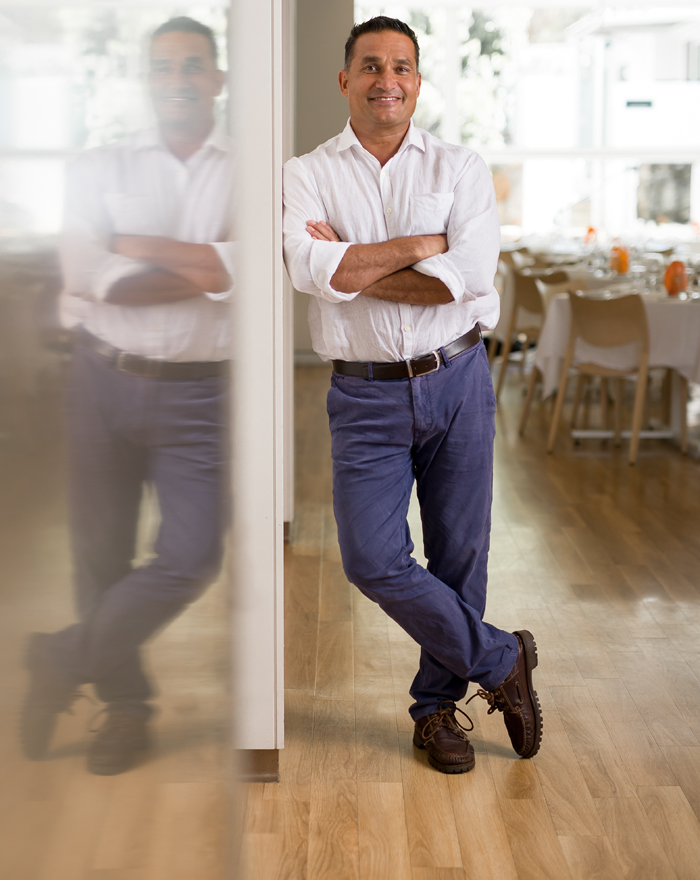 Peter Kuruvita. Photo: Ian Waldie.
At age four, Peter Kuruvita and his family embarked on a six-week overland journey from London to Colombo in Sri Lanka.
His engineer Father, Wickremapala, decided it was time to move his pregnant wife Lilly and two sons back to the ancestral home – which was no mean feat.
He purchased a former television production van – owned by Lord Primrose and used on the set of The Thunderbirds – for forty pounds and fitted it out as a campervan for the journey.
Conscious of Lilly's pregnancy, Wickremapala offered his wife a sea passage to Colombo - but there was no way she was missing out on the road trip of a lifetime.
In his latest book Lands of the Curry Leaf, Peter retraces part of this journey and feasts in his Father's footsteps, sharing a vegetarian trek through the Subcontinent.
I recently sat down with Peter at his Noosa Beach House restaurant for a one-on-one chat, where he recalled stories and anecdotes behind this deeply personal collection of recipes.
"In 1952 my Father rode his motorcycle from Sri Lanka to London to see the coronation of the Queen," Peter explains. "He met my Mother, married and had two sons before deciding in 1968 the time was right to return and start a family business."
Peter's Mum kept a diary of the journey – which helped Peter write this book – along with a preface that foretold of what was to come:
"Necessity – as well as a hunger for adventure – decided we would go overland on the now famous track from London to Colombo. It would cost £800 to go by ship, but only £450 to go overland.
"We hoped we would be able to start a new life, a better one for all of us in Ceylon – the birthplace of Wick, my husband. He also wanted the boys to have a real home, one with roots that reach back many centuries and experience the respect and place of honour his family enjoyed in their society."
Peter has strong and vivid memories of the journey, including a comment his Mum made while driving through Iran, where she remarked that Tehran was a beautiful town, but so busy with traffic.
Visiting the city in January this year, Peter became stuck in traffic and rang his Mum to tell her 50 years later, nothing had changed.
The original working name of the book was 'Subcontinental Vegetarian' and when Peter investigated what that entailed, he discovered along with Pakistan, Bangladesh, India, Sri Lanka, Bhutan and Nepal, in some mentalities Afghanistan is also considered by many to be part of the Subcontinent – giving him an opening into Arabic recipes and culture.
In his book, Peter expresses a desire to repeat his Father's trip through Afghanistan with his own family and confesses to have bought a BMW motorcycle to make the journey on – sadly war in the country put his dreams on hold.
"Afghan cuisine is steeped in ritual and a sense of hospitality that has miraculously survived war, invasion and upheaval," he says.
Each recipe in this remarkable collection evokes memories of travel, family and culture.
"I have been to all these countries - I finished my apprenticeship just before my 21st birthday and two days later I was off backpacking through India and Nepal.
"My memory of a mango lassi is being in Nepal and we couldn't afford a good room, so my girlfriend and I would pull back the sheets of our bed, grab a bar of soap and try to kill as many bed bugs as possible.
"The next morning I remember waking up and having banana pancakes for breakfast and a mango lassi, while listening to Bob Marley. This image is so clear in my mind and I have included these memories with each recipe in the book."
A self-confessed, biased carnivore, half of Peter's family is vegetarian and he grew up in a culture where you were presented with seven vegetable curries for dinner and one with meat.
"My grandmother was vegetarian – she ate two eggs a month and lived to 98. It is really nice to have a light vegetarian meal three times a week and this book is for everyone - Grandad, Mum and the kids. If you really want a piece of meat or fish, just grill it and add it to the recipe, it's that simple," he says.
"People are changing. I still walk into supermarkets now and I ask myself 'why are you first going to the meat counter?' I don't agree with having a meat substitute and calling it 'something meat…' it is what it is… there are great ways to do something with it."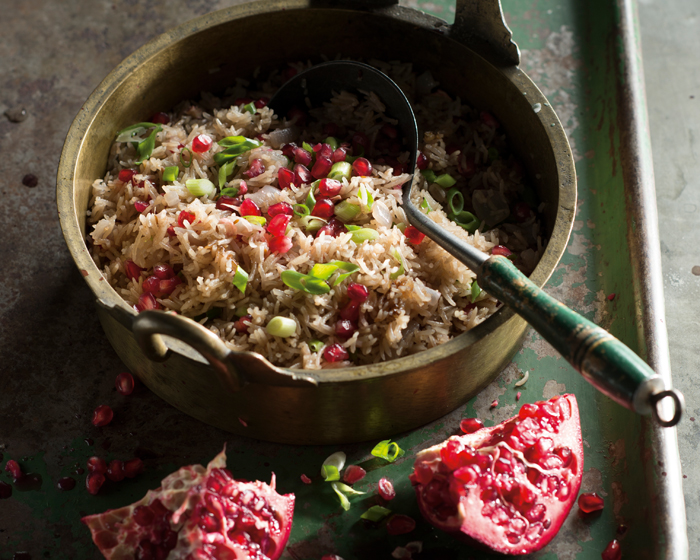 Peter wants his readers to be more adventurous – if you are planning a cheese bake then make Bhutanese ema datshi instead, if you are having a roast, cook an interesting side dish like Yagut Palau (pomegranate rice) – the recipe for which we share with AGFG readers.
Mentioned by the Qur'an as one of the fruits found in paradise, medical research suggests pomegranates may also help those wanting to extend their stay in this world.
"We had a few pomegranate trees in our gardens in Sri Lanka and whenever someone had a bruise, my aunties would quickly blanch the leaves to soften them, then apply a bandage filled with the leaves to the bruise. Quite apart from any medical benefits, pomegranates are great to eat and are a stunning addition to this rice dish," Peter explains.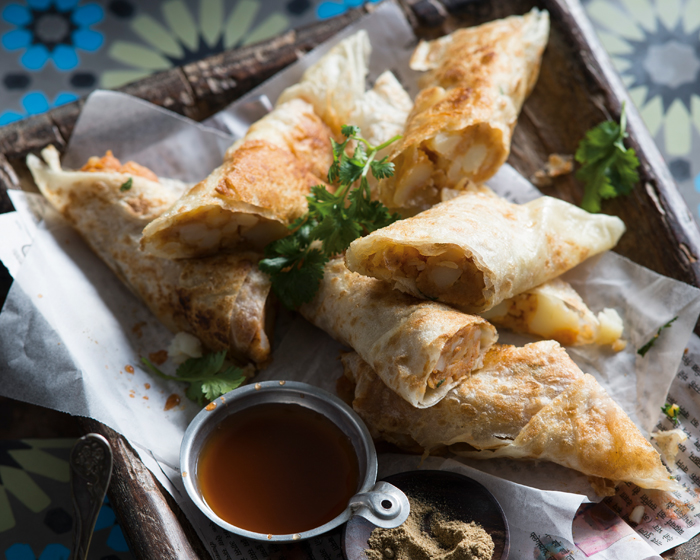 Originally a simple man's food to help get through the day, Mumbai frankies are a quick and filling meal and an amazing snack for those on the run. Peter's recipe calls for amchur, which adds a lovely sourness to this flavoursome, energy-dense vegetarian offering – with a tip from the Chef that if you don't have time to make your own roti, try frozen roti parathas found in the freezer section of your nearest Asian grocer.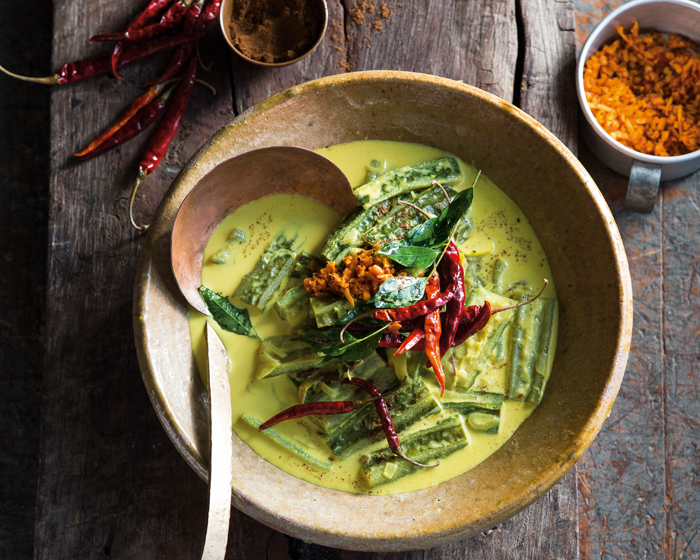 A beautiful and unique curry, Watakolu Vanjanaya (Ridged Gourd Curry), uses an equally unusual vegetable that is surprisingly easy to grow.
Ridged gourds are dark green in colour, with white pulp and seeds embedded in spongy flesh. Its hard skin is peeled, chopped and cooked as desired.
"On a recent trip to Sri Lanka, I tasted this curry after many years and it took me straight back to my grandmother's smoky, black kitchen, where one of the house girls would clean the gourd, ensuring the skin on the hard outer ridges was removed and the skin within the concave dips retained.
"There is no real replacement for the ridged gourd in this curry in terms of flavour and texture, but any member of the gourd family will work."
This beautifully photographed book also includes a definitive glossary of spices, flowers, pulses and other ingredients, as well as a guide to setting up a Subcontinental pantry; making it a one-stop bible for all those wanting to experiment with this well-loved Chef's recipes.
In his own words, this is what Peter hopes to achieve with Lands of the Curry Leaf:
"I want people to get the book dirty, I want them to get curry on it!
Lands of the Curry Leaf Book Launch Dinner Events with Peter Kuruvita:
November 10 at Crowne Plaza Terrigal - more information here.
November 22 at Noosa Beach House - more information here.
Images and recipes from Lands of the Curry Leaf by Peter Kuruvita, Murdoch Books, RRP $49.99 Photography by Alan Benson.