By Leigh O'Connor.
Throughout history, women from all civilisations have decorated their hair. From feathers worn by native Americans to ancient Egyptians adorning wigs with gold, hair pieces have defined the fashion of an era and none more so than the fascinator.
Who doesn't remember Lady Gaga's steak number at the 2010 MTV Video Music Awards in LA? While this was taking headwear to a new level, the flashy fascinator has become a couture statement for weddings, formals and race meetings around the globe.
Hailing from the Latin word 'fascinatus' - meaning to bewitch or cast a spell on – trendy headgear originally appeared as a lightweight knitted or crocheted scarf in the early 19th and 20th centuries. The definitive term, fascinator, was first coined in America in the 1860s and when cocktail hats were introduced in the 1930s, small feathered headpieces became the latest fashion must have.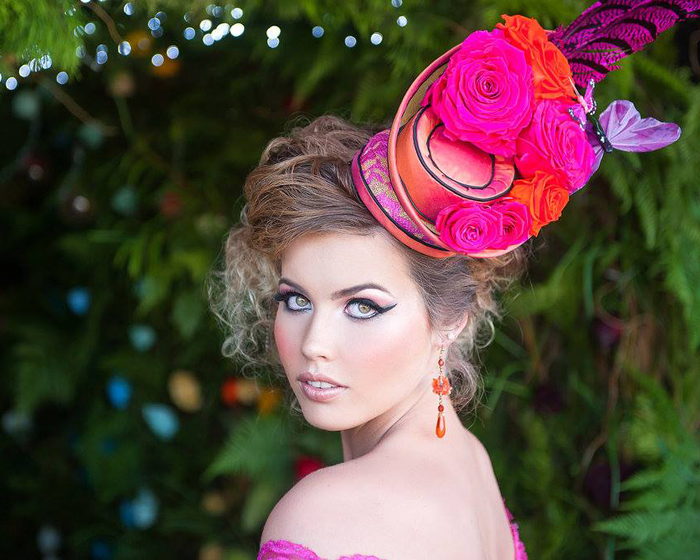 Fascinators should be worn at an angle on the right side of the head, as if perching like a bird on top of well-groomed hair, and as a hybrid of a hair accessory and cocktail hat, versions with a veil have become extremely popular.
Pointers from fashionistas suggest keeping the accessory in proportion to the size of the head, body and hairstyle, which should be simple so not to distract from the fascinator.
As Melbourne Cup rolls around, Australian women prepare to frock up and outdo each other with the most heavenly headwear creations they can find. There are no rules to creativity… let your imagination run riot and most of all, have fun with it.
Recognised as one of Australia's most innovative couturiers and milliners, Rebecca Cobbing specialises in avant-garde bridal fashion and headpieces and works closely with milliner Wendy Diggles from Brisbane studio, Belle Folie. Also Owner and Chef of restaurant and function centre, The White House of Waterford, Rebecca hosts Melbourne Cup functions at the riverside venue where her fabulous creations, along with Wendy's take centre stage.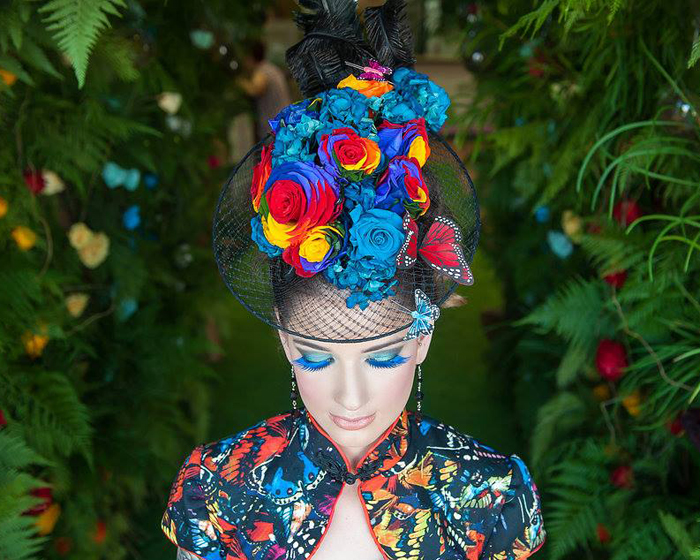 From bright psychedelic colours and feathers to butterflies and roses, Rebecca draws inspiration from history, nature, architecture, art and of course her clients. Over the last 10 years, her designs have been seen on the red carpet at the Logies, showcased at Melbourne Fashion Week and shown with the likes of Alex Perry and Bora.
So, what's hot for this year's Spring racing calendar? Rebecca says metallics are still trending, especially in headwear and accessories, along with jewel tones.
"We are going to see a big 80s influence – bold colour blocking, big frills and geometric shapes, as well as the usual soft and floaty feminine florals and prints we love," Rebecca explains.
"Racing attire and night clubbing are two very different events, so make sure hem lengths are appropriate, don't show too much skin and stay away from an excess of sequins and glitter."
According to this marvellous milliner, the best accessory a woman can have is a well-dressed man. Men's racing attire is really catching up to the ladies as they don beautifully tailored suits, big colour and bold patterns as well as statement headwear.
"Most important is to remember to have fun, take a risk with your headwear and if your budget allows, commission a local milliner to create a masterpiece to match your outfit," she says.
So put on your racing silks, trot up to the starting gate and gallop to the finish line in style this Melbourne Cup!
Photo credits to Millyjane Photography with headpieces by Belle Folie and gowns by Rebecca Cobbing Couture.