Australian Wine's Depth, Breadth & Diversity
There was a time in Australian culture when beer was the beverage of choice; however, as European migrants landed down under bringing viticulture knowledge from their homeland and pockets full of hope, wine slowly became a household commodity. Today our wine industry is world renowned and Australia's First Families of Wine (AFFW) was launched in 2009 representing twelve multi-generational family-owned wine producers.
Last month marks the first publication of Heart & Soul: Australia's First Families of Wine, an initiative of John Wiley Australia, written by Graeme Lofts, offering a comprehensive collection of the unique history underlying each member of the AFFW. From west coast to east coast, mostly in the southern regions, manifests a rootstock of stories which contributes to the foundation of what is today a rich wine culture, full of Australian personality.
Heart & Soul begins with a forward by famous wine commentator, James Halliday who introduces the book as one that "brings to life the people, their histories, their wineries and their vineyards." Graeme Loft brings to the table a palatable collaboration of anecdotes and facts, including a wine glossary in the back of the book. Both entertaining and educational, whether it's the Tyrrell tale from the Hunter Valley about the time when Murray Tyrrell took on Mother Nature, breaking up hail by shooting fireworks straight up in the air at ailing clouds or trade secret tips, like a whisper in your ear, facts that inspire even a deeper passion for wine purchasing.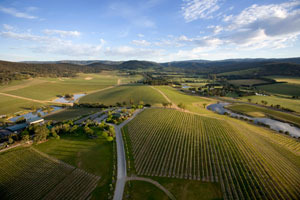 Do you know which varieties age well? Would you be able to purchase a bottle of wine on a memorable wine tour, store it safely, and pull it out ten years later with confidence it has aged correctly and is now the best it's ever been? These are the finer details laden throughout the book, important details amongst a narrative trellis of trials, tribulations, and triumphs spanning over 1200 years of combined winemaking experience as experienced by Australia's first families of wine.
Of the twelve AFFW wineries, the similarity ceases at their business initiative to expand; beyond winery growth, each chapter dedicated to one of the twelve wineries uncovers their unique process behind winemaking and familial personality influencing how the business is run. An example of new blood, for instance, is Howard Park in Margaret River WA, a winery and cellar door that combines contemporary Australian design and traditional Feng Shui principles. The only representative in AFFW from Western Australia, they not only hold the Howard Park label but also produce the MadFish range of wines.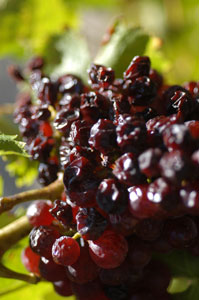 Moving into Southern Australia, as is to be expected, many more wineries from these parts share in the distinction of the elite AFFW group including D'Arenberg of McLaren Vale SA, an internationally recognized wine brand and the people behind it, famous within the industry: D'Arry having turned a bulk winery into a global business –on his 80th birthday thirty wine industry dinners were held around the globe- followed by Chester known for his colourful attire and dedicated contributions to the family business.
In Clare Valley SA, Jim Barry Wines offers a textured family background including a sweet hint on matriarch Nancy Barry who was commemorated with a limited edition, (only one vintage was produced) of wine that goes down with an easy drinking style. Nancy was known to open a bottle of sparkling with friends rather than wait for the kettle to boil. Also in the area, Taylors dealt with international patent and trademark issues, adopting the Wakefield label for exporting. Moving into Barossa Valley, Stephen and Prue are now at the helm of Henschke Vineyards, exploring organic and biodynamic techniques as they fine tune their vineyards. Heading east in the valley is Yalumba, one of the oldest wineries in Australia now run by Robert Hill Smith, a fifth-generation proprietor building on an establishment that's been in business for more than 160 years.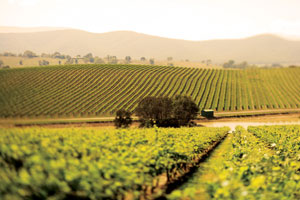 From oldest to youngest, the Margaret River region in Western Australia to the Hunter Valley in New South Wales, there is length and depth to the background of these twelve wineries, their history shaping the personality of their company and the length of time spent in business determining how management has shifted with the generations. Also included in the AFFW are the wineries of Victoria are Campbells in the Murray Valley, Tahbilk in Goulburn Valley of High County, and Brown Brothers in the King Valley of the Gourmet Region. De Bortoli spans both Victoria & New South Wales, while both McWilliam's and Tyrrell's Wineries are exclusive to New South Wales Hunter Valley.
An Australian anthology of oenology and genealogy, Heart & Soul includes rebellious stories of those who rejected the family business, only to return, and management's emphasis on fairness to prevent familial nepotism and negativity from staff hired outside the family unit. Like a rich layer of tannin adding dimension to the history behind these founding families of wine, the personal and political aspects of inheritance and business expansion in this context make for intricate family trees that are a fascinating study. A book for full of authentic Australian heritage, it would be a welcome holiday gift for those who love an intellectual look at wine and lineage, a rare combination.
Released 1 November 2010, Heart & Soul: Australia's First Families of Wine is available through Wiley for $39.95 http://au.wiley.com/WileyCDA/WileyTitle/productCd-1742469248.html