Do you have a serious case of the travel blues and just need to get away to somewhere completely different, exciting and a little bit exotic? Jump on a plane to the other side of the world and begin an adventure, relax on your honeymoon or simply enjoy some downtime, exploring the raw beauty, ancient history and charming cobblestone alleyways of Greece.
Part of south-eastern Europe, Greece's landmass includes two main peninsulas and a collection of thousands of islands dotted around the alluring azure blue waters of the Aegean Sea. Popularly visited by tourists, Greece's drawcards include seemingly endless coastlines, ancient ruins and excavated historical sites, sumptuous food and welcoming locals, passionate about their country and ready to share it with anyone who asks.
For a taste of what to expect and to pique your interest in this diverse and culturally rich country, take a look at our sight-seeing suggestions below.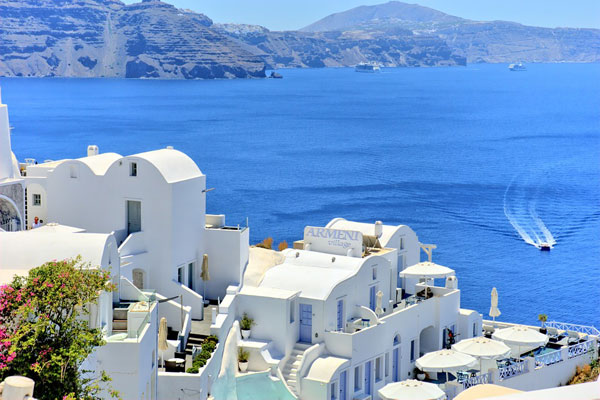 Santorini
Santorini is ever-popular for its famous volcanic black sands and the well-known Red Beach with impressive red rock formations giving an incredible backdrop to red sands and picturesque blue water that is fantastic for snorkelling. In four towns across the island, whitewashed houses cling to the cliff sides, perched over the circular archipelago. Santorini was previously one island, but after a volcanic eruption, an underwater crater now separates the main island from other smaller islands, still considered part of Santorini. Apart from iconic beaches, other drawcards include galleries, a thriving nightlife and excellent wines.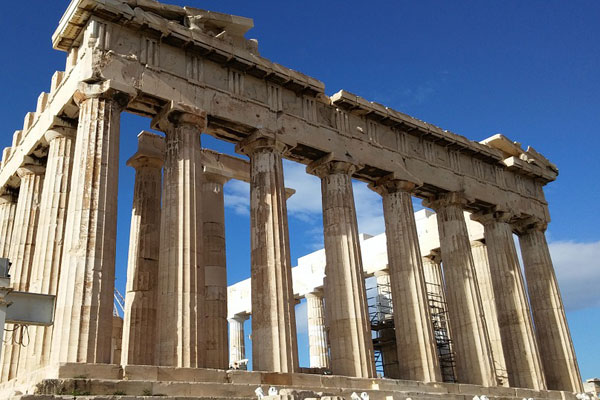 Acropolis Citadel and Parthenon Temple
This famous UNESCO World Heritage Site comprises of a 5th Century B.C. temple complex - an ancient citadel that includes the Parthenon building, all sitting atop a high rocky outcrop above the city of Athens. Though many may not know it by name, they will surely recognise the crumbling columns of Parthenon. This former temple was dedicated to Athena, goddess of wisdom, military victory and the patron of Athens.
Mount Olympus
The highest mountain in Greece, home of the Gods and the throne of Zeus – if mountains of epic proportions are your thing, then be sure to visit Mount Olympus. This mountain is found near the borders between Thessaly and Macedonia and reaches 2918 metres high. The highest peak is named Pantheon and is the mysticised home of 12 Gods. Hiking and climbing in the area are popular activities and there are routes for most levels of ability. Larger animals prowl the parks below the ridges, such as wolves, jackals, wild cats, foxes and deer, however, the park is also famed for its beautifully coloured butterflies.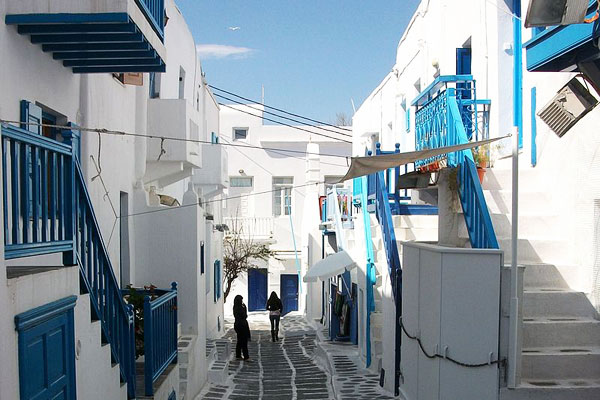 Mykonos
Another thriving Greek island, and extremely well known, Mykonos, or Mikonos, is one of the most visited in the Mediterranean for its party atmosphere. The nightlife is so popular here that clubs stay open until after dawn and attract renowned DJs from around the world. There are bars right beside the beach, so tourists looking to unwind are in the perfect place for hanging out along the Mykonos shoreline. Explore during the day; cubed white homes glow in dazzling sunsets and the labyrinth of alleyways are full of delightful surprises.
Olympia
Historic site of the ancient Olympic Games and the Temple of Zeus, founded in the 8th Century B.C. the extensive site of ruins includes the training area of athletes, a stadium and temples dedicated to various Gods. Wander through the site before heading over to the museum to discover unbelievable sculptures which used to decorate the site by well-known artists of the time.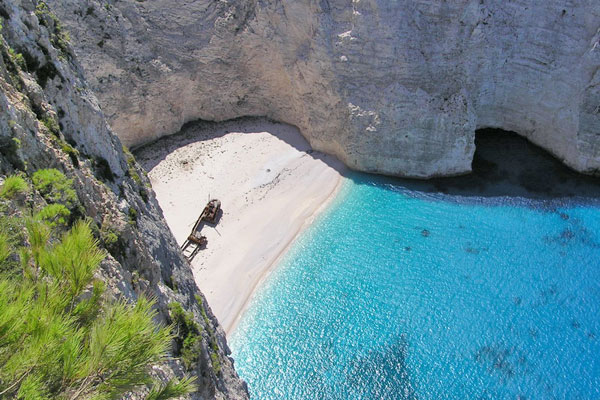 Zakynthos Island and Navagio Shipwreck
Navagio Beach, also known as Shipwreck Beach is an exposed cove on the island of Zakynthos, accessible only by boat and surrounded by steep cliffs. With images featured in holiday brochures around the world, be sure to bring your camera to capture the absolute raw beauty of this idyllic cove. The story behind the shipwreck is quite recent, dating back to just 1980 with the boat became shipwrecked after hitting rocks during bad weather. On the day, the boat was being pursued by the Greek Navy as it was suspected of carrying contraband cigarettes.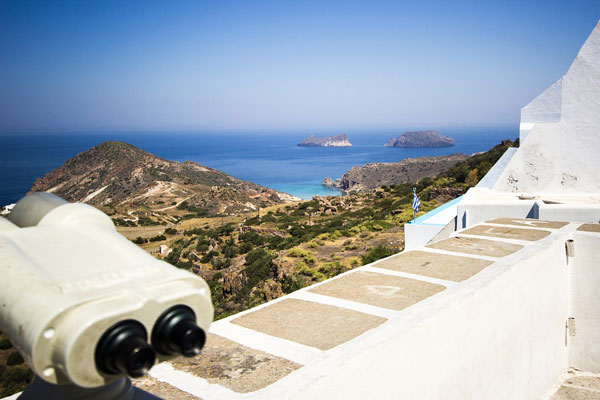 Milos
An island popular for its interesting geology, consisting of a remarkable volcanic district, the island of Milos is another addition on an ever-increasing list of places to visit. There are also numerous coves containing interesting rock formations and consecutive caves in the cliff faces. Such caves are noted historically for being the hideout of pirates and are usually visited by most day-trip boat cruises around the island.
Samaria Gorge
Enjoy hiking through canyons along the 16km stony trail on the island of Crete, suitable for travellers of all physical abilities who wish to see vertical walls that reach up to 500 metres, and in the narrowest part are only 3 metres wide. In the right seasons, it is incredibly scenic, covered in wildflowers that adorn the path. This trail extends through protected National Park so you may encounter a number of protected endangered flora and fauna. Walk past the abandoned Samaria village, discover the 14th Century church of Osia Maria, and while the last 3kms of the trail are considered the hardest, the trail ends at the inviting beach of Agia Roumeli.
Please note travel safety:
As outlined by smarttraveller.gov.au, rioting can break out with little warning in Athens and other Greek cities.Australians are advised to avoid all protests and demonstrations as they may turn violent. Strikes affecting air, sea and rail transport, as well as taxi services happen regularly in Greece. If you are affected by transport disruptions, you should monitor the media, maintain contact with your airline, your travel agent and your insurer, and be prepared to change your travel plans. We strongly suggest vigilance when travelling to Greece. There is also an ongoing threat of terrorism in Europe.
Images: Photos free of copyrights under Creative Commons CC0 as sourced from pixabay for royalty-free images.