ONE NIGHT ONLY, Saturday 8 March 2014, Studio Neon - Sydney
The Australian Good Food Guide invites you to join multi award winning chefs Justin North and Warren Turnbull, Good Food Guide reviewers, media personalities and special guests on the 8th March to Sydney's famed Studio Neon for a pop-up evening of discovery.
Experience the unique creations of promising young prodigy Dylan Carter, who at 15 years of age has already staged in some of Australia's most awarded restaurants including FLYING FISH, VUE DE MONDE, JACQUES REYMOND, ATTICA RESTAURANT, ORMEGGIO, BIOTA DINING, FOUR IN HAND DINING ROOM, RESTAURANT ASSIETTE, CUTLER AND CO, PIER RESTAURANT & BECASSE RESTAURANT.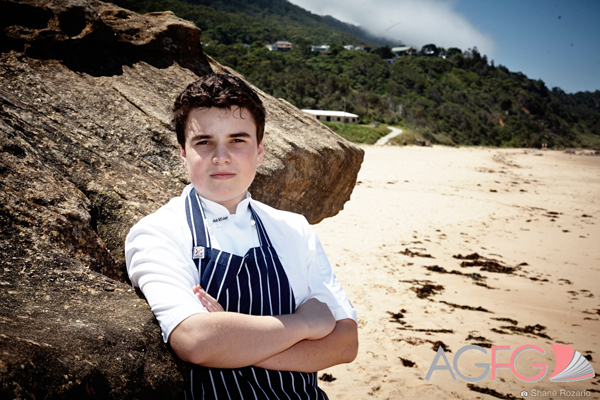 "Dylan is the perfect reflection of what I am predicting with the strongest conviction that Australia will be the capital of the gastronomy world in ten years." Jacques Reymond
"He (Dylan) is just a little legend and he has inspired me with his passion and love for food." Warren Turnbull
A Culinary Tribute is the story of Dylan's gastronomic journey told through food. A voyage of discovery and pursuit influenced and guided by some of the countries most esteemed Chefs.
Sit down to an exceptional six course degustation menu with wine matching by renowned sommelier Karen Macalister-Hohnen, AIWS for just $160.00 per person.
"This certainly promises to be a night to remember" said Aaron Teece, Studio Neon owner and personal chef to the late Margaret Thatcher, "… never before have I met someone so young, show so much promise."
At Dylan's inaugural pop-up dinner in April 2013, only a selection of the countries revered food critics and bloggers were invited to sample his abilities. "This is not a crowd I would like to prepare my first pop-up restaurant for… they call a spade a spade" said Belly Rumbles, Sarah McClearly on the evening. All who attended agreed Dylan displayed precision and technique expected of chefs with a lifetime of commitment and training. Photographer Shane Rozario, celebrated for his work in Peter Gilmore's must-have book Quay, was also present on the night. His photos illustrate the incredible standard of Dylan's creations.
50 seats only – TICKETS AVAILABLE
SEATS: $160 per person
A CULINARY TRIBUTE - Six courses with matching wine.
Food by Dylan Carter
Book prior to February 20, 2014 and go in the draw to win a dinner and accommodation package (2 nights) for two people at Lake Crackenback Resort and Spa, dining at the award winning Cuisine on Lake Crackenback valued at $660.
Only 50 seats are available and reservations are essential so do not delay!
"Being witness to aspiring chefs as they forge their mark on this countries food scene is a truly exceptional privilege and this young man without a doubt has the potential to shape Australia's culinary direction for years to come." Shawn Sheather – Australian Good Food Guide resident chef.
This is a special event not to be passed up. Book now and do not miss out on this truly unique evening.
"I can't wait to see what Dylan dishes up." Alice Zaslavsky – TV presenter and celebrity chef.