By Freya Ensbey.
Sick of the dominance of factory food and concerned that many kids lack a connection to fresh food, Death to Nuggets have an experimental approach to tackling the problem.
Coming from a background of advertising, Melbourne father of three and Death to Nuggets founder, Jonathan Pangu, began to notice the dominance that big companies have on children's diets which are high in salt, sugar and bad fats.
With a staggering 25 per cent of our country's children overweight or obese, Pangu has seen first-hand as a parent how attractive unhealthy foods can be to children.
With a desire to create a program designed to fight childhood obesity and the culture of processed food, Death by Nuggets was born.
The passion project offers a series of food events for kids and adults, in an interactive space where high quality food is made imaginative, colourful and often hands on.
"Rather than telling kids what to do, Death by Nuggets uses creativity to make healthy food choices interesting, not a lecture or a chore," says Pangu.
Their first event, The Edible Garden, was a four course meal with a menu created by Chef, Laura Neville, hosted by wholefoods restaurant, My Son, Joy.
Neville says that positive experiences are the stepping stones to a positive relationship with food.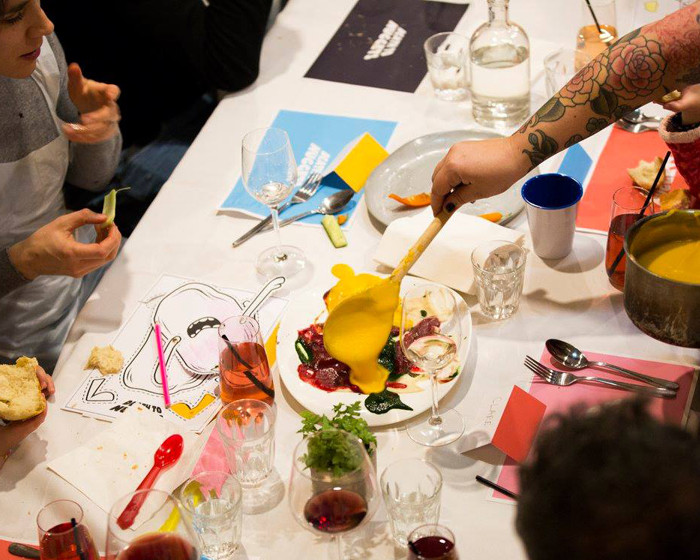 The little diners sat down to dishes like Splatt Plates - colourful purees splatted down at the table as people ate, Rainbow Pasta - which took spaghetti to a colourful new place, Magic Soup - changing colour as it was eaten and an Edible Garden dessert share plate with Dutch carrots, zucchini, herbs and edible flowers.
Following the hailed success and positive feedback from this first event, the second dinner for the project, Eating Nemo?!, held during the start of September, also made a splash.
With a focus on seafood, the menu included entertaining dishes like the Backward Fish and Chips, The Fish Tank and The Foreshore.
"We're combining the serious and the silly in interesting ways to champion great food and fight the processed stuff.
"Melbourne is one of the world's great food cities, but you wouldn't know it looking at the kids' menus as there are chicken nuggets everywhere," says Pangu.
Beyond their diners, the team is also pounding the pavement with the project, talking at schools and campaigning for a better food environment.
Pangu believes there is still a long way to go, however has already started the ball rolling with this thought provoking and call to action movement and we look forward to following along the journey.
For information on upcoming events visit Death to Nuggets' website here: www.deathtonuggets.com.au.