Italian cooking, David speaks about his new menu at Uccello.
David Lovett is the new face of Uccello, one of Merivale's flagship restaurants located in the Ivy at Sydney. In his new role as head chef, David has created a menu inspired by his appreciation for rustic and regional cooking. The menu boasts a back to basic approach on Italian cooking, David explains this as "we have stripped it right back to classic Italian food, everything on the menu lends itself to being shared, everyday we get more and more orders with people wanting to share their food, which is exactly what I was going for."
AGFG was lucky enough to catch David during his lunch preparation at Uccello and get an insight into this new exciting venture.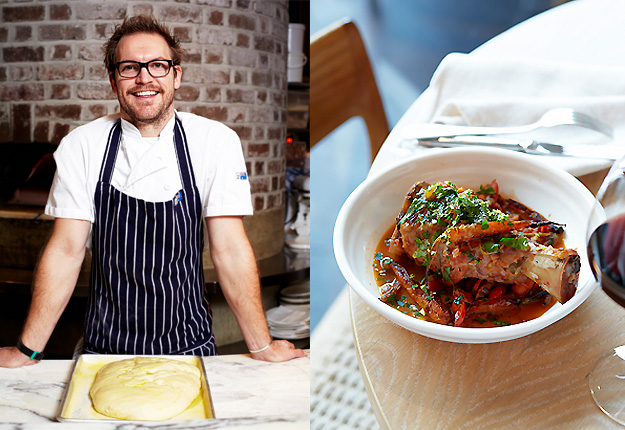 AGFG: Your new menu boasts a traditional Italian culture, tell me why you have gone with polenta dishes?
David: I have had a look at a lot of menus in Sydney and no one really uses Polenta, but in the North of Italy it is a really big deal and especially now in the colder months it is perfect. I have four main polenta dishes on my menu, it's such a versatile ingredient and when I was traveling in Italy during the winter it was on every menu and it was a really enjoyable dish. I have tried to recreate this for the diners in Sydney.
AGFG: How have you made Uccello more accessible to the everyday sort of diner?
David: We have kept the menu really simple, but authentic, so it's about sharing the meals with your mum or dad or your kids. I want people to be happy while they are eating; I want them to be able to enjoy the menu. We do have some more complex dishes on the menu, such as the 'Gelato di sanguinaccio, canditi e pinoli' which is chocolate, marsala, pigs blood gelato with pine nuts and candied orange. It's something different, I have a few dishes on the menu that will take people out of their comfort zone.
AGFG: How will the restaurant change?
David: The interior designer has just been over to New York to get some more inspiration to match my menu, we need to change the thought process of the diners, people come in, see the white tablecloths, see how everything is set and still expect "expensive – fine dining" or food that will be out of their comfort zone. So we have taken all the table cloths off and we have stripped the tables back to the wood, so it looks simple and rustic, which matches the food. I also have a new restaurant manager that has come over from Est. and he has taken to the style of the food as well as the menu really well and so have the wait staff.
AGFG: When did you get interested in Italian food?
David: I worked at a little Italian place in Fremantle. I worked with a wonderful guy there that got me really interested in Italian food and the simplicity of it. I was just drawn to Italian food, it really resonated with me. I am Australian, but one of my Aunties is from North Italy, a little place called Tongli. I remember going over there as a young boy, it was all about sharing food, the laughter and I think that just really captured my heart. I actually have an item on the menu "Pizzoccheri" which is a recipe from my Aunties home town, which is perfect for these colder months.
David has travelled around Italy and has truly seen how the Italian's cook, his passion comes through his menu, his posture and his voice. It's hard to describe in words how much love oozes out of his menu. If you're in Sydney, Uccello is an absolute must dine at experience.