By Leigh O'Connor.
"In Croatia, we have a saying that fish swim three times: in the sea, in the olive oil and in the wine." – Ino Kuvacic.
Born and raised in Split, Dalmatia's largest city, Melbourne Chef Ino Kuvacic's love and appreciation of food and wine runs deep. His maternal ancestors were one of the largest wine merchant families in Croatia and some of his early childhood memories are of wine making and olive picking in family vineyards and olive groves.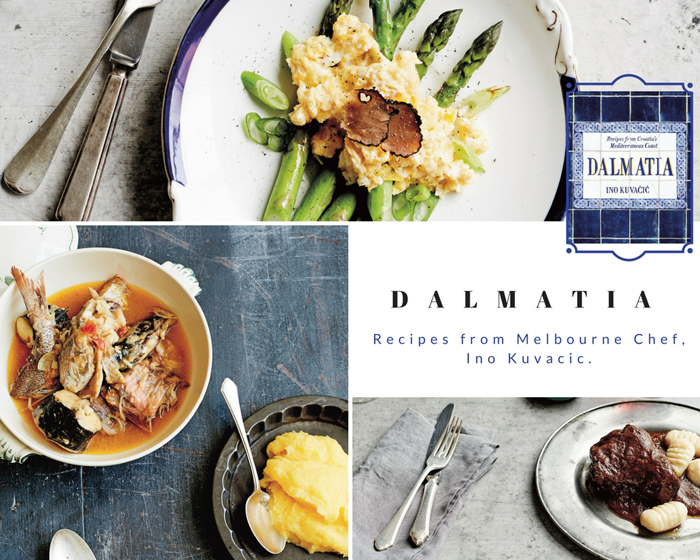 In his first book, Kuvacic brings together a collection of dishes he grew up eating and watching being prepared by his family – warm, honest cooking using produce of the highest quality. Interspersed with stunning photographs of the Dalmatian coastline and countryside, the recipes are some of the country's most treasured dishes with an identity of their own.
Divided into four chapters: vegetables, fish and seafood, meat, and sweets, Dalmatia is the quintessential Mediterranean handbook for those wanting to explore the tastes of this region.
Begin the day with wild asparagus, eggs and truffles; the wild version is thinner and more pungent in flavour than regular asparagus and appears in pine forests all over the Croatian coast in Spring. These vegetables have a magical flavour when combined with eggs and Istrian truffles and locals believe this is a meal fit for the Gods.
From the crystal clear waters of the Adriatic coast comes some of the tastiest seafood in the world, due to the higher salinity and nutrition from rivers running into the sea, giving it a special flavour. In Dalmatian towns, the fish market is one of the go to places during the day to check the daily selection and catch up with the gossip.
It takes a special touch to make Dalmatian fish stew and it's usually the head of the household who prepares the dish, using at least three different types of fish including reef and rock. The stew is serious business and it takes time to master the flavours of garlic, onion, tomato passata, white wine and fish stock. Usually served with polenta, it is a staple dinner meal for many Croatian families.
Game and meat are prepared with extra care as it's not every day that locals' tables are visited by a nice pheasant, hare, boar or deer. Usually it is marinated in red wine and vinegar overnight to tenderise it and then cooked in rich stews, served with potato dumplings, handmade pasta or polenta.
The queen of Dalmatian dishes, slow-cooked beef stew with prunes and apples, is not a quick fix – taking at least a day's marination and then four hours braising. It is usually served as an ensemble dish for big occasions such as weddings, christenings and other important days and in Dalmatia those who can make this stew are seen as great cooks.
Kuvacic's grandmother was considered an expert and this recipe is a salute to her culinary skills.
With more than 100 authentic recipes, Dalmatia transports the reader from their kitchen to the Croatian coast, capturing the charm and tradition of a region defined by the sea, rambling vineyards and olive groves.
Recipes and images from Dalmatia by Ino Kuvacic, published by Hardie Grant Books. RRP $50 and is available in stores nationally. Photography by Chris Middleton.