Forget the new pairs of socks and jocks this Father's Day and gift Dad an experience to remember together. Whether buying tickets for his favourite event or planning a big day out, the possibilities for treating dad to his most loved activities are endless. For ideas on places to go and things to see and do with Dad this Father's Day, check out ourWhat's On Guide, and for more inspiration, here are a few ideas to get you started!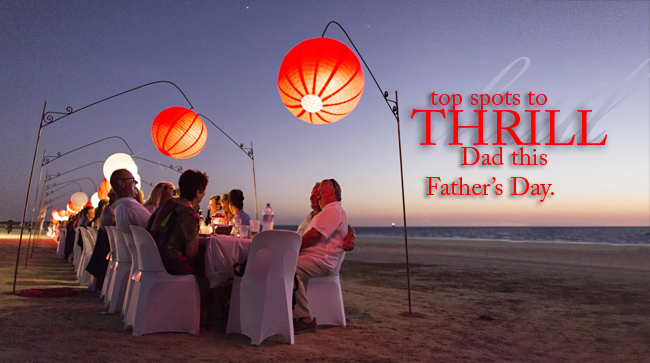 Shinju Matsuri- Festival of the Pear | Broome WA
Gift Dad tickets to an event as part of Broome's Shinju Matsuri - Japanese Festival of the Pearl held in September and spanning from 11th to the 18th. Running every year for the last 45 years, the 46th Shinju Matsuri is a kaleidoscope of colourful events and embraces a vibrant atmosphere in Broome. The festival is held to celebrate Japanese, Chinese, Malaysian and Aboriginal cultures, all of which played a role in shaping this town during the historically prosperous pearling days. This nine-day festival offers over 20 events to attend, so there is bound to be something Dad will enjoy. Treat him to the Sunset Long Table Dinner set on the sands of Cable Beach or admire the staircase to the moon - a natural phenomenon from the Mangrove Hotel over a drink together.
Sample Food Festival | Bangalow NSW
Take Dad out to enjoy a day of foodie delights at Bangalow's sixth annual Sample Food Festival, held on Saturday September 3 at the Bangalow Showgrounds. There's plenty of space for the whole family, with a range of children's activities on offer as well as a line up of musicians alongside celebrity cooking demonstrations from guest chefs such as Ben O'Donoghue (Surfing the Menu), Spencer Patrick (Harrisons at Port Douglas), Dan & Steph (My Kitchen Rules), Samantha Gowing (Cabarita Ocean Retreat), Clayton Donovan (Wild Kitchen) and Janella Purcell (Good Chef, Bad Chef). Grab Dad a Stone & Wood beer and let him relax next to the live musicians while delving into tasting plates from 28 restaurants such as Byron Bay pork belly okonomiyaki, freshly shucked oysters and bourbon brisket sliders as well as sweet treats such as chocolate fudge brownies, there's even fruit ice-blocks dipped in chocolate to keep the kids happy. AGFG will be at the festival, so watch our instagram for foodie delights and see our homepage next week for a festival rundown to help organise your plan of attack for next year.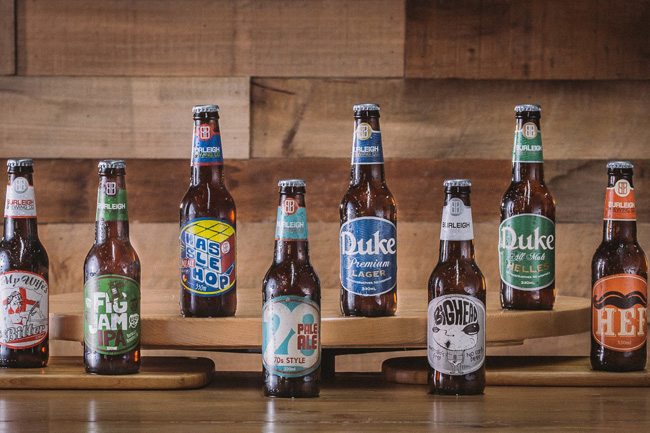 Burleigh Brewing Co | Burleigh Heads, QLD
Every Dad who visits the tap house on Father's day can enter the draw to win one of two copies of the Great Australian Beer Guide, featuring Burleigh Brewing 28 Pale Ale. The brewery offers a broad range of craft beers in the core range, as well as a few limited edition releases to ensure a beer or two will appeal to every palate. There will also be special merchandise offers available to make Dad feel that extra bit special.
Australian Buffalo Wing Festival | Brisbane QLD
If your Dad often suffers from cravings for sticky-sweet addictive Buffalo wings every time you eat out together, take him on the tour of his life with the Australian Buffalo Wing Festival, beginning in Brisbane on the 31st of August. Enjoy a week of buffalo wing eating in the lead up to Father's Day, following the routes planned out and pay a visit to all your favourite venues like Ze Pickle, Bavarian Bier Café, Cactus Republic,Carolina Kitchen, Yard Bird Ale House andBarcadia. Though the festival is in its humble beginnings, fanatics are large in support for this classic American bar snack, rising to popularity in establishments around the country.
Young Henrys | Newtown, NSW
Mingle with brewers, touch the malt, smell the hops and taste beer straight out of the tank side by side with Dad on Father's Day at Young Henrys Brewery. Time it right and you may be able to enjoy a tour of the brewery and distillery before trying a handful of experimental, limited release beers on tap.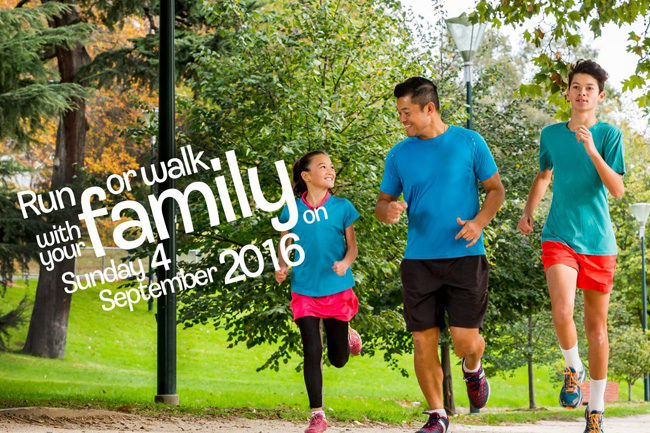 YMCA Father's Day Fun Run | Melbourne, VIC
Bring along family and friends and cheer on your old man as he joins in the first ever YMCA Father's Day Fun Run, raising money and awareness for children's mental health issues. Not-for-profit charity YMCA Victoria is committed to improving the health and happiness of the Victorian population and raise funds for causes that impact socially through events just like the Father's Day Fun Run. Held at the Tan in Melbourne's CBD, there is something to do for everyone. Complete the 5km course with the whole family, or watch as Dad completes the 10km course and beats his personal best. There's children's entertainment at the Event Village and the whole event is wheelchair accessible and stroller friendly.
Hop On Brewery Tours | Arundel, QLD
Hop on a brewery tour with Dad operating from September 3-11 and receive a free squealer each! Squealers are 900-1000ml reusable glass bottles branded by the brewery and are perfect for refilling and taking home for the night, especially when a well-loved beer found on the tour can't be found in cans or bottles. Now you and Dad both have a keepsake for the day to remember good times shared together.
Watson Demolition Newcastle City Supermoto | Newcastle, NSW
If you find it hard to pull Dad away from the TV when motorsports are on, treat him to a day out at the Watson Demolition Newcastle City Supermoto, including the first round of the 2016 FIM Asia Supermoto Championships. Running on both days of the Father's Day weekend, the Supermoto is free for spectators and includes both on and off road riding, full of twists, turns and adrenalin filled moments sure to get the heart racing. Exciting for spectators of all ages, riders come from a range of motorcycling areas and each with different strengths for a race of high technical ability, high speed and unpredictable results. The Watson Demolition Newcastle City Supermoto event is unique as it incorporates Wharf Road as the tarmac segment and weaves into Foreshore Park for the purpose built dirt section.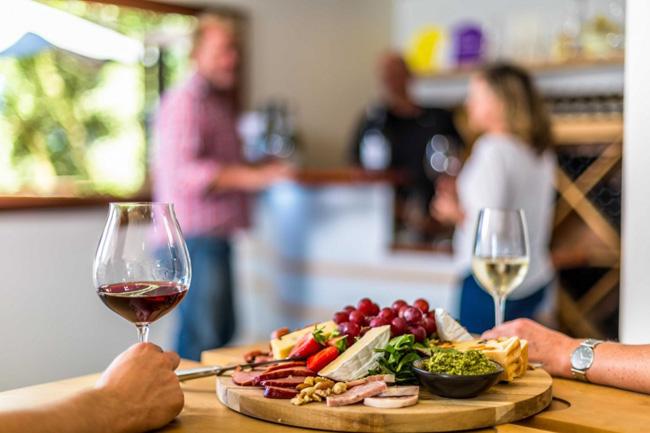 Goaty Hill Wine Dinner | The Market Square Restaurant of The Sebel, Launceston, TAS
If wining and dining is a hobby both you and your father share, enjoy a delectable evening at the Market Square Restaurant of The Sebel Launceston Hotel. Purchase tickets in advance for Saturday, September 17th and enjoy a five course degustation with each mouth-watering dish paired withGoaty Hill Wines. A menu filled with Tasmania's fresh and vibrant produce is designed by Executive Chef, Michael Mackaway and the evening's guest speaker will be Natasha Niewhof of Goaty Hill Wine. Seats are selling fast so be sure to get your hands onticketsnow.
Noonamah Tavern Rodeo | Noonamah, NT
Score Dad some tickets to the Noonamah Tavern Rodeo, pack up the caravan or tent and camp overnight after the big event. Held on September 3rd, enjoy some lively, action-packed fun the whole family will love with rough and tumble events in this outback arena. Competitions include bull riding, saddle bronc's, barrel racing, freestyle motocross burn out competitions, mechanical bull riding and live bands. Plan ahead for your rodeo weekend withmore informationfrom the website and Facebook event.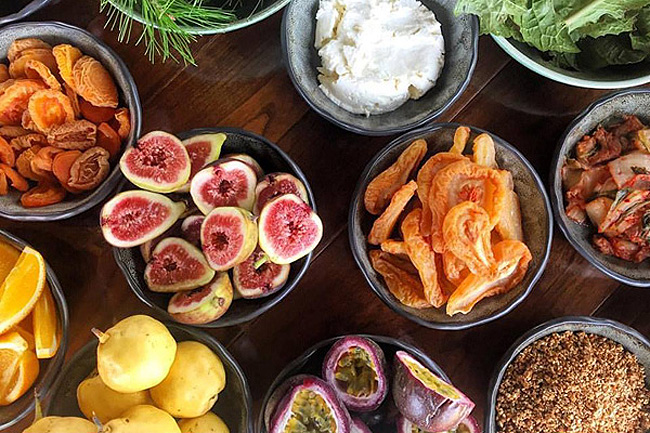 Image: Hentley Farm.
Barossa Gourmet Weekend | Barossa, SA
Share with Dad a celebration of sumptuous Barossa Valley produce and wine over the Father's Day weekend. Established in 1985, Barossa Gourmet Weekend is a premier annual culinary food and wine festival held to showcase Barossa hospitality, premium wines, local food and fantastic entertainment. As blossoms bloom and vine buds burst, Barossa producers host a series of parties throughout the region; visit some of our favourite wineries and dine at stunning establishments likeHentley Farm.