By Leigh O'Connor.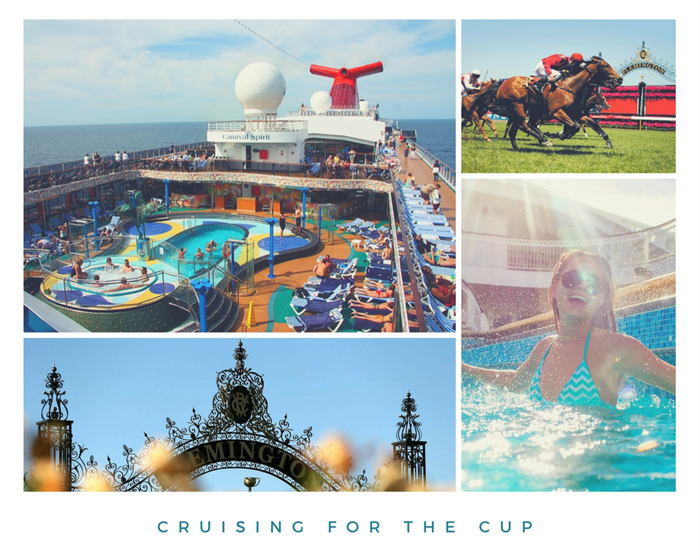 There has never been a better time to get on board for the cruise of a lifetime. Australians are joining the ever-booming number of holidaymakers taking to the high seas for a blissful, hassle-free vacation visiting places they have only dreamed about.
It's no surprise the number of cruise-goers rises rapidly each year – in 2016 more than 1.28 million Aussies took to the ocean, an increase of 21% on the year before. With more ships, ports and itineraries on the horizon, the choices are endless, so why not combine a holiday with Australia's greatest horse race and cruise to the Melbourne Cup in style.
Fast becoming a once-a-year tradition, both P&O and Carnival offer Cup cruise options departing from Brisbane or Sydney for 6-8 nights, arriving at Flemington in time for Tuesday, November 7. On the way guests can socialise, wine, dine and pamper themselves on the short sail to Melbourne for the richest two-mile handicap horse race in the world.
As well as the excitement of dressing up for the big day, guests are treated to direct transfers and general admission to Flemington, fashion competitions, sweepstakes and racing personalities on board to offer advice and tips for a bet on the side.
While at sea, cruisers can take advantage of all the facilities these ships offer, such as P&O's Edge Adventure Park - definitely not for the faint-hearted! This awesome adrenalin junkie experience is Australia's largest adventure park at sea, as guests race down a zip line on the top deck, or climb to the top of the ship's funnel and take a leap of faith on the flying fox.
Carnival has its own attractions such as Waterworks waterpark, with Green Thunder – billed as the steepest slide afloat with a 10m vertical drop, or take to the jogging track, basketball court and cricket pitch for endless hours of sporty fun.
After lazing poolside while sipping a cocktail, enjoy mouth-watering dining venues where a la carte and buffet options abound, as well as signature restaurants such as P&O's Luke Mangan Salt Grill.
To ensure guests are perfectly pampered in preparation for race mania, a visit to the ship's spa will take care of all decadent and relaxing needs such as a massage, facial and appointment at the hair salon.
Nearing the big event, embrace Cup fever by getting feathers ready to make an original fascinator at one of the ship's workshops, or shop on board for a fabulous Flemington fashion statement.
Those looking for the ultimate Cup adventure can book a once in a lifetime opportunity to take a guided tour behind the scenes at Flemington the day before the race, showcasing otherwise inaccessible areas like the mounting yard and famous arch, horse tunnel and birdcage.
It's finally race day… guests are transported to the track where champagne is flowing, beautifully dressed patrons picnic in the carpark and fashionistas strut their stuff in parades and competitions. Stake out a spot for the day after exploring the racecourse that has shaped Australian history and prepare to cheer home a winner.
Back at the ship when the sun goes down, the fun really starts with live music, comedy, parties and production shows - stop in at one of the many bars or nightclubs and dance the night away without needing a taxi home.
By the time the ship pulls into its home port, guests will be in need of another holiday! Why not book for a 2018 Cup cruise now…go to P&O or Carnival and check it out.