By Leigh O'Connor.
As the Australian Good Food Guide prepares to announce the 2022 Chef Hat Awards on Monday, January 31 we are serving up four stunning recipes for you to attempt at home.
We asked four of our existing 2021 Chef Hat-awarded restaurants to share one of their signature recipes with AGFG readers…while these dishes take a little more time and effort than a usual weeknight dinner, they are certainly worth the wait.
Considered one of Australia's finest dining experiences,
Appellation
nestles in the Barossa Valley, just an hour outside Adelaide. The restaurant's intimate and understated elegance includes sweeping views of the surrounding vineyards, informed and friendly service and exceptional food presented with finesse. Even more remarkable is the menu, which varies nightly and consists entirely on the finest locally sourced ingredients.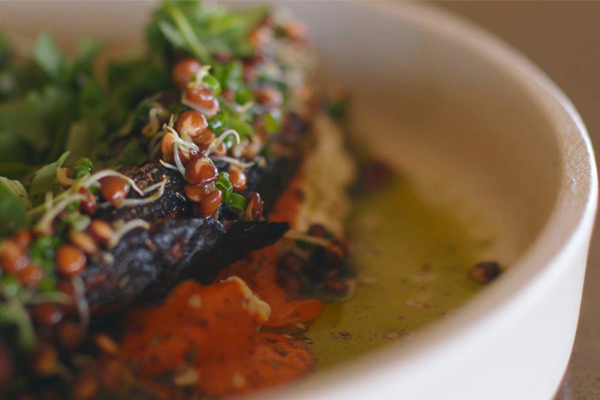 Appellation's versatile vegetable dish of blackened carrots, harissa, ricotta and za'atar.
This versatile vegetable dish of
blackened carrots, harissa, ricotta and za'atar
is sure to wow dinner guests with its subtle flavours and textures. The carrots can be char-grilled on the barbeque or over charcoal for that smoky aroma and taste that sets this recipe aside from others.
Nestled in Pikes Wines 'Polish Hill River Estate' in Sevenhill is award-winning restaurant
SLATE
. Take in picturesque views of estate vineyards from the alfresco deck with a glass of Riesling in hand; or dine indoors among a romantic and contemporary design of slate, stone and Tasmanian oak. Head Chef, Tristran Steel delivers his passion for regional dining in a Modern Australian menu.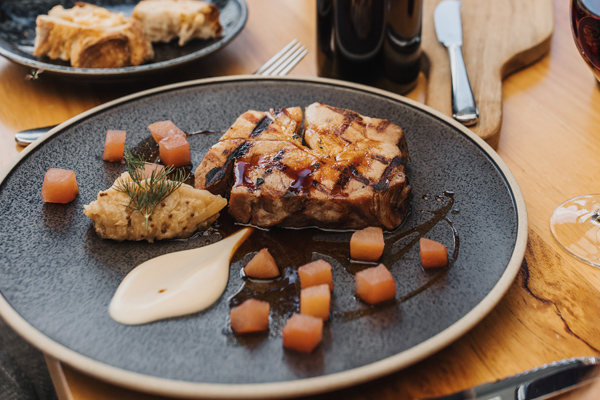 Slow-cooked pork shoulder, fennel and mustard seed relish is a crowd favourite at SLATE.
This 16-hour slow-cooked
pork shoulder
with fennel and mustard seed relish, cauliflower and red wine poached apple is a crowd favourite at SLATE and best enjoyed with sides of duck fat roasted potatoes, saltbush butter, smoked green beans, almond hummus and sesame.
Great food, great drinks and great company...Sydneysiders celebrate the simple things in life at
Mode Kitchen & Bar
on George Street in the heart of the CBD. Delivering uncomplicated, yet memorable Modern Australian dining experiences for lunch and dinner, Mode strikes an ideal balance between a casual bistro and fine dining; with a touch of glamour from surrounds of polished wood, statement pendents and banquette seating.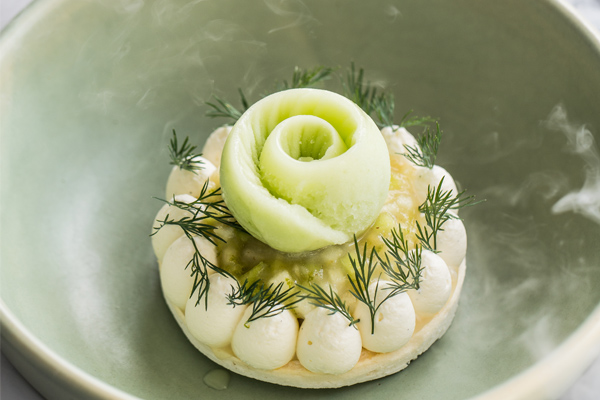 Mode Kitchen & Bar's frozen green pavlova comes to the table smoking with dry ice.
Try this indulgent dessert of
frozen green pavlova
, pear, green apple, cucumber and dill from Mode Pastry Chef Quentin Zerr, who was trained in London by Alain Ducasse. Watch the awe on dinner guests faces as you bring the pavlova to the table and unleash the dry ice to make a smoky entrance.
Sip an estate wine on the outdoor deck overlooking the vines and mountains, at
Mimosa Wines Restaurant
on Tathra Bermagui Road in Bermagui. Nestled in the heart of the Far South NSW Coast, Mimosa is the ideal place to stop for a vino and fresh, locally sourced food, in stunning surrounds of an open fireplace and inviting bar, alongside rustic timber table settings and splashes of greenery.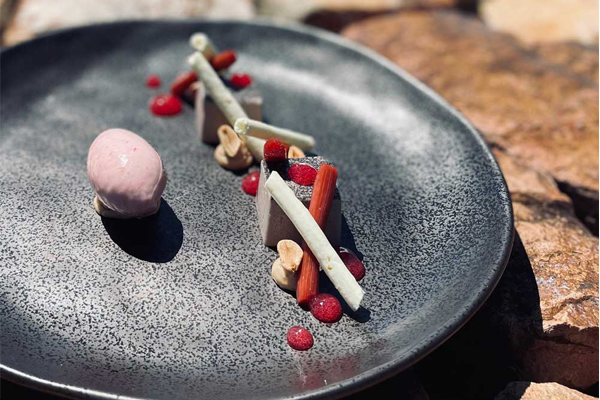 A signature dessert on the Mimosa Wines Restaurant menu…panna cotta with mountain berries is sure to tempt.
A signature decadent dessert on the menu at Mimosa, embracing rhubarb grown in the kitchen garden -
mountain berries panna cotta
, with peanut butter and orange is a recipe which may take a little work but the results are simply stunning.
Looking for more recipes to cook like an award-winning Chef at home? Click
here
.