By Leigh O'Connor.
I'm into fitness – fitness whole burger in my mouth!
Did you know the first Happy Meal was served in June of 1979? The United States has the largest fast-food industry in the world, with American fast-food restaurants found in more than 100 countries worldwide.
On International Fast Food Day, Monday November 16 get your fix at a fave burger, chicken, taco, fish and chip shop, or pizza joint near you…whether you drive-through, dine-in or get it to go, fast food always satisfies ravenous hunger pangs.
First popularised in the US in the 1950s, fast food is considered any meal with low-preparation time, served to a customer in a packaged form; most fast-food restaurants also have drive-through options.
The term 'fast food' was first recognized by the Merriam-Webster dictionary in 1951 – automobiles had become more affordable and popular, leading to the introduction of the drive-in option for restaurants.
Even former First Lady, Michelle Obama professes a love for fast food…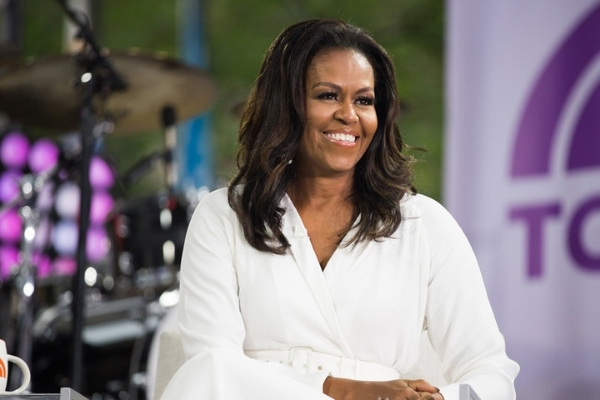 No judgment...Michelle loves French fries!
"I love French fries, I like a good burger and I like pie. And that's okay. I would be depressed if I felt I could never eat the things that I love. I also don't want my girls to be obsessed about food. We don't have a 'no junk food' rule – I just want them to think about their choices," she explains.
Celebrities like Scarlett Johansson and Lady Gaga concur:
"I still eat a burger at a counter with ketchup dripping down my face," Scarlett confesses; while Lady Gaga believes 'once you kill a cow, you gotta make a burger'.
Life's not all about burgers, but they certainly help, along with every other fast-food choice you can think of. Here are six of our favourite places to celebrate International Fast Food Day:
Looking for a guilt-free guilty pleasure? On a mission to deliver tasty burgers and give back to the community
Mission Burgers
on Main Street in Ellenbrook is the place to celebrate all things fast food. While you are sinking your teeth into one of Mission's delicious stacks, you are also helping those in need through local community initiatives.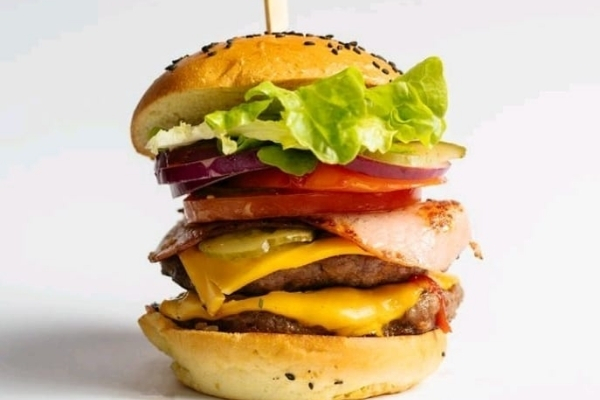 Is it fake news? Mission's Twisted Trump burger.
Grab a Twisted Trump burger with double beef, double cheese, red onion, crispy bacon, pickle, lettuce, ketchup and mustard; or maybe the Fun-guy – pesto crumbed field mushroom, grilled halloumi, fire-roasted red peppers, onion, lettuce and truffle mayo – with sides of onion rings and chimi chimi loaded fries.
From breaky to dinner, find burger heaven in Toowoomba at
Phat Burgers
on Ruthven Street. A local icon for the past 13 years, this joint doesn't disappoint with vibrant orange décor, blackboard specials, vinyl records and a housemade selection of jams and chutney, along with burgers and sensationally phat sides.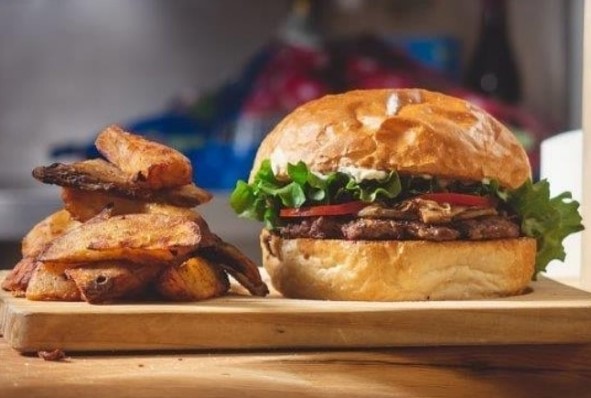 Phat Burger's signature Van Helsing burger.
Call for The Doctor and wrap your hands around premium beef, pistachio, beetroot, eggplant, feta, minted rocket and mayo; or a Foghorn, with crumbed chicken tenderloin, bacon, cheese, aioli, Phat chilli jam and loose-leaf lettuce. Other Phat tastes include a Vienna Frankfurt dog, mozzarella and tomato sauce; along with kumara wedges, onion rings and spring rolls.
Fried chicken, craft cocktails and local beer await at American-style diner
Johnny Bird
. Aptly located in Crows Nest on Willoughby Road, Johnny's makes a bold statement with vibrant red walls, dominated by a neon sign of a rooster, white subway tiles and blond wood settings; or sit alfresco on cheery yellow chairs and soak up the Sydney sun while enjoying a cold brew.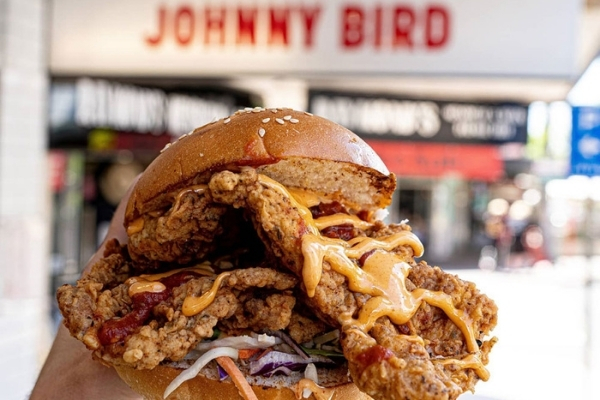 Chicken and more chicken at Johnny Bird.
It's all about the chicken…Southern-style fried chicken, with your choice of buffalo, smoky BBQ and sticky Szechuan sauce; or go for a Filthy Bird burger, with fried chicken, beef, bacon, mac and cheese, jalapenos, lettuce and ranch dressing. Not that hungry? Maybe popcorn chicken bites and chipotle dipping sauce, or fried chicken loaded fries appease the fast-food fix.
Take a trip along Route 66 at American eatery
Ricks Garage
on Margaret Street in Palmwoods, perhaps cruising in a Cadillac and parking out front to show off your cut and polished pride and joy. Saunter inside and catch up with friends at this retro diner, heading upstairs to the whiskey bar, or whiling away the afternoon in the trendy back beer garden, unwinding over a cold beverage.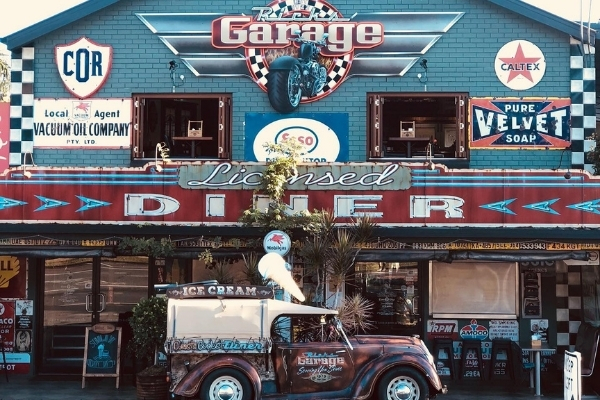 Cruise Route 66 and stop in at Ricks.
For a finger-lickin' good time, chow down on Ricks' sticky BBQ pork ribs, slaw, fries and a brioche bun; best enjoyed with onion rings and loaded fries, topped with gravy, bacon and three types of cheese. A doggone good time is promised for all who grab a classic hot dog, with cheesy mustard and housemade tomato relish, washed down with an apple cider.
Revel in retro seaside style at
CJ's Crab Shack
, situated inside the Penrith Panthers Club on Mulgoa Road, as you share plates and burgers by the water, or fresh ocean treats inside. From crab pot lampshades and tropical ferns to thick maritime rope and stuffed parrots swinging from the ceiling, it's all about creating a cool, laidback style to enjoy plates from a menu to suit all tastes.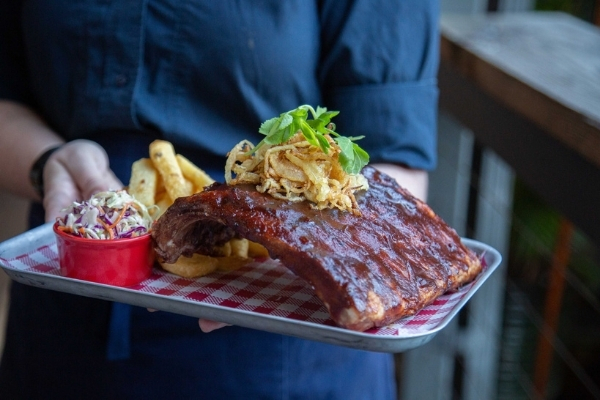 CJ's finger-lickin' good ribs.
Get started with buffalo chicken drums and wings with blue cheese dipping sauce, or cheeseburger spring rolls and ketchup; then grab a handful of brisket burger, pickle, coleslaw and golden fried onion rings with Cajun mayo. For the ultimate barbeque blowout, sink your teeth into pork and lamb ribs, brisket, sausage, sweet potato fries and apple smoked bacon.
Taking fish and chips to the next level,
Squid Lips
on Bussell Highway is the place in Margaret River for all things squid. Find this casual eatery in Settlers Tavern Arcade, rocking a vibrant palette of red and purple with bench tables and high stools both inside and alfresco, to perch on while contemplating hunger busters like beer-battered whiting and chips.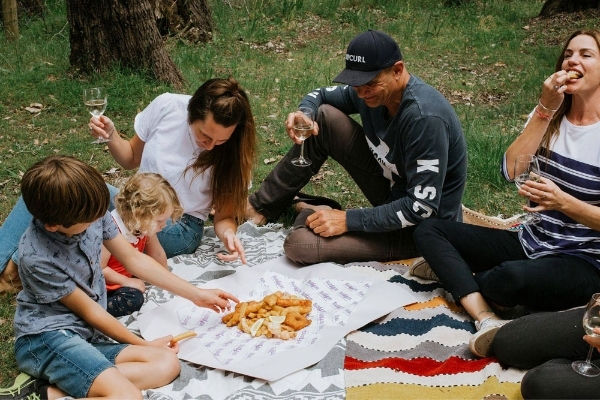 Fish and chip fun from Squid Lips in Margaret River.
Whether lightly dusted in salt and pepper or Cajun spice, squid is the hero - alongside tasty salads made fresh daily, marinated prawn and scallop skewers and Thai fish cakes. Burger lovers can grab crumbed fish on Turkish bread, with tomato, lettuce and aioli; finishing decadently with deep-fried mini Mars Bars.