As the Winter warmers come out and snuggling fireside with an Irish coffee beckons, Australians turn to classic comfort food. Snowfalls in Victoria encourage skiers and boarders to whip out their blades and head to the slopes, while up North and in the outback the sun still shines, albeit with much less heat.
This diverse land serves up Winter weather of eternal sunshine and biting cold, so comfort food means many things to different people in every state. However, one thing we all agree on is satisfying hunger pangs at any time of the year is an obsession of the best kind. Hearty casseroles, thick soups and slow cooked delicacies appear on menus and diners take their time, lingering over mulled wine, crusty bread and a glass of red. Here's a list of top spots to discover delicious Winter wonders to tempt any palate.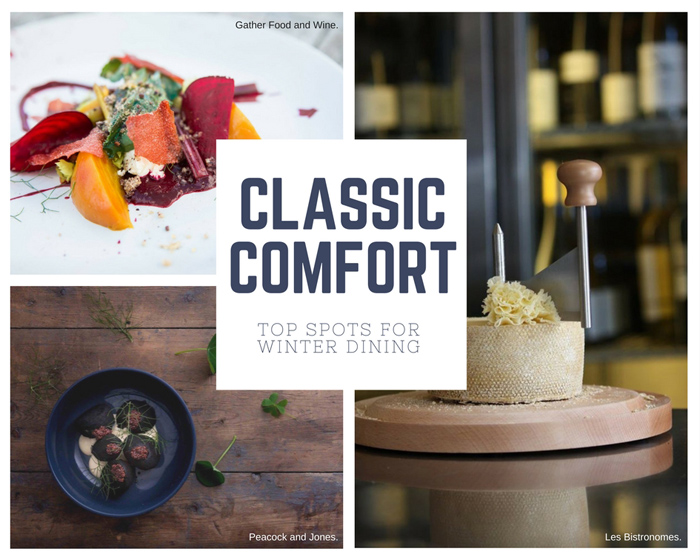 The Denman Thredbo | NSW
Immerse yourself in the alpine lifestyle at The Denman in the picturesque Snowy Mountains for a warm, cosy winter escape. After a day on the mountain, stroll back to this classic ski chalet-style hotel and linger over a mulled wine at the bar, before devouring a hearty, hot meal at the onsite restaurant. Full of character and olde world charm, most of the rooms offer mountain views and are only a few minutes away from the village square.
Quorum Restaurant | VIC
Cosy up for a romantic Winter dinner fireside at lovingly restored, historic Quorum Restaurant in Warrnambool. Reflecting the spirit of a bygone era, Quorum radiates relaxation and charm, making it an ideal destination to celebrate any occasion with that special someone. Choose from a menu bursting with bold, warm flavours and hearty fare, such as slow braised goat with red wine, truffle infused polenta, gremolata and broccolini.
Peacock and Jones | TAS
Relax in wide armchairs beside an open fire while inhaling mouth-watering aromas floating from the kitchen, in this spacious, old sandstone warehouse nestled along Hobart's iconic waterfront. Celebrating Tasmanian produce, delve into a comforting menu with the likes of duck breast and confit leg, served with parsnip, dukkah, baby beetroot and pickled walnut, paired with a drop from more than 60 cellared wines.
Terrace Restaurant | NSW
Watch the snowflakes flutter to the ground through floor to ceiling glass windows, while warmed by the glow of candlelit dining tables and sip on a glass of Winter red at the Terrace Restaurant at The Denman Hotel in Thredbo. Roast pumpkin tagliatelle with hazelnuts, goats cheese and sage may tempt hearty appetites as classic comfort fare, followed by tiramisu gateaux and a cheeseboard with Parmesan and poppy seed twists.
Gather Food and Wine | SA
Warm sandstone walls and exposed timber beams create a rustic, welcoming charm for diners at Gather Food and Wine in Robe. Gather's menu features wild foraged fare alongside harvests of locally sourced produce and boutique wines, teamed with an earthy setting best enjoyed dining with family and friends or as an intimate evening for two. Classic Kingston lamb, braised and roasted with caramelised pumpkin, pumpkin seed crisp and yoghurt is sure to chase away any Winter blues.
Limones Restaurant | WA
Situated inside an old corner shop in East Fremantle, Limones lends a touch of quaint charm to the local dining scene. An open log fire creates a warm and intimate ambiance, while guests can also choose to dine in one of the many , elegantly furnished rooms for a more romantic setting. Select from a European inspired menu with contemporary takes on classics such as potato and ricotta gnocchi with spinach and tomato sugo, or slow roasted pork belly with cauliflower puree, kale and jus.
Les Bistronomes | ACT
For a French themed Winter culinary journey, Les Bistronomes in Braddon beckons with its timeless style and artfully fashioned menu. A cast iron wine rack filled with international bottles extending to the ceiling and plush high-backed chairs, emanate a rich, welcoming ambiance suited to smart, casual dining. Salivate over beef burgundy with braised beef cheek in red wine, served with soft polenta, mushrooms and onions, or warm the soul with a traditional bouillabaisse and crusty bread.
Apres Bar | NSW
Finish a Winter's day adventure by skiing up to the Apres Bar at The Denman Thredbo to unwind over a drink or two with new friends made on the slopes. Just a flight of steps away from the village square, Apres has a warm ambiance with heavy timbers, comfortable lounges and soft lighting, welcoming guests taking advantage of its ski boot friendly policy. Relax tired muscles with a First Snow Fall cocktail while grazing over tapas plates made for sharing.
Winter cold rarely hits the Northern Territory but that doesn't mean diners don't search for comfort food at this time of the year. Darwin locals head to Rorkes Beer Wine Food for its warm ambiance, glowing with soft light from statement fixtures and alive with the buzz of conversation, while contemplating a Mod Oz menu with the likes of spicy pork and beef meatballs and traditionally slow cooked veal Osso Bucco, served with grilled polenta.
Songbirds Rainforest Retreat | QLD
Tensions disintegrate in the crisp Mount Tamborine air, as diners indulge in the tranquil experience at Songbirds Rainforest Retreat. Sitting on 50 acres of rainforest surrounds, this restaurant offers a combination of nature and indulgence, less than an hour from Gold Coast's beaches. Enjoy the bush views and warm the body by an open fire, while the mind ponders a menu of Australian delights such as suckling pig with plum, fennel and black pudding.