May 19 & 20, 2012
Food, Wine & Music Fusion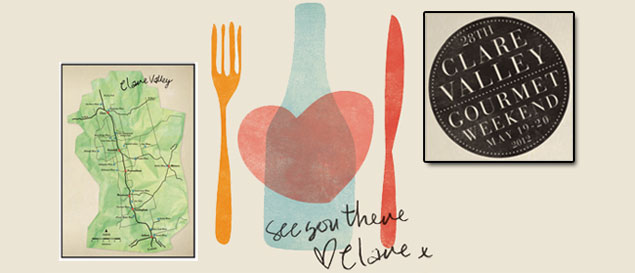 Clare Valley Gourmet Weekend is a leader of the pack when it comes to weekend long food and wine extravaganzas. What more could you ask for from a weekend full of live music and laughter amongst wide open cellar doors – some even offering free tastings? This legendary South Australia wine destination will take your breath away with autumn colours and panoramic dusk horizons. From the charm of award winning boutique producers with a farmhouse inspired motif to chic and modern interpretations for lovers of all things food and wine, Clare Valley Gourmet weekend unites all tastes for foodies with emphasis on local produce and vintage.
You'll find Clare Valley is only 90 minutes north of Adelaide, comfortably nestled in the Mt Lofty ranges. The township of Clare is a key location throughout the festivities, however, the area spans from Auburn in the south; using the Main North Road, you'll be given access to creative initiatives by wineries, restaurateurs and other market providores throughout the picturesque villages that dot the landscape of Clare Valley in its entirety. Epicurean travellers will discover their favourite venues offering authentic and original food & wine pairings, plus there are many lesser known venues putting in top efforts to showcase their wares.
More detail about Clare Valley wineries, restaurants and accommodation is available on our website.
Gourmet glasses are available for purchase at your first venue at the cost of $5, to be used at all venues thereafter. Once you've purchased this veritable passport for a tasting, the list of special events includes gourmet markets, educational expos, long table dinners, tastings right in the barrel room, degustations, autumn release showcases, and chilled out music sessions with the best food & wine combinations of the year. Your literal passport throughout the weekend long festivities is the shuttle bus availble to you upon request - so if you plan on tasting wine generously this is safe way to travel.