Nibble Away But Not Too Much
It is amazing how much we eat on Christmas day and just don't realize. Think about how many times you walk past the nibblies and grab a handful of this or that. It really adds up over the day so to avoid this try doing what I used to do on Christmas day and make up your own treat plate.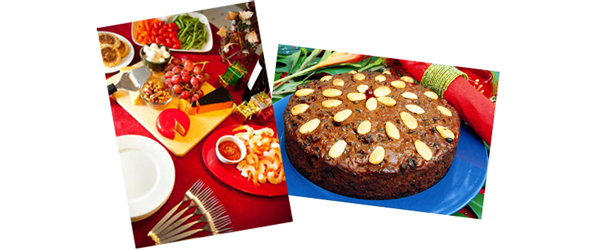 Here are my top survival tips for Christmas day:
1.Start the day by putting a little of everything you like onto a plate; for example, a few cashews, choc almonds, lollies and a small slice of Christmas cake. Then cover with glad wrap and only go to this plate during the day. Once it is all gone, stop.
2.Have a little of everything and I mean a LITTLE. A lot of everything is a problem. Food isn't the only thing Christmas is about, so put your fork down and enjoy your family and friends.
3.Remember, Christmas is only one day of the year so enjoy the day and keep in mind that you WILL have to face the scales tomorrow.
4.Go for a walk as often as you can. This may help burn off any extra kilojoules you consume over the day.
5.Avoid overeating high fat high sugar foods. Much better to fill up on salads, veggies, lean meats and fruit platters.
6.Don't sit in front of the Christmas treats; instead sit with your back to the tempting food so you won't overindulge.
7.Keep hydrated on the day. Drink lots of water so that you don't confuse hunger with being thirsty.
8.Eating lots of high fat foods will only make you feel bloated and uncomfortable - this you can avoid. Watch out for high fat foods, gassy soft drinks and alcohol.
9.Take your good intentions with you so when visiting family on the 25th, if you think nothing will be good for you to eat then take some safe food with you. Planning ahead is the clever way to avoid eating food that you don't want to eat.
10.And finally if all else fails and you have overindulged afterall, don't worry. The best thing you can do is get back to healthy eating as soon as possible. The longer you drag it out the worse it will be.