The Festival of Colours – Holi – is the most vibrant of all Hindu festivals, marking the end of Winter and welcoming Spring in India.
This year, Holi is on Monday, March 29 and Indian restaurants all over the country will be welcoming guests to celebrate with them. Known for a day when people play with colours, meet and greet one another and create new beginnings; there are also a number of rituals involved.
A few days prior to the festival in India, people collect wood and other inflammable things for the Holika bonfire; on top of the pyre, an effigy of Holika is placed to be burned according to legend.
After sunset people gather around the pyre, perform prayers and then light it, singing and dancing to celebrate the triumph of good over evil.
The second day of the festival is when Indians apply colours to one another, party and enjoy life; with drums and musical instruments played on the streets, along with dancing and singing.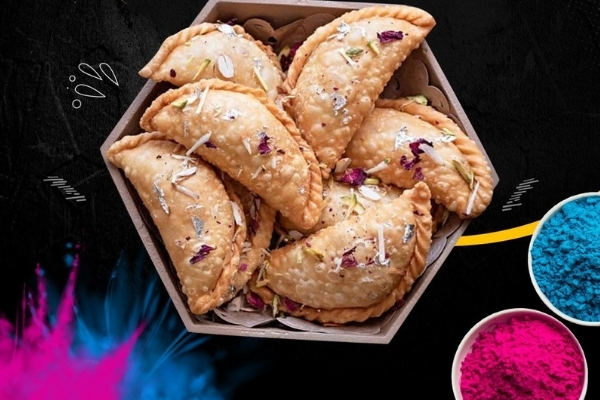 Holi specialty sweet gujiya is available for a limited time at Andaz.
There's always feasting when it comes to Indian festivals and one of the dishes synonymous with Holi is a special sweet called gujiya. This delicious dumpling is filled with khoya and dried fruit - if you want to indulge head to
Andaz Indian
restaurant on Terminus Street in Castle Hill, where gujiya is available for a limited time.
Diners are greeted at Andaz by mosaic tiled windows and carved archways, creating an Eastern-inspired vibe, ideal for relaxing over traditional dishes, served with fresh local produce from an ever-evolving menu. For a mesmerising main, try Goan lamb vindaloo curry, cooked with Chef's special tomato and burning hot chilli sauce, best enjoyed with basmati rice and garlic naan.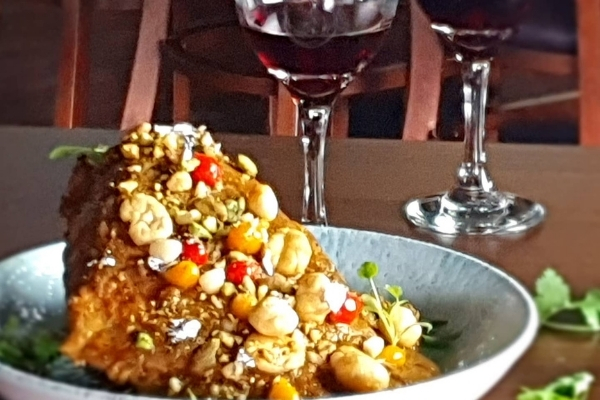 Heritage dish Rampur Taar Ghost…a signature at Daana.
A luxurious Bhoj feast awaits Curtin diners at
Daana
on Theodore Street this weekend for Holi. This carefully crafted meal features different regional cuisines of India, served in a traditional thali with vegetarian, non-vegetarian and combination Bhoj options.
Inspired by recipes handed down through generations, this family-owned restaurant offers one of the top dining experiences in Canberra, in vibrant surrounds of lotus flower pendent lighting, burnt orange walls and a tranquil aquarium, setting an authentic vibe. Try a heritage dish such as Rampur Taar Ghost – 24-hour slow-cooked lamb shoulder, in a rich curry of brown onions, melon seeds, saffron, fried lotus seeds, macadamias, edible silver leaf and basmati rice.
For more Indian restaurants to celebrate Holi near you, click
here.