By John Rozentals.
Where were you in 1965? Many of you wouldn't have even been glints in your parents' eyes. I was in the last throes of my years at Orange High before escaping to the freedom of Sydney.
Sir Robert Menzies was still Australia's Prime Minister and on the world stage we were best known for kangaroos and exceptional sporting prowess, but we had just invented the wine cask … the bag in a box, which would dispense seemingly unlimited quantities of usually pretty ordinary wine.
A friend was so unimpressed that he termed it 'the bladder pack,' but the cask did change our drinking habits forever.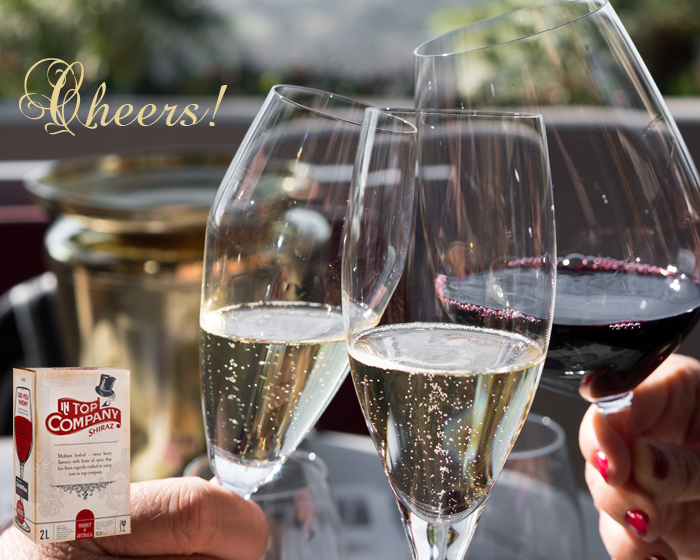 I only write these words because I've just had a couple of new additions to the range of available bladder packs … sorry, wine casks … lob on my desk for sampling.
They're of the smaller two-litre variety, resemble some of the Monopoly imagery in presentation and go under the name 'In Top Company.'
They hold some reasonable drinking for $10 a unit — or the equivalent of just less than $4 for a standard 750ml wine bottle.
There is a dry white, made from pinot grigio, and a dry red, made from shiraz, in the range and I'll let the company's tasting notes tell the rest of the story:
In Top Company Pinot Grigio: "a crisp white wine with pear and apple flavours, ready to drink now with a nice, refreshing finish. It matches well with seafood and chicken dishes and is ideal for those wanting a lighter wine."
In Top Company Shiraz: "this medium-bodied red is crafted with sweet berry flavours and hints of spice. It goes well with grilled meat and spicy food, and is perfect for casual meals at home."
That's about right. I wouldn't be pulling a cask out of my bag at the local BYO bistro though.
Wine Reviews:
Sandalford 2017 Margaret River Verdelho ($20): dtrangely, verdelho has found its most loved homes at Australia's eastern and western extremes — in the south-west of Western Australia and the NSW Hunter Valley. In both places the variety produces crisp, zesty dry whites that are ideally suited to seafood. This a fine example that provides good drinking and fine value.
Sandalford 2016 Margaret River Cabernet Sauvignon ($20): Western Australia's Margaret River is quite rightly recognised as having one of the world's best environments for making top-notch cabernet sauvignon. Here's a dry red with real refinement and elegant flavour — and just enough varietal sophistication to match those lamb chops you like to throw on the barbie as the weather warms up.
Wine of the Week:
Sandalford 2017 Margaret River Classic Dry White ($20): 'Classic' is a wine designation virtually created in Margaret River. It signifies a dry white blended from semillon and sauvignon blanc and, as in this case, merges the palate fullness of ripe semillon with the crispness and almost pungent aromatics of sauvignon blanc. It's a delicious combination. More please.