Calendar Date: Weekend Festival - May 6&7, Partner Events: April 1 – May 6.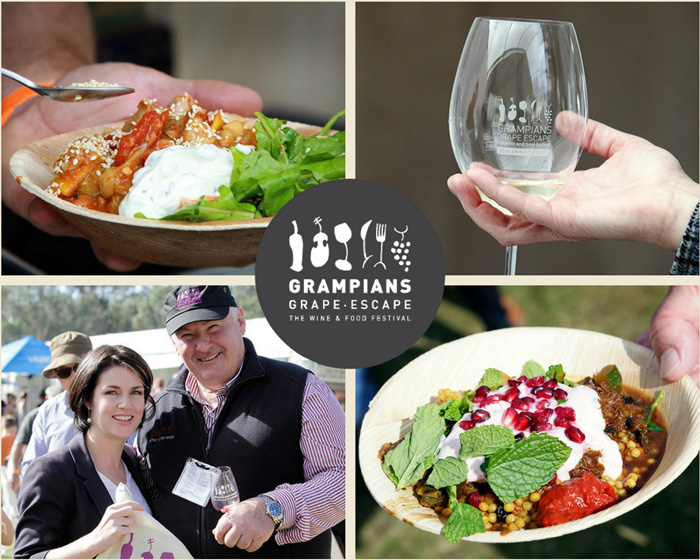 One of Australia's longest running food and wine festivals has something for everyone.
Discover the delights of 125 food and wine artisans while you soak up live music and family fun in the heart of the majestic Grampians National Park. Founded in 1991, the Grampians Grape Escape is one of Australia's longest running food and wine Festivals, held during the first weekend of May every year at Halls Gap.
Attended by around 10,000 people, the Festival provides a relaxed atmosphere for foodies, families and international tourists to drink and graze their way through the offerings of more than 100 of Western Victoria's best artisans of wine, fine food and produce.
Television presenter, author and 2010 MasterChef winner, Adam Liaw will headline the popular festival which caps off a whole month devoted to Western Victoria's best food and wine produce.
The author of five cookbooks who recently won the AACTA Award for Best Lifestyle Program for his SBS show Destination Flavour Scandinavia has a flair for using local ingredients to bring simple recipes to life and is excited to join the event.
"I can't wait to get to the Grampians, the region is simply stunning and what's more, it's renowned for amazing fresh produce, not to mention the great wine and people.
"The Grampians Grape Escape is one of the best regional food and wine festivals in the country and working my culinary magic for festival goers will be a delight given the high quality of fresh ingredients produced in the region," said Liaw.
In addition to Liaw, Deline Briscoe, one of Australia's most talented indigenous artists, has just come off the back of a sold-out international tour with Black Arm Band and will be accompanied by a six-piece band for what will be a skin tingling performance.
Joining Briscoe for the annual wine and food pilgrimage is culinary dessert queen, Kate Ferguson, who will form part of a packed two days of entertainment in Halls Gap over May 6 and 7.
Adding to the mix heavy with band talent, will be folk singer, Freya Josephine Hollick, alternative folk music project, Vanderlay and acoustic roots and blues artist, Nick Charles, who will join the already announced Chris Wilson, William Crighton and Quarry Dead Mountain Rats.
Banjo-wielding, blues loving Karl S Williams and indie surf-rockers, Shag Rock will bring their own unique vibes, while Demi Louise's romantic hazy tunes will also provide the perfect accompaniment for those enjoying the wine on offer.
In addition to the cracking music, there will be plenty of action for little foodies. While mums and dads enjoy the wine and beats, kids can meet native animals, paint a boomerang, stomp grapes or become pros at potting herbs. Sunday is funday with extra kids' activities including pasta making, Chef's hat decorating and a rock climbing wall.
Taking place in Halls Gap and surrounded by the majestic mountain ranges of the Grampians National Park, wine lovers are set to have an indulgent weekend combining wine, food and nature for the ultimate escape.
Masterclasses with local producers showcasing their abilities and local vintners sharing their wine knowledge are sure to be a hit with festival attendees as will headline Chef, Adam Liaw plus exhibitor tastings and the fiercely anticipated Barrique Auction.
For more information, partner events and the main stage line-up visit: grampiansgrapeescape.com.au.