By Leigh O'Connor.
What do you call cheese that isn't yours? Nacho cheese!
Okay a little corn chippy, but that's what you get when you are celebrating International Nachos Day, on Saturday November 6.
Did you know nachos are actually named after a guy called Nacho - the maître d' who came up with the dish was called Ignacio 'Nacho' Anaya?
Nachos were invented in Mexico when wives of US soldiers stationed in Eagle Pass, Texas crossed the border on a shopping trip and arrived at a restaurant after closing. The maître d' whipped them up – you guessed it – nachos. The year was 1943 and the city was Piedras Negras.
Here are some of our favourite restaurants to get your Mexican on:
Foodies looking for a Mexican-Italian fix on Saturday can head to Criniti's in
Carlton
,
Wetherill Park
,
Castle Hill
and
Kotara
and chow down on beef Bolognese nachos, with melted cheddar, smashed avocado, tomato salsa, jalapenos, sour cream and shallots, served with ranch dressing. Wash them down with a cheeky cocktail or ice-cold cerveza.
Guac on down to
Si Senor Art Taqueria
on Carlisle Street in Balaclava to don a sombrero and sip a tequila in celebration of all things nachos. Satisfy cravings with crunchy corn chips, a choice of vegetarian or protein, melted cheese, green salsa, salsa de roja, fresh red onions and cilantro, at this Mexican wonderland where quirky accents like skulls, neon cacti and a shiny black pig await.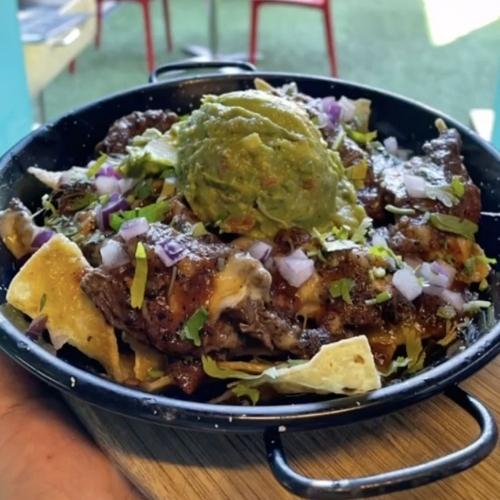 Si Senor Art Taqueria satisfies nacho cravings for Balaclava foodies.
Melbourne's favourite Mexican restaurant and food truck,
Burrito Bae
on Mount Alexander Road brings Ascot Vale amigos together over cerveza and good times. Step into fun and funky surrounds of monochromatic décor, softly glowing Edison bulb lighting and a striking wall mural of a Mexican woman, to settle in with an ice-cold brew and plate of nachos.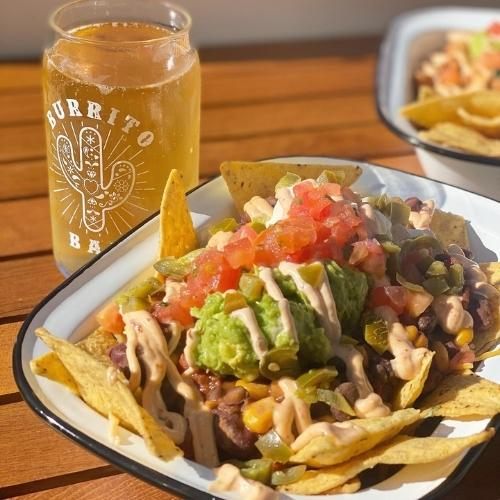 Guac on down to Burrito Bae for nacho average Mexican fare.
Gorge on a fiesta of flavours at
Loco Mexican,
a vibrant hot spot to see and be seen in Victor Harbor in the upstairs level of the Harbor Mall. Radiating warm and lively colours, inside feels energetic as hungry friends gather over plates of nachos, with smoked pulled pork, Jack cheese, pico de gallo, drunken beans, sour cream, guacamole and cilantro.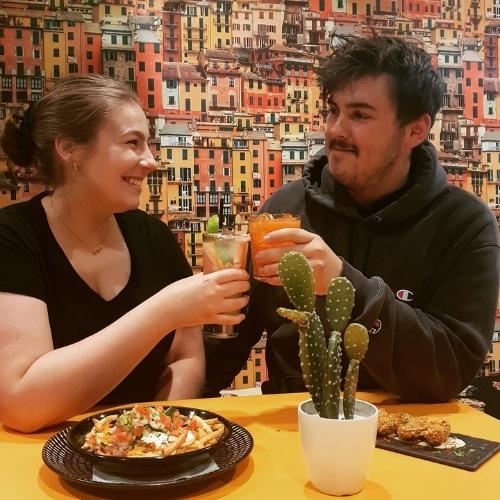 Gorge on a fiesta of flavours at Loco Mexican.
Bringing the best of your fave little Latin American beach bar to Bondi, head to
Bondi Rumba
on Glenayr Avenue for Mexican eats and beats. A home for good vibes, artists, bohemians, musicians and surfers, this eatery brings people together to celebrate life; sit at the open window with a Margarita in hand and share a plate of everyone's favourite nachos, or shredded beef quesadillas.
Bondi Rumba…a home for good vibes and times.
Still looking for a Mexican joint to celebrate on Saturday? Click
here
to find a restaurant near you.