Crazy and sweet… that's how MasterChef's youngest ever winner Larissa Takchi describes her culinary style.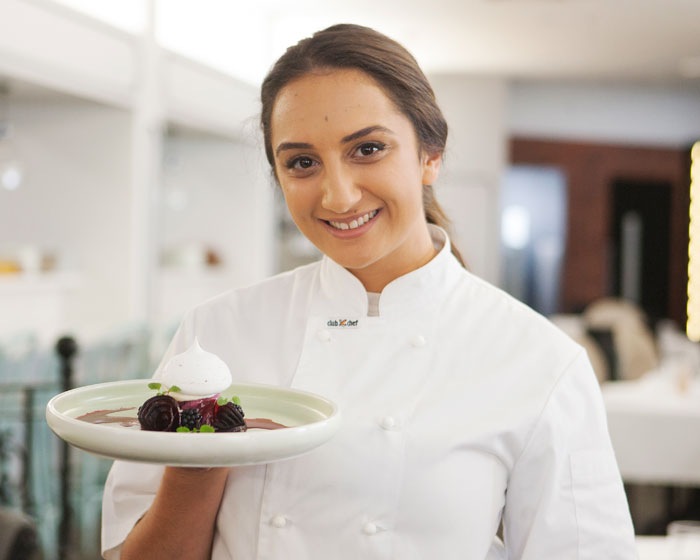 Larissa Takchi and her winning dish from MasterChef.
Affectionately known as 'Larry', this Sydney Chef was just 11-years-old when MasterChef premiered on our screens in 2009. It was her baking and dessert skills that really came to the fore in the 2019 competition, including a Szechuan pavlova, finished with beetroot and blackberry sorbet, beetroot syrup and lemon cream, which catapulted her to the top of the leader board.
We caught up with Larissa as she prepares for 2020, to ask "so, where to from here?"
"The one thing I took away from MasterChef is that anything is possible," she says. "MasterChef is all about throwing huge curve balls at you 24/7 and you are expected to make it out alive at the end of it. We had to achieve some ridiculous, irrational and crazy challenges and you know the craziest bit?
"We actually did it. It taught me a lot of things about myself; I didn't think I was so ballsy to do any of this. How far can I take myself? The reach is utterly limitless."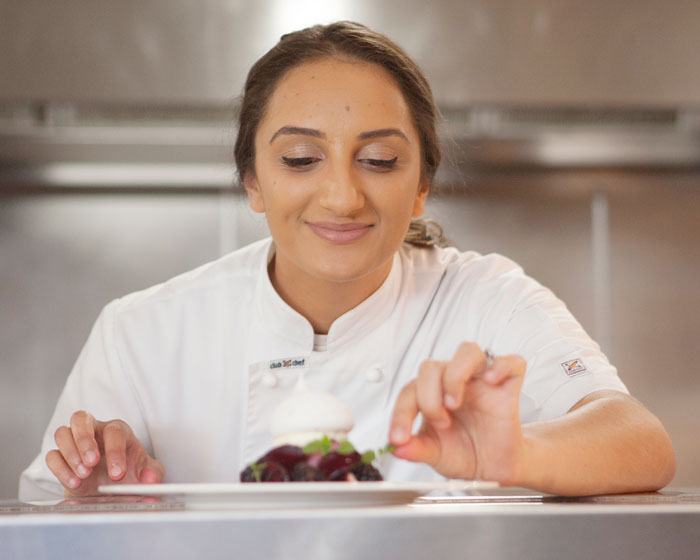 From a big Lebanese family, Larissa's Chef dream started with going out to restaurants, lots of cooking shows and a whole lot of procrastination during school hours.
"The one thing I love about food is that it's the international language; you will always need to eat which means always bringing people together. To top that, cooking food makes people happy, how does it get any better?"
Pairing unusual flavour combinations and taking her diners by surprise is how Larry describes translating her cooking style to the plate. Just because it sounds crazy, doesn't necessarily mean it tastes good and she fully understands taking something too far can be offensive; she fine tunes dishes to ensure the flavours she's working with are tasty but don't offend the palate.
"I love all things sweet – baked goods and dessert making. I love breaking boundaries, particularly in this field; introducing savoury ingredients to sweet, things such as beetroot or peppercorns transformed into a dessert, that is pleasantly surprising," Larry explains.
"Or course, I also love cooking and eating Mediterranean, Middle Eastern and Asian food. The world is my oyster!"
Larry confesses former MasterChef judges Matt Preston, Gary Mehigan and George Calombaris will forever be her mentors, as they were so open minded and willing to see contestants exceed at being their complete selves.
"I loved how unbiased and unpretentious their feedback was. It's so easy for Chefs or foodies to have this air of arrogance that shuns and limits their views on food.
"At first when entering the show, I wasn't fully aware of what my food style was. Did I like sweet, savoury, Asian, Middle Eastern, vegetarian… the list goes on. The judges helped me fine tune that and see me for the cook I am, and I'll forever thank them for that."
So, where does her inspiration for these crazy and sweet creations come from?
"A lot of it comes from food memories, for example as a kid (and even now, guilty as charged), I loved dipping McDonald's chips into my chocolate thick shake. I thought about those flavour combinations and instead of potato why not parsnip? Why not a parsnip ice cream with a dark chocolate cremeaux? See where my head's at?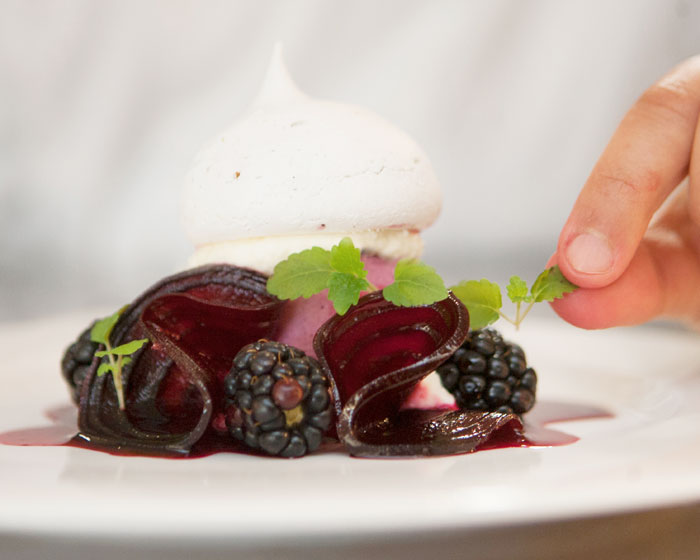 "Crazy I know, but I guess it gives me an edge. Szechuan in a pavlova does sound crazy on paper, but if the Italians can use black pepper with strawberries, balsamic and basil; then why can't we use Szechuan peppercorns in a sweet context?"
Larry's current invention is her Black Forest macaron with blackberry mustard filling, which will be featured at the So Frenchy So Chic festival in Sydney this month.
"Sounds crazy, but this is a good one. Mustard isn't really used in a sweet context, but I've added a touch of mustard to the sweet acidic filling and it adds a whole new dimension of flavour."
With down-the-track plans to build a farm and establish an on-site restaurant, Larry takes inspiration from the Fat Pig Farm in Tasmania and wants to serve her guests what she grows on the land.
"It's going to be a long and hard road to get there, but if I can win MasterChef, then anything's possible. Farm to table food will be the cuisine, taking influences from different cultures around the world and of course, adding a special Larry twist to it."
With her Mum (who owns a restaurant north of the city) her biggest culinary influence, Larry says that background knowledge and being a parent makes her the best possible role model.
"She's taught me everything; how to be resilient, how to be sensible when it comes to flavour pairings and how to respect ingredients."
We look forward to seeing how Larry continues to break boundaries in the future.
What are the trending ingredients for 2020 and why?
"I think generally, trending ingredients would be vastly vegetables and zero-waste cooking. Kudos to Matt Preston for preaching the undervalued vegetable! I think people are not only starting to realise that eating meat every day isn't good for them, but that vegetables can make for a sustainable meal that we don't have enough of!
"Instead of meat with a side of vegetables, why not vegetables with a side of meat? Zero-waste cooking is huge at the moment and it's only going to get bigger! This applies for many ingredients, for meat, it's utilising everything from head to tail, vegetables from root to stem and fish from fin to fin (thanks to Josh Niland)."