by Matthew Evans, Nick Haddow and Ross O'Meara
"Classic Flavours - Real Food - Simple Recipes"
Circumnavigate Tasmania on a hunter-gatherer journey for sustainable seafood with former chef and food critic Matthew Evans and his two best chef mates Nick Haddow and Ross O'Meara in The Gourmet Farmer Goes Fishing.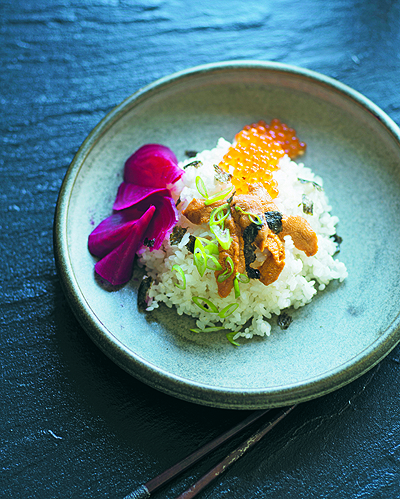 Japanese Uni Don with Urchin Roe and Salmon Roe
Explore Tasmania's crystal clear waters and abundance of lesser-known fish species on every page and share in the raw passion and experiences of these three chefs. The Gourmet Farmer Goes Fishing demystifies everything from abalone to sea urchin and snapper to octopus. These chefs no longer regard the humble cockle as simply fish bait and would much prefer a bream on the end of their line than the excitement of reeling in a big tuna any day. As they describe each species' gastronomic potential, enthusiastic commentary jumps out of the pages with the re-telling of small wins and unbridled adventure. With chapters 'From The Shore' , 'Reef and Rockpools', 'Rivers, Estuaries and Bays', 'The Deep Blue' and 'Preserving Seafood' this book is a celebration of what our ocean and rivers have to offer.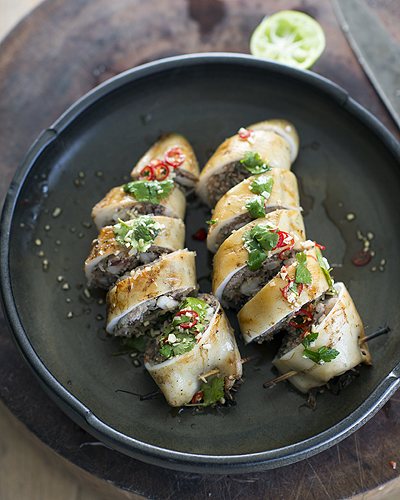 Vietnamese Pork Stuffed Calamari
Introducing each new section of seafood with a story of diving, waiting for tides to change or the patience of floundering in the night, this book can be used like a guide with its helpful tips on how to enjoy successful hunting, foraging and gathering. A few varying recipes then demonstrate and instruct how to prepare succulent seafood worthy of the most reputable restaurants.
Drawing inspiration from cuisines of Japan to Spain, India to Mexico as well as classic Australian seafood dishes, The Gourmet Farmer Goes Fishing offers flavoursome meals for the table wherever you are. With this recipe book in hand, picnics by the water are soon to be accompanied by simple seafood creations like classic abalone fritters with fresh lemon and Tabasco sauce or crab rolls with Meyer lemon mayonnaise. Dinner guests will surely be impressed with homemade smoked mackerel pate on toasted rye bread before enjoying a zesty, Asian inspired Thai squid with green papaya and peanut salad or a whole-baked leatherjacket with white wine and herbs.
Riddled with humour throughout, from stripping down to undies and fishing off the wash of breakers to an octopus attack in the dark, this entertaining book of knowledge and recipes is sure to have you untangling fishing rods and dusting off cray pots before the last page is turned.
Recipes and images from The Gourmet Farmer Goes Fishing By Matthew Evans, Nick Haddow and Ross O'Meara,
Published by Murdoch Books.On Sale Now!
By Annabel Rainsford.