By Matteo Bruno from The Meatball and Wine Bar.
Meatballs! Delight is always provided in a plate of meatballs, whether for a humble Monday night family dinner or over a glass of wine at Matteo Bruno's artisan meatball restaurant in the heart of Melbourne city.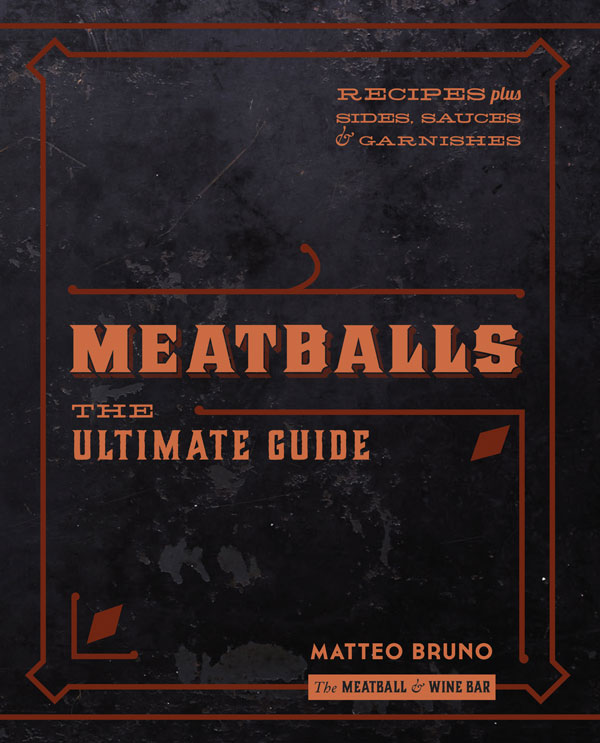 Master the art of making the meatball in Matteo Bruno's cookbook giving meatballs a much-needed make-over, Meatballs: The Ultimate Guide.
Inside this cookbook's matte and gloss cover is more than just a world of all things meatballs, beginning with a starter's guide to mince and offering tips and trick of the trade to get you cooking like a pro. Learn how to source the best from your local butcher, the cuts of meats that work best, how each meat contains different proteins and the way this changes the consistency of your end product. Understand why Matteo believes fat is your friend, but how lean meats like turkey in Spiced Turkey Meatballs also work well and why some techniques for cooking just work better than others.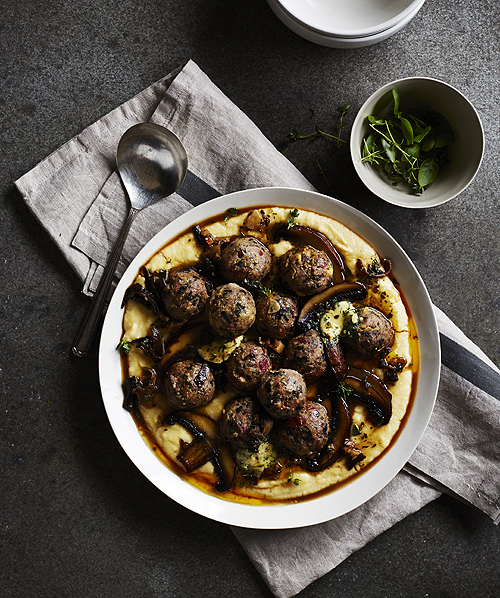 Veal and pork meatballs with polenta and mushroom, p.66.
A meatball for every occasion can be found inside and cooked any day of the week, prepared in advance or whipped up last minute for a quick family feed. Choose from 60 meatball recipes to create your own Saturday night feast with a section for sides, sauces and garnishes to give you the finishing touches like the Veal and Pork Meatballs with Polenta and Mushroom. Wow your guests with a surprise sprinkle of chilli flakes, a few unexpected drops of truffle oil, a teaspoon of tasty quince paste or perhaps a handful of muscatels to keep their mouths watering for more tantalising bites.
Whether you prefer to oven bake, pan fry, steam or grill, or you just want a basic beef mince recipe, a gourmet spin with game and goat or the freedom to choose your own seafood with the Baked Seafood Balls in paper parcels, there is surely something to suit, there's even something for the vegetarians with meatballs of quinoa, tofu or mushrooms and an array of flavoursome accompaniments. The kids can be involved too with little fingers digging into the mix and rolling out spheres of meaty goodness or take time to perfect your techniques with guidance from in depth procedures.
Whatever the occasion calls for, trust in Matteo's meatball expertise and with his guide, you will be creating succulent sauces and meaty masterpieces for many years to come.
By Julie Johnson.
Recipe and images from Meatballs, The Ultimate Guide, published by Matteo Bruno, published by Murdoch Books.