Join Luke Nyugen on a gastronomic adventure through France, discovering the magical elements of the culture, food and its people, from the bustling streets of Paris all the way to the Southern coastal city Marseille, and everywhere in between in his latest cookbook, France.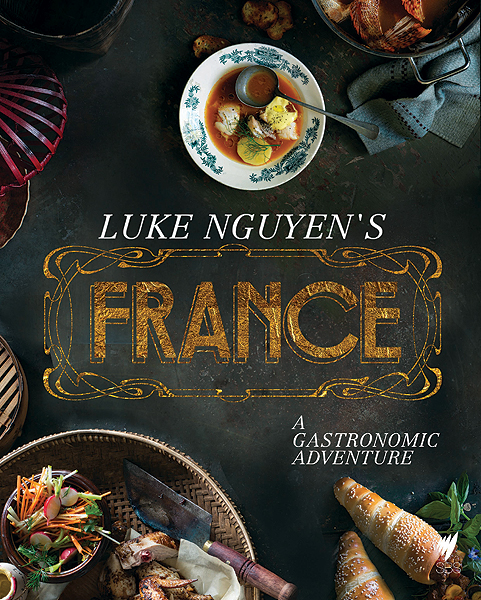 One of Australia's most highly regarded Chefs, Luke Nguyen owns Sydney's acclaimed Red Lantern restaurant and regularly presents television shows on SBS, the latest, a culinary journey through this European nation, rich in history and signature flavours.
Hand in hand with his latest television show, Luke connects the dots between a an unlikely pairing of Vietnamese and French cuisines, evident in recipes such as his Vietnamese Pork Omelette, that at first glance, can seem as far removed from one another as they are in distance. Backed by a lifetime of knowledge based on Asian gastronomy, Luke travels to France to extend his understanding of the culinary history and relationship they share, with the help of his long-distance relatives.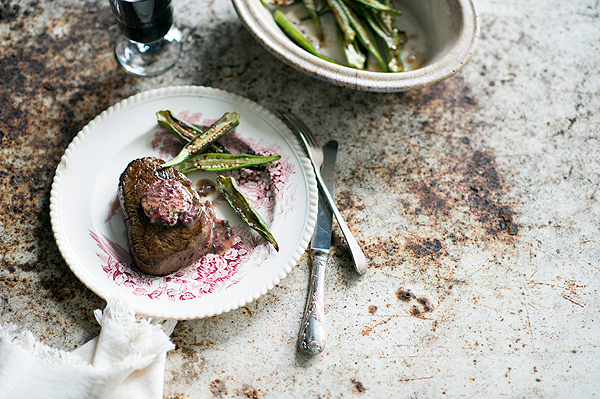 Scotch Fillet with Okra and Red Asian Shallot Butter, p. 200.
Sharing kitchen bench space beside his cousins in their very own Parisian restaurants lights Luke's initial spark to discover more about what connects these two cultures. For those who enjoy tangy Asian dishes, France is sure to give a greater depth of understanding to some of the most loved Vietnamese meals, while those who gravitate towards European classics may find inspiration to dazzle up a dish. You may prefer Escargot with a little lemongrass, lime and basil, or perhaps a tender Scotch Fillet with okra and red Asian shallot butter. So how exactly have these two unusually linked cuisines influenced one another? Choosing prominent regions like Nice, and popular foodie hotspots like Lyon, Luke attempts to piece together a puzzle of extraordinary foods.
Grow closer to the intricacies of what makes French food one of the most loved cuisines worldwide, and how the classics remain favourites, standing the test of time to grace our most successful restaurants today and learn to re-create them at home. Add a dash of energetic, ever-evolving Vietnamese culture and you have yourself a feast of tantalizing, though unexpected flavour combinations.
As much of a cookbook as it is a food diary of a journey through a beautiful country, France is nothing less than an adventurous treasure hunt, jumping from the pages with warm photography of Luke and his family, charming French architecture, the flourishing countryside landscapes and of course the delicious dishes paired with recipes and Luke's commentary to help those ready to give it a go for themselves. Pick up a copy for yourself.
By Julie Johnson.
Recipes and Images from France by Luke Nguyen, Published by SBS $59.95 and is available from cooked.com.au signed.