Smudge Publishing uncovers the tastes of Queensland in a new book which showcases local restaurants, bars and cafes as well as recipes intertwined with farmers' markets, history and culture, all surrounded by captivating photography.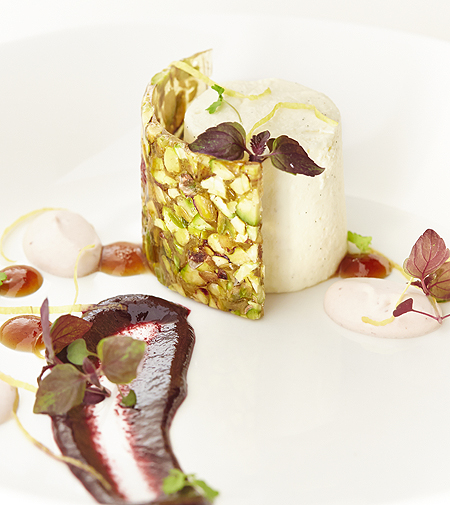 North Queensland Mungalli Quark and Yoghurt Lemon Cheesecake - Chef Recipe by Matt Merrin from Jam.
Welcome to Queensland, where the sun always shines, even when it's raining; where the beaches are almost as white as the teeth of the Gold Coast meter maids and a tropical forest adventure is only a car ride away. It's a state the preserves their history, while head first barrelling into the future and Flavours of Queensland has clearly wrapped these sentiments into a neat 471 page coffee table book. This isn't your average take with you pocket book, Flavours of Queensland sets out your journey with a synopsis of Queensland from Editor in Chief Jonette George before leading you to a map of Queensland, the state's ancient history, historical timelines, a thorough explanation of Queensland's use of Ocean to Plate, Nose to Tail, Farmers' Markets and its very own wine region – the Granite Belt.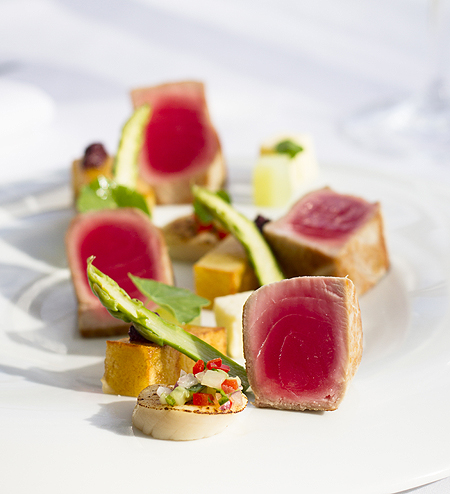 Confit Yellowfin Tuna, Chef Recipe by Anthony Shone from Tides Waterfront Dining.
Although Flavours of Queensland doesn't include every restaurant, bar, cafe or chef in the state, it has done a commendable job to include some of the state's best, enticing readers to visit the state to see for themselves. From Brisbane City to North Queensland the yellow brick road is full of culinary stops – you only need follow it starting at The Gunshop Cafe in Brisbane's west end where a delicious recipe of house-made honey cinnamon labna served on toasted walnut bread with grilled figs and strawberries is just waiting for you to devour it.
Moving to Urban Brisbane and stopping at an iconic French bistro; Roman Bapst's restaurant Lutece Bistro & Wine Bar serves up some of the highest quality fresh produce in the region which can be seen in a mouth watering recipe of Moreton Bay Bug tail with gnocchi, chestnut and sage, whetting the appetite of loyal locals. If the beaches of the Gold Coast entice you just as much as the food, then take a trip to Room 81 with dessert in mind, as Sofitel Gold Coast's signature restaurant serves up a Valrhona Milk Chocolate Sphere that will make up for any trip taken by airplane.
Flavours of Queensland will excite intrigued palates and if it doesn't utterly convince you that a trip to Queensland is needed, then nothing else will. Be sure to remove the cover of the book for a fold-out completely illustrated map of the culinary hotspots contained within the book.
Check out this video below if you're still not convinced. Flavours of Queensland is available through all venues featured in the book, leading bookstores and online here for RRP $80.
[video src="Flavours of Queensland-SD.mp4"]