Cooking With Our Home Grown Champion
A six pack in the kitchen that's not lodged in the fridge? And it's willing to cook?! Form an orderly queue, ladies. Aussie swimming champion by day and celebrity MasterChef by night, it seems Eamon Sullivan takes the gold in the pool as well as in the kitchen, sharing his journey from being a hollow legged teenager to the healthy, balanced and (need I say) buff athlete he is today. Training for the 2012 London Olympics, Eamon Sullivan is more than happy to share his diet of all things fresh and fun in his first publication, 'Eamon's Kitchen'.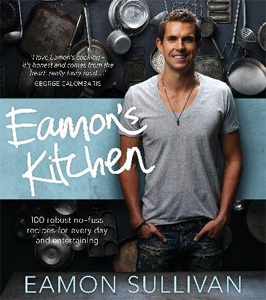 'Eamon's Kitchen' is a no fuss recipe book filled with modern Australian cuisine. Forget fancy, Eamon has no time for that. Big on flavour and low on preparation, all recipes from 'Eamon's Kitchen' are hearty, homey and healthy, giving you the satisfaction of comfort meals without the guilt. This book also includes a vast collection of breakfast and brunch recipes designed to get you and your tastebuds up and running – or swimming, in Eamon's case.
"A class where you didn't have to pick up a pen, you got to see the results and then eat the results? It was almost too good to be true…" From home economics to the wide world of sport, Eamon is a big believer in healthy eating, organised cooking and is hesitant to use the dreaded 4 letter word 'diet'. He began his passion for food in school, satisfying his hunger in a most tactful manner, and brings this home grown personality to our kitchens in his first cookbook, full of wit, charm and family orientation. 'Eamon's Kitchen' offers a clear read and easy approach, complemented by a range of heart melting glossy family photos.
Although designed to beat the clock, the recipes throughout 'Eamon's Kitchen' are anything but ordinary. From the family favourite 'Mum's spinach pie' to the beautiful 'boozy cherry tiramisu', Eamon's collection of 100 robust recipes will leave you flicking the pages for more. Described by chef George Calombaris as "honest" and "straight from the heart", Eamon's recipes are tasty and achievable and stand as casual culinary delights, impressing guests who conveniently turn up on meal time.
Eamon's Kitchen also features menu's and step by step preparation guides to becoming the host with the most, giving pointers from what to organize the night before your family Sunday roast to how to present meals at a last minute gathering. A perfect gift for the soon to leave home child or the kid at heart, 'Eamon's Kitchen' is an all rounder for time savvy foodies looking to put the g-o back in gourmet.
By AGFG contributing writer Brittany George
New from Penguin Australia, released 29 August 2011, you can read more and purchase a copy of 'Eamon's Kitchen' online.