How to Make Edible Art on a Plate
If you haven't had a chance to experience the new Bentley Restaurant & Bar in Surry Hills, that's met with rave reviews, then consider their other artistic product. You can enjoy "Bentley Contemporary Cuisine", courtesy of Murdoch books, in the comforts of your own home. Their cookbook was released in November 2010, designed to complement the new look and feel of their imaginatively refurbished establishment that opened to the public in the same momentous year.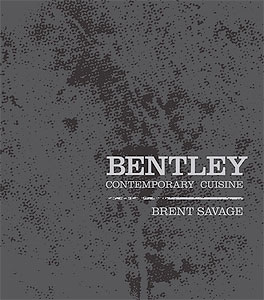 This cookbook represents compounding culinary concoctions from the brain of award winning Chef and Restaurant Owner, Brent Savage. The build up to his new and improved Bentley Restaurant & Bar and simultaneous book release was a passionate pursuit of four devout and laborious years leading to critical acclaim and a lofty budget increase, from which the Bentley of his dreams emerged. "Bentley Contemporary Cuisine" is a true representation of their fine food in black, libidinous binding, a tantalizing page turner for its visuals and an inspiring motivator for its evocative recipes that require an open-minded experimental reader.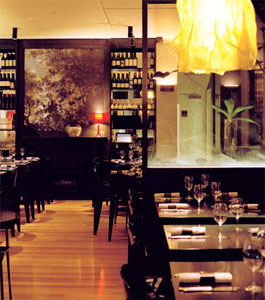 Chances are it will be apprentice chefs and seasoned professionals that derive the most from Brent's own recipe deconstruction; though these recipes are carefully designed to be accessible, amateur home cooks and hobbyists, if somewhat improficient, will be limited in their interpretation of what he's written on the page. For those who respond well to imagery, you'll be delighted to discover expert food photography accompanying each dish.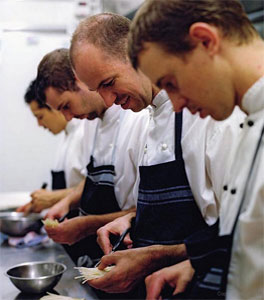 Having never written a cookbook before in his life, Brent was able to balance both his business responsibilities and recipe reiteration, resulting in a tangible book full of enticing delicacies that will astound your kitchen audiences if you manage to pull them off. If you are a "humble art student" in the kitchen, keep in mind that the Bentley cooking process is engaging enough in itself that the journey is just reward. If you are determined to use this sexy black cookbook, making it more than a coffee table ornament, set forth with serious resolve and a sense of purpose when taking on these dishes; afterall, Savage is offering much more than a meal, he's highlighting the how to's of making edible art. As such, masterfully completing certain dishes will be no small feat.
Bentley Contemporary Cuisine Edible Endings
Savage isn't delivering meat and potatoes, this is cutting edge food you're creating as depicted in none other than the dessert section where every dish is like a layer cake of elements. It represents the most complicated section in "Bentley Contemporary Cuisine" where recreating his incredible edible endings is an undertaking. His intro to desserts includes a few encouraging words such as, "if you want to simplify a dish, make just one or two components." Reading between the lines, where appropriate, you may wish to apply this philosophy to other recipe sections as well. If you opt for the Carrot Cake with Black Olive Sorbet in its entirety, for example, be prepared to make sorbet, orange blossom gel, coffee & pistachio crumbs, carrot puree and carrot cake; alternatively, the Chocolate Ganache with Orange Oil, Spice and Salt, a real hit with the ladies, is simply ganache, orange oil, and spice mix – choose wisely.
Brent's recipes include multi-tiered layers of texture and taste, though his mains are made to please and are primarily based around a protein that stands alone with garnishes that are sometimes (oftentimes?) somewhat outlandish. This lends itself to the "Bentley" reader who's less cultivated in the kitchen because they can opt to highlight the fresh Australian produce that was just purchased and be relatively certain the outcome will be palatable. If you choose Yellowfin Tuna with Red Pepper Crumbs, Yoghurt and Anchovy, perhaps master the tuna to start and build up to adding the other six elements.
Modern Art that You Can Make At Home
The beauty of Brent Savage's book, beyond the photography – presenting food displays shot like modern art– is that for a first-time writer, he's really taken to breaking down his recipes, describing the finer elements of his modern cuisine in great detail. Believe it or not, he's written this cookbook with the domestic cook in mind spent dedicated many nights and weekends to perfecting this recipes that had never before been written out in entirety.
You know you're in for an extraordinary epicurean journey when the book's prelude indicates three classic techniques such as sous vide (cooking in the bag) altered so that you can try them at home – giving you that professional flare. Considering his glossary, there's an assumption being made that you've invested some time setting up your kitchen, so read your chosen recipes beforehand so that you're prepared to complete the dish, if opting for the start-to-finish approach. Maybe you'll want to make one of the items in the dish rather than the whole thing.
Big Black Book Full of Little Bits of Brilliance
Some of his tapas will take awhile, the eel being one of Brent's signatures and an excellent example of what he describes as a complicated dish. We're not dealing with a simple chef nor is his food going to manifest as zenified yet zealous cuisine without some serious concentration and discipline by the reader cook. For the persevering, the end result may indeed look like a piece of artwork in a gallery. The book design does a great job of paralleling this intention by giving us an urbane scrapbook of black paper with crisp metallic and white font that gives "Bentley Contemporary Cuisine" an overall rock star appeal.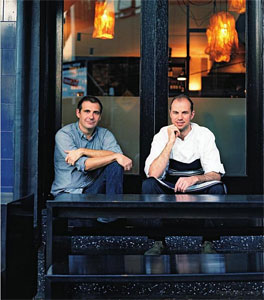 After being allotted the prestigious 2005 Chef of the Year title, Brent Savage paired up with award winning Sommelier Nick Hildebrandt to start up Bentley, launching into it as a relatively low-budget labour of love in 2006. Achieving success in their vision, it gave rise to the rebirth of Bentley Restaurant & Bar in 2010 and coinciding book release. Akin to their restaurant relationship, the marriage of food and wine is digested in "Bentley Contemporary Cuisine" and goes one step further to include gourmet cocktails that take one step (or two, or three…) beyond classic favourites – anyone fancy a Frozen 'Popcorn' Hemingway?
If the dishes in Brent Savage's "Bentley Contemporary Cuisine" could be preserved you could display the collection in a modern art museum, so expect something fascinating if you're successful in following his how to recipes. If short of perfection, the flavour of these dishes promises to be spectacular, even if the dish is a bit messy on the plate.
Photography by Luke Burgess.
Review by Kelly Korpesio