Italian food is undeniably one of the most widely adopted cuisines throughout the world. Cooking is regarded as the centre point of most Italian households, with generational recipes forming a culinary institution to be taught through the tactile touch of crafting the perfect pasta dough by hand, through the scent of aromatic tomato sauces simmering and through sight, to select the freshest ingredients possible. However, as with many cuisines, change is inevitable, with modern day renegade Italian Chefs pushing the boundaries and marrying their inherent culinary skills with creative license.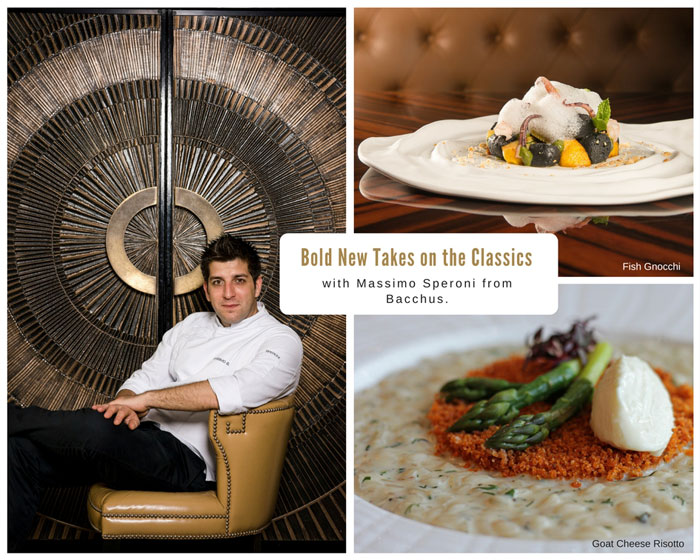 Bacchus restaurant, the multi award-winning establishment of South Bank Brisbane, has been fortunate enough to experience this movement first hand by appointing Italian Chef and fine dining specialist Massimo Speroni to spearhead their brand. Speroni joins the Bacchus name direct from the 2 Michelin-starred restaurant San Domenico in Imola, Italy where he was Sous Chef, working with Owner/Chef Valentino Marcattilii. He also worked with Chef Marcattilii in his formative years as a Chef de Partie and Junior Sous, and credits the famed Italian Chef for much of his flavour preferences now.
Speroni shares with us his bold new take on the classic Italian favourite of gnocchi, which would have Nonna's the world over cursing in retribution; that is until they have tried it. Speroni's fish gnocchi is a complex dish with each unique element working in harmony to deliver a visually dramatic dish, a stark contrast from the traditional monotone appearance of most plated gnocchi.
This gnocchi is a deep charcoal in colour, achieved through the use of squid ink, with the silky, melt in your mouth texture expected of a potato and flour based gnocchi, achieved with white fish, egg whites and cream. Softly fried calamari pieces carry through the nod to the ocean, whilst pieces of vivid yellow squash add a textured crunch. The addition of a theatrical Pecorino Romano foam floats weightlessly atop, finishing off this dish with an air of elegance, leaving a lasting first impression for the diner.
Speroni's fish gnocchi is not the only twist on a classic he has been brave enough to reconstruct, also creating the risotto of all risottos, with a goat cheese rendition. This recipe calls for the addition of three different cheeses and is topped with a punchy toasted tomato bread crumb and blanched asparagus spears to complement the sharpness in taste.
Happy eating!