Up, Up and Away… Singapore Airlines Presents How to Go "Above & Beyond" in the Kitchen
Our recent blog impressed upon you the importance of sending salutations to winter with one last thematic dinner party, a fond farewell until next year. And why not whip up one last winter dinner party? At the AGFG we always offer you an opportunity to research special recipes on our site, offering you a trustworthy source of material from Australian chefs.
Recently we heard from Singapore Airlines promoting their latest publication "Above and Beyond: A Collection of Recipes from the Singapore Airlines International Culinary Panel." It represents an international tribe of ten world renowned Chefs, each offering a meal selection hand picked to represent their style.
Singapore Airlines has pledged to donate the net proceeds from the sale of this fantastic cookbook to Community Chest, a non-profit organisation assisting the less advantaged in the community. Part of the donation will also benefit the Straits Times Pocket Money Fund and the Business Times Budding Artists Fund.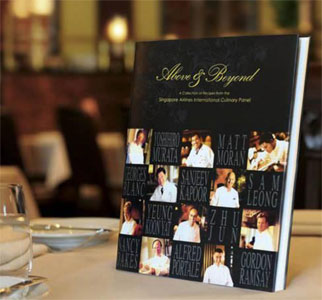 Taking one or more of their suggestions will send you and your guests on a flight of fancy: If you opt to try one Chef's suggestions for your winter festivities, each one offers two alternatives in the appetisers and mains, though you'll have to go with their chosen dessert – no worries, there's little chance of disappointment (if you follow the instructions properly).
This recipe book is also clearly outlined which makes it easy to use and offers flexibility if you dare to mix and match. When putting together your gourmet 3 course meal, from entrée to dessert, you can trust the publishers have hand picked the best chefs, professionals who are pointing out dependable menu pleasers. So why not impress your friends this winter and whip up a winter dinner party, and at the end –when they're fully satisfied- offer them a tip… "Above & Beyond."
A Panoramic Spread of an Amazing Meal
Their menu suggestions peppered throughout the book coincide with large beautiful pictures. Like the panorama outside when lifting off in a jet plane, these gorgeous images inspire and allow you to relax, knowing where you're going at the end of this culinary adventure. A glossary of ingredients complete with pictures appears at the back of the book so domestic cooks can learn more about the various ingredients used in the recipes.
If you watch cooking shows such as Masterchef, The F Word and The Chopping Block, then this book is for you. With stylishly designed and clear recipe instructions, "Above & Beyond" boasts a collection of 50 delicious recipes contributed by 10 of the biggest chef names in the global culinary stage; Matt Moran from Australia, Georges Blanc from France, Sanjeev Kapoor from India, Sam Leong from Singapore, Yoshihiro Murata from Japan, Alfred Portale from the USA, Gordon Ramsay from the UK, Zhu Jun from China, Nancy Oaks from the USA and Yeung Koon Yat from Hong Kong.

Amongst popular contemporaries is homegrown New South Wales farmboy, Matt Moran who has been working in the kitchen since the age of 15. In his early twenties, he branched out on his own, establishing a name for himself in Sydney. Founding a flourishing career, which now stands as ARIA in Sydney and Brisbane, Moran contributes to our expanding "modern Australian" culinary canon and represents the country in the global community, participating in groups such as the Singapore Airlines International Culinary Panel (ICP).
This book is a great introduction to amazing chefs, each having their own section in the book starting with a short biography followed by recipes of two entrees, two mains and one dessert, all with stunning accompanying pictures. Looking at the mouth-watering pictures in the book, it's easy to feel daunted by the beautiful presentation and level of mastery behind each dish. The chefs have clearly thought this through and upon reading the instructions you'll see easy-to-find ingredients (with the exception of perhaps truffles) and simple to prepare methods which a kitchen novice will be able to handle. Generally the food itself is not hard to prepare; it's the artistic presentation of the dishes which can be a bit tricky to mimic.
Useful Cook Book for Creative International Cuisine
Even if you have to "make it your own" to some degree, trying to follow these recipes may be a wild ride at times. There are some weird and wonderful recipes in here so read it with an open mind. Sam Leong's Drunken Chicken in Jello with Wolfberries is worth a mention here. Think of a jellied chicken soup mound with flavoursome chicken shreds flavoured inside with heady wine. As odd as this may sound, it's very delicious and the textures of jelly with chicken will blow you away. Once you master the technique of getting the right proportion of gelatine to liquid right, you will make this dish perfectly every time.
Our own gastronomic guide, Matt Moran, committed to "great products," suggests Chestnut & Mushroom Cream Soup, a Baked Kingfish with White Beans, Mussels & Spinach and Baba Au Calva for dessert permeated with apple flavour. If you opt to play the field, selecting menu items from various Chefs try a toothsome combination such as Nancy Oakes Goat Cheese Tart with Plum & Beetroot Salad, Gordon Ramsey's Scottish Salmon Rillet with Caviar, and let your fancy fly off in wonder with Sanjeev Kapoor's Carrot Halwa Rolled in Saffron Crepes with Nougat Ice Cream offering an uplifting experience.
As the chefs themselves hail from all around the world this means you will find a lot of dishes inspired from the many types of world cuisine including Australian, Chinese, American, Scottish, Indian, Japanese, French and more. There is something here for everyone and the well presented chef profiles are a delight to read.
Those who would like to do their bit for charity, as well as host your winter guests with a dignified international flare, can purchase "Above & Beyond" at via the KrisShop catalogue. Customers who purchase before 31st December 2010 will enjoy free delivery.