Did you know Renee Zellweger ate 20 doughnuts a day to gain weight for the
Bridget Jones
movie sequel?
Once declared the 'Hit Food' of the Century in 1933 at the Chicago World Fair, these balls of dough are celebrated on National Doughnut Day on Friday, June 3.
There's something about these deep-fried treats that brings a smile to everyone's face – whether you like them original, cinnamon, glazed or coated in chocolate.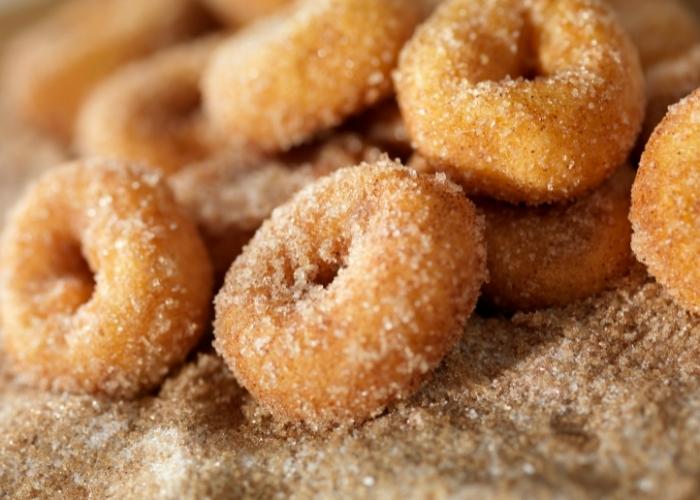 Where do cinnamon doughnuts come from? In the mid-19th Century, a New England ship's captain's mother Elizabeth Gregory made a wicked deep-fried dough that cleverly used her son's spice cargo of nutmeg and cinnamon, along with lemon rind.
With their golden cinnamon crusts, warm doughnuts get everyone jumping for joy, try this
cinnamon doughnut recipe
at home for a quick and easy lunchbox treat.
For evenly shaped doughnuts, rest the dough after rolling and before cutting; this prevents the dough from shrinking.
•Don't throw out the centres. Re-roll them to make more doughnuts or make custard gems – deep fry the centres for 40 seconds each side, or until golden and puffed. Spoon 180g of bought thick vanilla custard into a piping bag fitted with a 5 mm nozzle. Push the nozzle into the gems and pipe in custard, toss in cinnamon sugar.
•Don't have a deep fryer? Add oil to a large, deep saucepan to reach a depth of 8 cm. Heat to 180 C over high heat; when oil is ready, a cube of bread will turn golden in 15 seconds. Or test with a wooden spoon – when the oil bubbles around the spoon, it's ready.
Don't want to make doughnuts on Friday? Head to your fave café for a fix, click
here
for a venue near you.