By Sean Melrose.
"There is such a thing as a deep map. It is a guide to a place that is rooted in memory, in songs, paper maps, worn foot trails and the ashes of bonfires long forgotten." ~ Carlisle Rogers, p 67.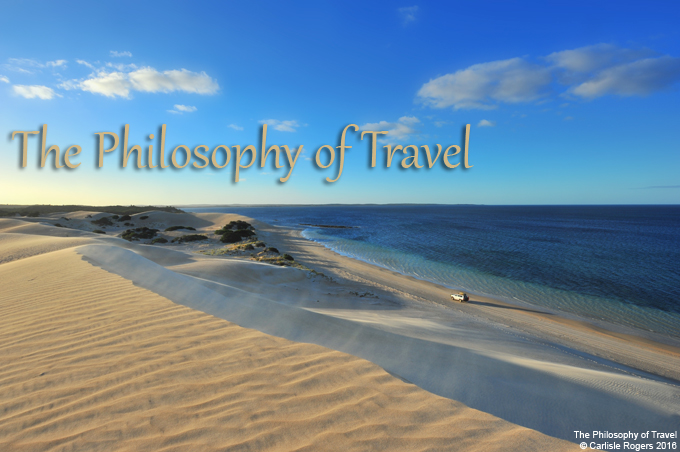 Fresh from the highway camera slung around his neck, photographer Carlisle Rogers delivers The Philosophy of Travel to the scores of travellers already bitten, or waiting to be infected with the travel bug. In a hard-bound coffee table bible of sorts, Rogers microscopically examines the human soul, using the act of travel as a cosmic mirror and an unforgiving spotlight.
Spoken about offhandedly when we talk about going away for a weekend, the word travelling receives a deeper reverence here, it's used in a manner more closely related to the way we carefully study religion, ponder rituals or examine early history.
Looking through the glossy pages, the dust can almost be tasted and the elemental heat from the crackling campsite fires almost felt. It's easy to feel tiny, when absorbed by the complete sense of scale presented in the photos. Four wheel drives appear as Rogers describes them, modern day horses for adventure, parked precariously on cliffs and trucking through moonlike rusted hillocks.
It's imagery that incites dreams of packed bags and new Toyota Landcruisers, of putting life's baggage into storage and leaving civilisation behind. These pages will no doubt inspire more than a few introspective, nomadic adventures on Australia's endless stretches of highway and even further over the edge.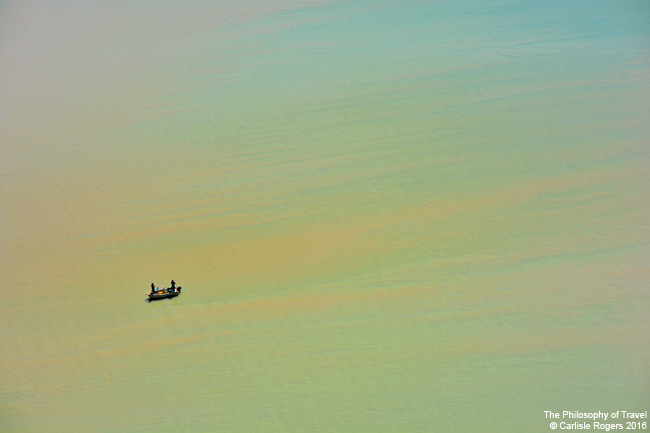 The tidelike pull of the road is a constant theme, a sermon on humanity's desire to explore the unknown, reminiscent of the opening of Melville's Moby Dick, "why is almost every robust healthy boy with a robust healthy soul in him, at some time or other crazy to go to sea?" It's as Rogers says, "perhaps, like the ocean, it [the road] is a place that man has not been able to shape in his own image, the circle he cannot square."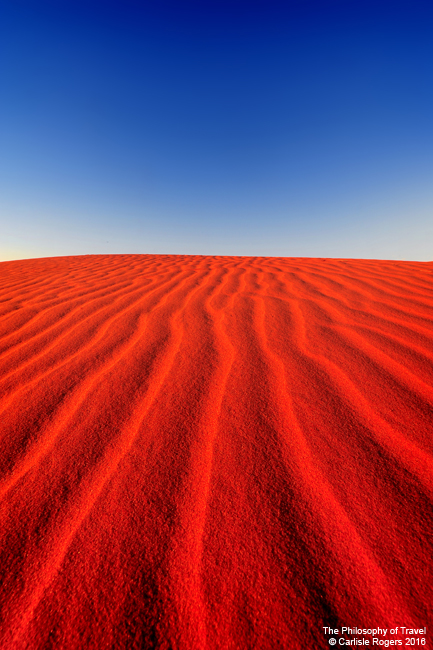 "The only real desert in the one we imagine. This place is full of life, fighting the good fight. You just have to look a little harder." ~ Carlisle Rogers, p 001.
There is a weighty resonance to Rogers' Tao of Australian travel, an invitation to consider the framework of society from the perspective of the road with its blood red sand and threatening indigo sky. In his eyes, visions of civilisation from the rear-view mirror are often gladly left behind. Not that he's pessimistic about society, just honest about its frailties.
"The discipline explorers had, to stay alive, to keep accurate charts of new waters, to always know where in the world they are, is one that mankind lost long ago when he outsourced his sense of place in the universe to newspapers, television, wristwatches and iPhones." ~ Carlisle Rogers, p 49.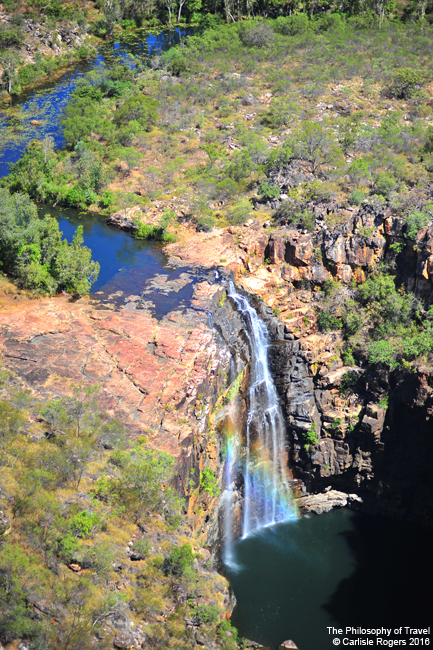 Opposite a kaleidoscope of colour emitting from a waterfall, captured in Mertens Gorge on the Mitchell Plateau, Rogers talks about the metamorphosis induced by "the movement of the road," alluding to spiritual leaders throughout history turning to the desert for answers. When driving the long outback distances, he experiences similar feelings.
"My limbic system takes over the steering wheel and accelerator and my unconscious mind starts giving me little nudges, whispering hints of who I really am." ~ Carlisle Rogers, p 59.
Rogers also explores the notion of home, pointing out that for some people the open road is where they live and for them, or at least the wandering gypsy in them, travelling is merely returning. In an interesting insight, home is identified as a separate concept to habitation, in this context home refers to a place with a special link, or tie, that keeps us returning time and time again.
"The true gypsy in us, the part of us that calls for the wild, that pushes us to pack up our little necessities one more time and head into the great beyond, is simply returning home to the wilderness from civilisation, where it has been lost." ~ Carlisle Rogers, p 5.
The Philosophy of Travel is a book holding enough ideas, juxtaposed with painfully beautiful photos, to warrant a sturdy coffee table to hold it up. Embark on an off-road adventure with Carlisle Rogers, through the outback and the soul, one where the dusty tracks may lead somewhere, or nowhere, and where only the journey matters.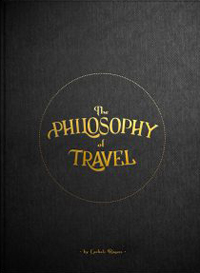 Images and extracted text from The Philosophy of Travel, © Carlisle Rogers 2016.