Cocktails, a Bartender's Passion
By Karissa Straughen
Working as lead cocktail maker at Hemmesphere, Merivale's flagship bar, Peter Ehemann is living the life.
Moving from the small town of Murwillumbah to Sydney, aged 18, Peter studied Environmental Science and after graduation chose to remain in his flourishing cocktail career where he continues to excel with unique mixologist ingenuity.
Peter's answer to the change in direction, "I guess I enjoyed being a bartender a little too much."
Living in Bondi, Peter started learning about cocktails at The Rum Diaries and Cream Tangerine, some definite Bondi hot spots for cocktail and party lovers.
"I have my name on a few other cocktail menus around Sydney and it's pretty awesome to know that people are ordering some of my creations," Peter explained.
Becoming part of the Merivale group, Peter's talent and originality has continued to impress, moving him up the ladder to lead cocktail maker at Hemmesphere.
Hemmesphere has a diverse list of 50 signature cocktails, all with Peter's name to them.
The cocktail list at Hemmesphere changes seasonally, much like the bar itself.
"Here at Hemmesphere everything in your cocktail is fresh and all the juice is squeezed straight from the fruit. I suppose this is our point of difference because there are a lot of places that use frozen fruit and packages juices. Our cocktail menu is seasonal and changes depending on what is available."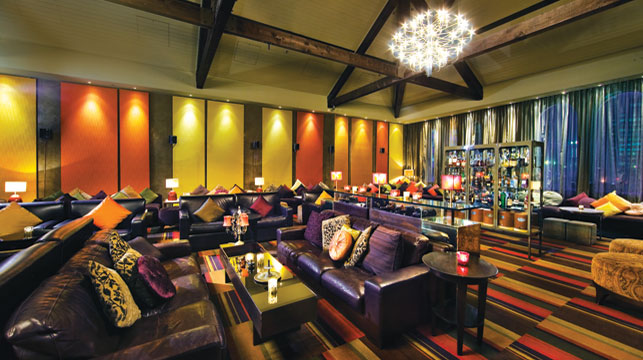 With a new Sugar and Spice themed event every Wednesday @ Hemmesphere, customers are treated to canapés, live music and the signature 'Sugar and Spice' cocktail.
Currently the most popular seller is the 'Honey Suckle' and with a bit of reluctance Peter offered the AGFG a list of ingredients that ensure it's a honey hit every time: real passion fruit with vanilla accompanied by a sweet mixture of honey, orange and mandarin vodka.
One day Peter hopes to own a cocktail bar of his own in Spain; a dream perhaps not too far off for this ambitious mixologist.
When we asked Peter what his last drink on earth would be he answered simply, 'The Last Word'.
Hemmesphere's Peter Ehemann Cocktail Favourite:
'The Last Word': Gin, Lime Juice, Green Chartreuse and Maraschino Liqueur.