Valentine's Day sees the town suddenly painted in hues of red and pink. Shops are filled with red balloons, florists overflow with aromatic long stemmed red roses and cards are stacked for easy access at the counter of shops. Although these thoughtful gestures are admirable, there is nothing more everlasting than priceless memories made.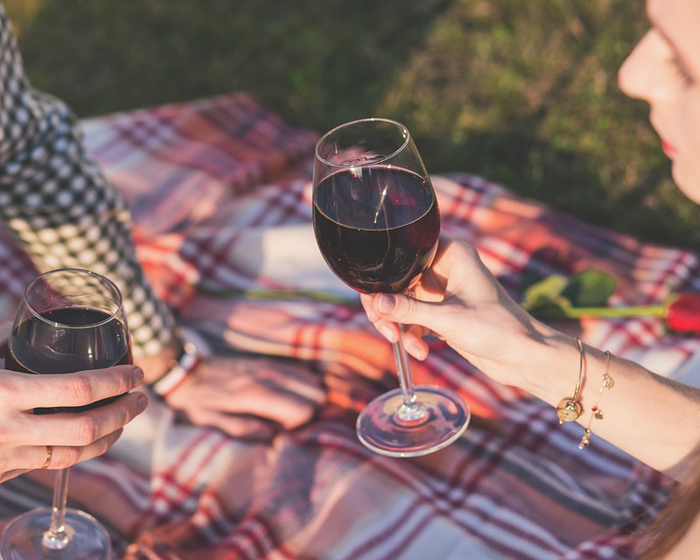 Create an unforgettable afternoon this Valentine's Day by taking your loved one on a surprise picnic. We have done the hard work for you by sourcing the best picnic hampers, so all that's left to do is grab a bottle of champagne and choose the perfect spot for a little romancing.
Chilli & Vanilla | NSW
Australia is known to many foodies by region of produce, think Hunter Valley for its wines, Tasmania for gourmet deli delights and North Queensland for its tropical fruit varieties. Chilli & Vanilla is a company founded by passionate foodies, Dianne and Felix, who have travelled our country from top to bottom, seeking and sourcing the best produce each region is known for and the rare finds yet to be discovered. They offer a unique experience for their customers, picking a food region of the country to feature each month and creating a hamper with a selection of 6-8 sweet and savoury gourmet goods delivered to your door. Subscriptions for these hampers start at $65 and include shipping each month, creating a gift that keeps on giving throughout the year.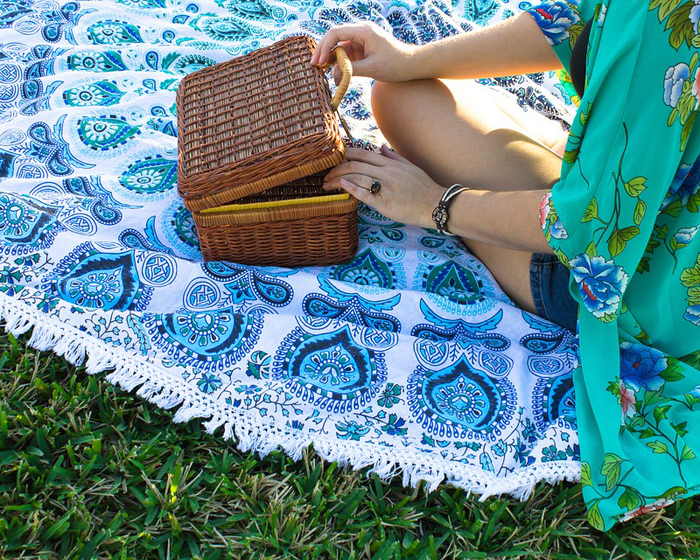 Tasmanian Gourmet Online | TAS
Tasmanian Gourmet Online was created by sixth generation Tasmanian, Duncan Garvey. His passion for the high end produce and products of the region as a local was the driving force behind the company, with a desire to share the abundance of his beloved state with the rest of Australia, just a simple click away. For a truly indulgent picnic, opt for 'A Gourmet Gift for Someone Special', an ideal hamper for the sweet tooths out there, with the likes of Bruny Island Fudge, Anvers Chocolate Truffles, Leatherwood Honey Shortbread and a bottle of Holm Oak Vineyard Cabernet Merlot.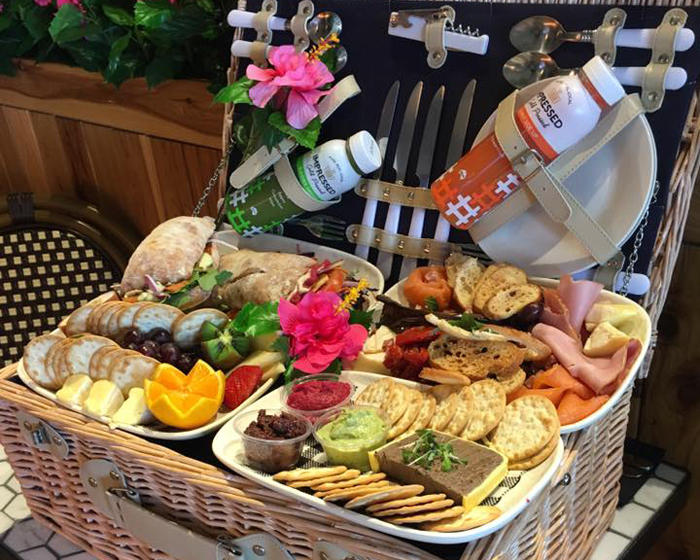 Social Brew Paradise Point | QLD
For a ready to go picnic hamper with fresh fruits and deli meats, drop into Social Brew Paradise Point on the Gold Coast, and pre-order a ready-made picnic basket for your loved one. Packed inside a quaint wicker basket, find everything you need from a blanket, cutlery, plates and salt and pepper. Choose from gourmet sandwich options served on either ciabatta bread or fresh croissants, and graze on an antipasto platter with marinated vegetables, bread, an assortment of dips, cold meats, camembert, blue cheese, Parmesan, smoked pate, mixed fruits and crackers, all for just $45.00!
The Larder Door | NSW
The Larder Door is a husband and wife gourmand team who wanted to introduce their favourite foodie finds to the rest of the country through a monthly hamper box of their top finds. Not only meeting with producers and hand selecting each product available, they have also taste tested along the way to ensure they are only offering brands they would use at home. We encourage the avid food lovers to sign up for The Journeyman Subscription Box, and receive a range of regional specific goods delivered to your door each month, keeping you in the know of up and coming food trends and products. Perfect for one off purchases, The Journeyman Gift Box is ideal, arriving packed with artisan products you can't find on supermarket shelves with a recipe and serving suggestion card for each product, all packaged inside a beautifully wrapped craft box.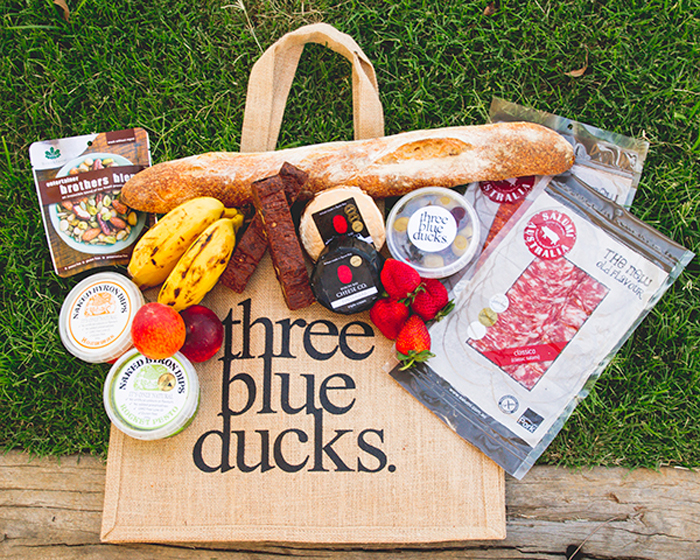 Three Blue Ducks, The Farm Byron Bay | NSW
For a truly memorable farm experience, take your valentine to experience The Farm Byron Bay, set along Ewingsdale Road. Peruse the lush paddocks of chickens, pigs and highland cattle as you make your way down to the macadamia orchard where you can crack your own nuts. When hunger strikes, choose your perfect spot, lay out a rug and unpack your pre ordered picnic hamper, hand selected by the team at the Three Blue Ducks Produce Store. Discover a selection of local cheese, salami, and artisan bread baked on site, fresh berries, nuts, olives, seasonal fruit and a dessert of freshly baked brownie fingers, all packed inside a re-usable hessian bag. Before you leave, make sure you peruse the shelves of the produce store to pick up gourmet pantry staples like the housemade granola, pickles, jams, fresh farm eggs and their sought after pink Himalayan chilli salt.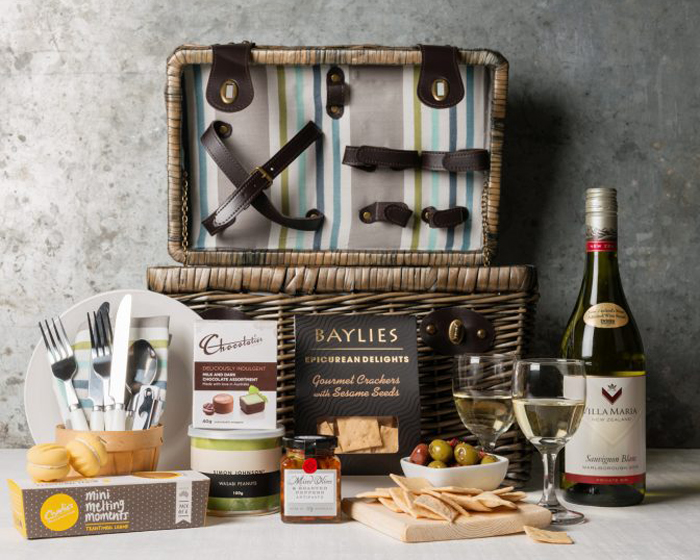 Created in 1998, Gourmet Basket has created over 100,000 gifts, delivering packages of happiness brought on by good food and wine across our country. Supporting local farmers, makers and artisans, Gourmet Basket carefully selects each and every product they offer, ensuring not only taste and quality, but an aesthetic appeal and background to where it has come from.
It is easy to get caught up in perusing the hundreds of stunning products on offer throughout the site, which can all be delivered straight to your door, but we couldn't go past the Picnic Basket for 2 Hamper. A quality wicker picnic basket is yours to keep, its contents including ceramic plates, cutlery set, bottle opener, cheeseboard, salt and pepper shakers, cloth napkins, wine glasses and an insulated cooler compartment with ice pack. The basket is filled with an exciting mix of crackers, mini melting moments, assorted chocolates, wasabi peanuts and mixed olives with roasted peppers. Inviting upgrades are also on offer, like choosing to switch the bottle of Marlborough wine with a bottle of Veuve NV Champagne, and adding a little luxury gift on the side like a Palm Beach aromatic candle to inspire a little romance later on.
The loving gestures don't need to be reserved for just one day of the year, why not spoil that special someone with a home cooked meal leading up to the big day for extra brownie points with these sexy recipes.