What Is Bush Tucker Fare?
Bush food is indigenous to Australia, and is also referred to as bush tucker fare. The Australian bush offers unique native flora and fauna that fed aboriginals for over 60,000 years and is now being revisited by gourmands as an authentic source of inspiration in modern menus and progressive home kitchens.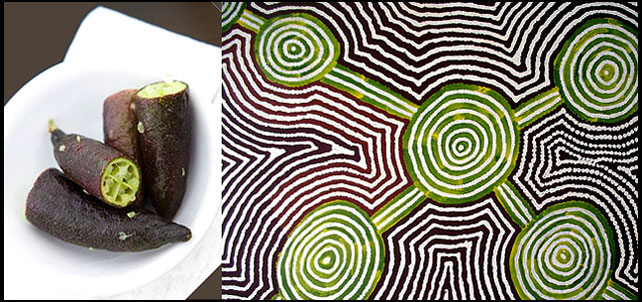 Just as Australian aboriginal dot paintings map out the nomadic foot walks of indigenous peoples travelling from water hole to water hole, aboriginal recipes and their food approach traverses a widespread culinary landscape. Many Australian chefs and gastronomes are turning to our native history, pre-1788 when the first Europeans landed in Sydney, to uncover regional culinary techniques - either nomadic or tribal in nature- that vary regionally.

Cuisine in Indigenous Australian Culture
Australian aboriginals in tribes often sent out hunters who would return with a carcass of kangaroo, wallaby or emu to be prepared using one of many techniques; oftentimes meat was roasted on an open camp fire. Coastal communities used spears, hooks and traps to obtain seafood, while desert dwellers consumed bogong moths, witchetty grubs, lizards and snakes. While some traditions have returned to modern Australian menus with a resurgence of popularity, some ingredients and techniques remain primary curiosities forever captured in the history books or introduced to travellers by indigenous tour experts.


"Everything has it's own flavour. People enjoy challenging their tastebuds with something they haven't
tasted or aren't familiar with…"
-Clayton Donovan, Australia's only indigenous hatted chef
and owner of Janning Tree Restaurant (now closed)
Foraging now receives impressive hype in Australian food media, a trend that extends beyond the countryside and farmers markets to urban settings wherever possible. The art of searching for food provisions basically lends itself to berries, edible flowers, fruits, nuts, seeds, spices and honey.
Australian Indigenous Food Inspirations
As indigenous Australians allowed the local terrain to dictate their key ingredients, you can consider building dishes around native produce and accompaniments in your cooking.
Creating meals with an historic frame of mind can become a poetic interpretation on the plate where a versatile curry featuring Australian bush tomato may resonate like a burnt orange sunset of Uluru. Perhaps opt for a fishy affair, as seen at the local jetty, where native finger lime and mustard seeds with the catch of the day bring with the flavours a vision on white capped blue sea waves.
Learn More
Since its successful 2012 launch, the National Indigenous Culinary Institute has an annual call out for aboriginal trainee chef applications. This competitive program is run through the William Angliss Institute offering successful applicants an opportunity to learn from great Australian chefs such as Neil Perry, Michael McMahon and Guillaume Brahimi.