This month we celebrate Australia Day and no day on our national calendar is more about meat. Come January 26th, I'll sport an Aussie flag hat and matching flip-flops because my shirt (a la "I love New York" or "I love Bali") will read "I love meat".
And I'm not alone. Meat speaks of Australia, of tradition, of romance. The romantic notion underlying famous tales of days gone by when Australia was riding on the sheep's back is definitive. Getting to the heart of Australia Day, think outriders, cattle drives and duffers, shearers, swagman and sheep stations.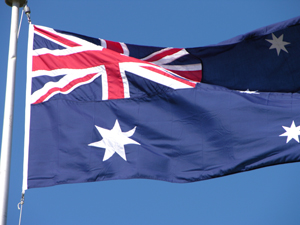 Think of Chips Rafferty as a drover cracking the whip in The Overlanders. Think of robust men sitting around the campfire eating cattle, singing ditties about cattle, all while more cattle graze in the background.
These days, though there's no denying the popularity of Australian beef, there's also been a major campaign reemphasizing lamb on the barbie for the festivities – could be because the last industry peak was in 1990.
Be it beef or lamb, perhaps even chicken or fish, Australians have been traditionally urged to "feed the man meat". Not quiche, curly pasta, squab medallions, or seafood parcels in a pomegranate jus with saffron this and risotto that. Australia Day is the time to reclaim those roots.
Australia Day BBQ - Top Quality Meat
The best way to feed the man meat, and the woman for that matter, is to barbecue the hell out of it, drench it in tomato sauce to drown the flies, whack it between two pillows of bread and then chow down for the next several hours.
As for actual digestion, beer by the gallon is essential if you want to accelerate the process inside three days.
All of which leads me to the art of barbecue cooking, something of a sore point given how little confidence my friends and colleagues have in my culinary skills. As such I turned to my friend, Stef Millins, who opened his butchery in Sydney last year, in hopes of some simple ideas and a bit of inspiration knowing quality meat is his top priority.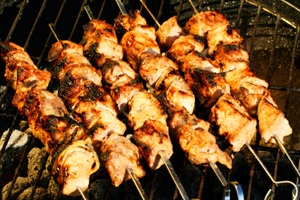 Running Millin's Fine Food Butcher in Balgowlah Heights, Stef caters to the common chef (with varying levels of ability) and time-poor types looking for the easy gourmet. Meat being the core of his business, his expert opinion for cooking on Australia Day is to stick by the barbie, and opt for lamb, a classic in itself.
Granted, like many people, Stef's taken to the lamb line of thought for Australia Day based on Sam Kekovich's now famous phrase, "it's un-Autralian to eat anything else on Australia Day". At Millin's their specialty is lamb, vegemite and cheese sausage, though you may not be able to get your hands on this particular product, so he also suggests other characteristic cuts that you'll be able to find locally, including lamb chops and marinated butterfly legs of lamb.
Come Aussie Day, I have brilliantly ensured that among my guests will be the one person every host who's a little less savvy on the chef side of things needs to have around. You know the guy. He's the bloke who can't keep away from the hotplate and wants nothing more than to be in control of the tongs.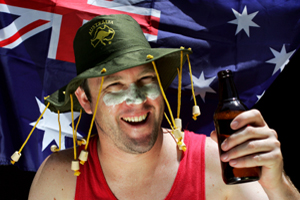 I welcome him, for his presence is vital if I am to succeed in hosting an Australia Day barbecue, and eating an Australia Day barbecue, without actually cooking the Australia Day barbecue. If all else goes to plan, on January 27, I won't remember the Australia Day barbecue at all.
Though if I do end up manning the grill, I'm going for the slow roast lamb. Stef insists a slow roast shoulder of lamb on the barbie, with the hood down for four hours at 150 degrees, flawlessly results in tender meat that falls off the bone - perfect. On the side? Mint jelly of course. Even I can't screw this one up.
So my fellow carnivores, on Australia Day let's take the cue, join the queue and barbecue, all the while repeating that time-honoured patriotic cry: Aussie, Aussie, Aussie, baa, baa… moo?
Crowd Pleasers on Australia Day
Meat in general is undeniably Australian so despite the lamb rage, I couldn't help but inquire as to the other Australian crowd pleasers? As far as beef goes, Stef recommends Barrington pasture fed, chemical free dry aged rump steak. And you can't go wrong with the lean beef mince New Orleans-style burger mixed with grated carrot, chopped parsley and Spanish onion.
And oink? Pork medallions or a nice pork and fennel sausage will please the crowd. Bangers, be it pork, or beef, or even lamb – especially thin ones – are always a hit with the kids. So for every family friendly BBQ, don't forget the sausages.
You can even pre-order your favourite snags (or other choice products) to ensure you're all stocked up for the 26th – highly recommended as this is a definite peak period for butchers and other market outlets.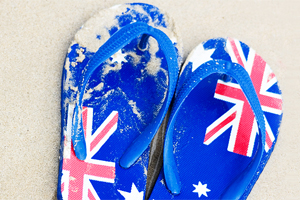 Children may prefer a typical Aussie tomato sauce (okay, admittedly I do to), though you're not alone if the big kid in you is calling for something a little more, well, experimental. Being unique and keeping with tradition, try Bill's Beetroot Marmalade for the Tasmanian Gourmet Kitchen and other creative marinades for the epicurious.
Classic Aussie Barbecue & Modern Menu Tweaks
I reckon Australia Day should be the one day where can go back to the good ol' days, planning for a lamb, beef or even a pork bonanza.
As an amicable host, I'll leave it up to you and mention that when considering your guests who'll be standing around the barbeque, pre-made tofu kebabs and mushroom burgers are readily available at the markets as need be.
Not to mention, for those in favour of specialty items, think kangaroo, quail, duck, and other game. Think seafood. If you open up the classic Aussie barbecue for modern interpretation, you're options are plentiful. But I'm still going lamb.
Meatetarian or alterna-Australian, all hail the Aussie barbecue! From what I understand, even the novice can shock and awe by using the best cuts and finding the freshest ingredients, no matter what you've chosen for mains.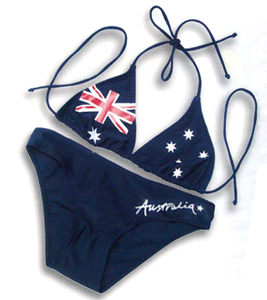 Wearing my "I love meat" shirt, with a big red heart in the middle where the "love" should be, come Aussie Day I'll say, "no worries, it's all Australian." Especially when the guy who takes the tongs and saves the day ends up being a BBQ MasterChef in an Aussie flag bikini sipping apple cider. As long as we all get a chance to eat, drink and be merry, it's all good.
By Gordan Zola