By Leigh O'Connor.
As Robin Williams once said, 'Spring is nature's way of saying let's party'…and after the year we've all had so far, we need something to celebrate!
Iso diets and lockdown blues have taken their toll during Winter, but from that turmoil springs new beginnings as the sun warms our souls and we look forward to getting out and about after COVID hibernation.
It's also the time to turn our thoughts to light and easy meals that epitomise the feeling of Spring – salads, barbequed meat and seafood, along with fresh berries and fruit. Here are six of our favourites to try at home:
An ideal starter to a Spring dinner, these
charred prawns with cannellini beans and fennel
can be enjoyed alfresco on a warm evening, with a chilled glass of Pinot Gris. The prawns and beans are dressed with salsa verde, but basil oil works just as well; make sure to cook the prawns quickly in a smoking-hot pan, or on the barbeque.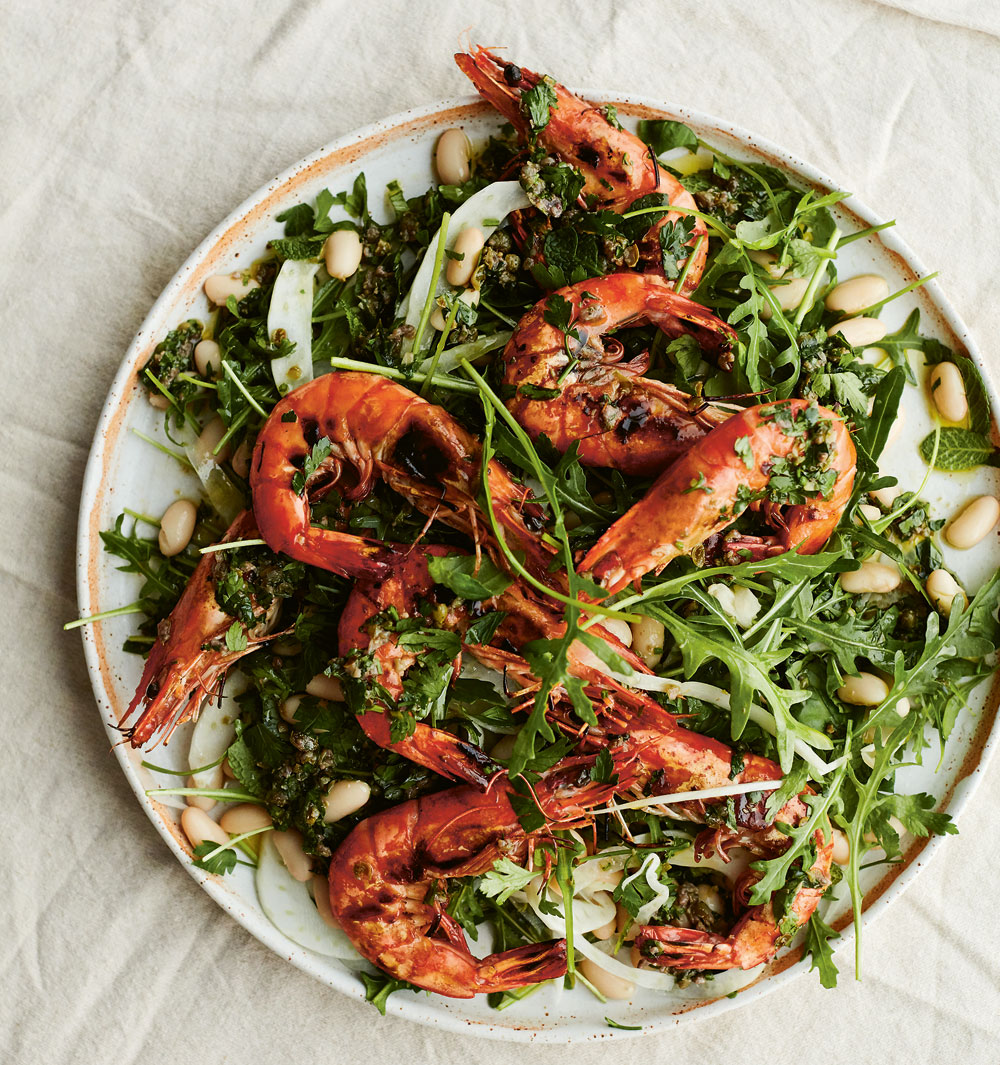 Calamari or scallops also work well with this recipe, while the beans can be substituted with chickpeas, or green lentils. A simple salad of rocket is a great accompaniment.
From
eRemo Restaurant
in Pokolbin, comes this stunning dish of
black kingfish crudo with agrodolce peppers, almonds and prosciutto
by Spicers Hunter Valley Executive Chef, Cameron Matthews. This simple, fresh and delicious recipe evokes 'surf and turf' elements, by marrying the freshest cobia fish with the finest prosciutto...perfect connectivity between Queensland, the Hunter Valley and Italy, all on one plate.
The sweet and sour component, agrodolce, reinforces Cameron's love of Italian cuisine, especially when utilising local banana and Habanero chillies and freshly harvested herbs. Serve with a lightly chilled glass of the Hunter Valley's Brokenwood ILR Semillon and say saluti to Spring!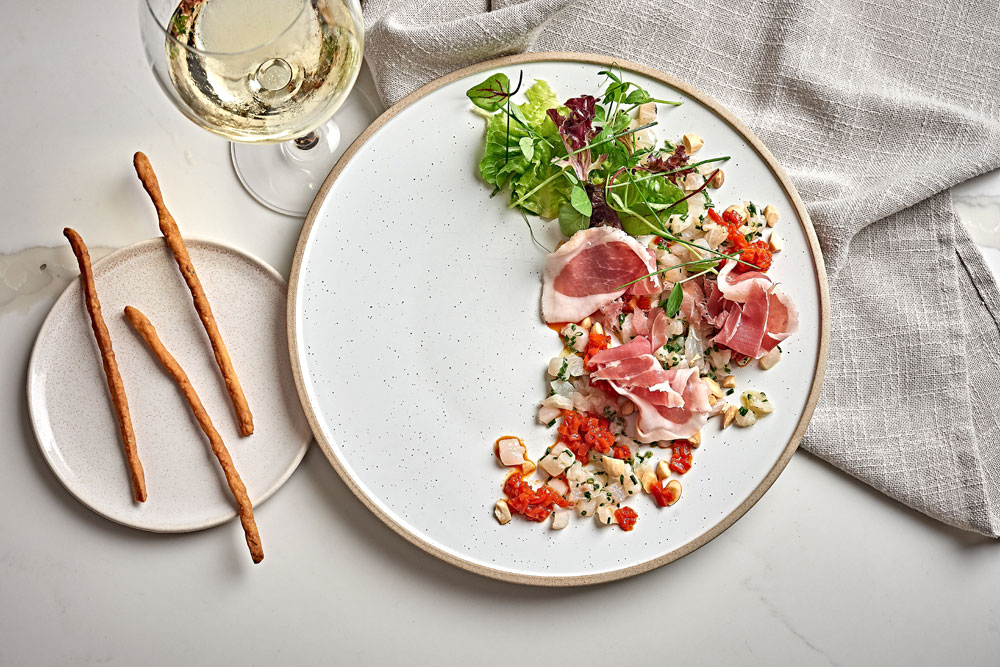 eRemo Restaurant's black kingfish crudo, with agrodolce peppers, almonds and prosciutto.
A quick and delicious meal that will boost your vegetable intake for the day,
zoodles with feta, basil and spinach
is a light and nutritious replacement for pasta. The green leafy spinach also provides a rich source of energy, along with B vitamins and iron.
This
poached chicken salad
, enlivened with Thai flavourings, is sure to become a new family favourite. The silky strips of chicken poached in coconut milk work beautifully with the cool and crunchy cucumber. Don't waste the coconut poaching liquid, it can be used to make coconut-flavoured rice, as a side dish.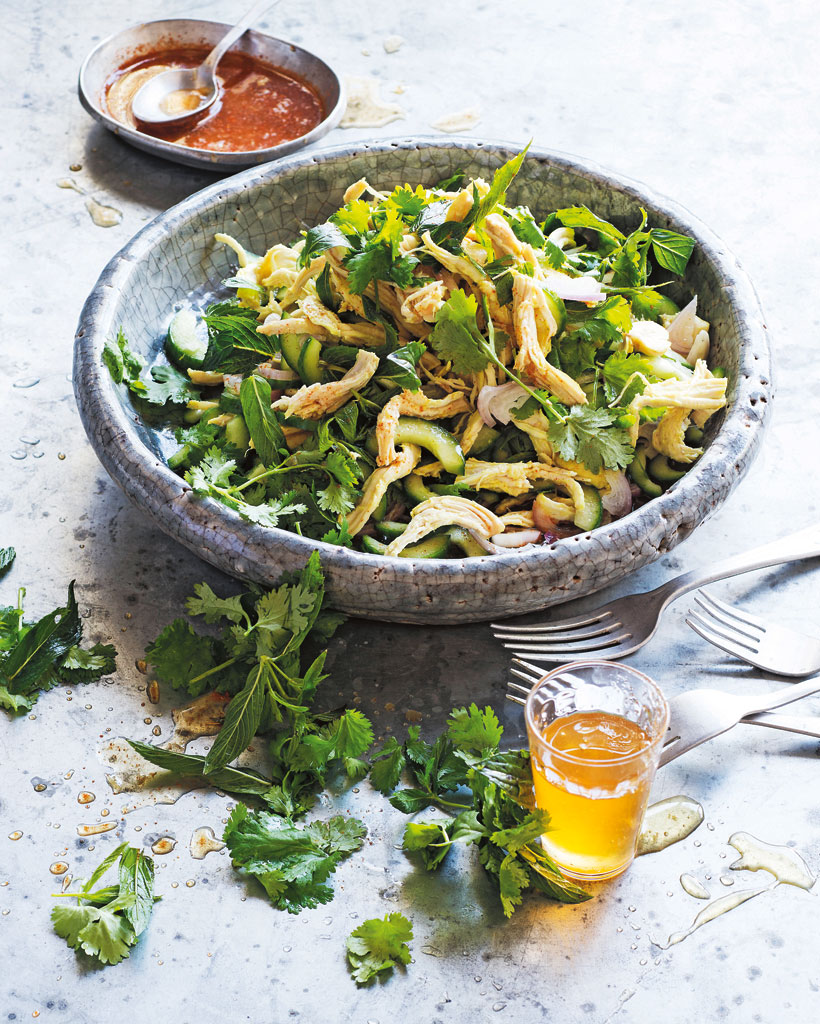 From Manu Feildel's kitchen comes this recipe for
lamb cutlets with mint hollandaise sauce
– the rich, creamy sauce is enhanced with fresh and dried mint and the ideal foil for the perfectly pink lamb.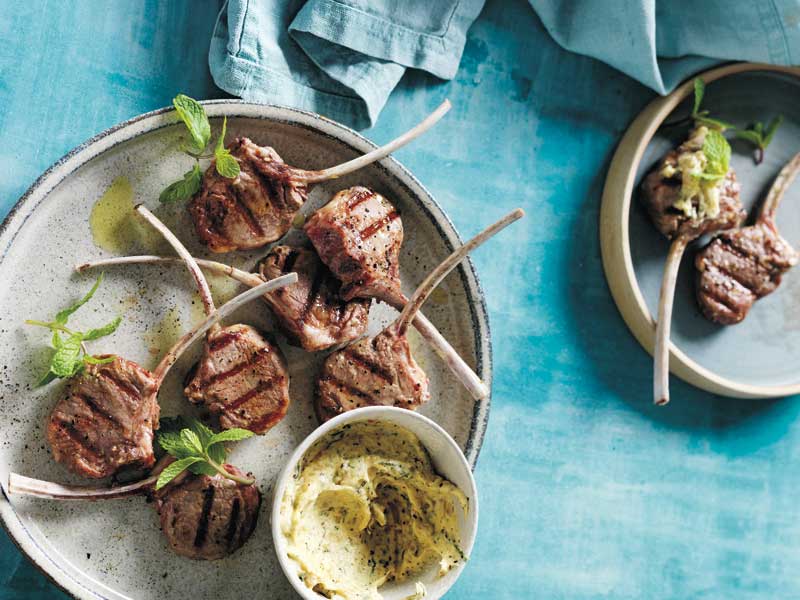 Hollandaise is the cousin of bearnaise sauce and both play a very important role in French cuisine. Flavoured with tarragon, bearnaise is terrific with beef, but Manu says for lamb the natural choice has to be hollandaise.
Vietnamese flavours work well with fish and are light and tasty for Spring dining; while many traditional recipes use white-fleshed fish, this dish of
caramelised salmon and green peppercorns
works just as well as the meat is perfectly moist, with a firmer texture.