By Leigh O'Connor.
When you are craving that sweet, sticky treat to top off a Winter comfort meal, it is hard to go past the crumbly richness of short pastry topped with decadent chocolate, glazed fruit or custard. Classic tarts have long been baked by Grandmothers and Mothers, passing down the much loved recipes to the next generation for all the family to enjoy. Whether scrumptiously rich, abundantly citrus or heavenly chocolatey – there is a tempting tart for all occasions and tastes.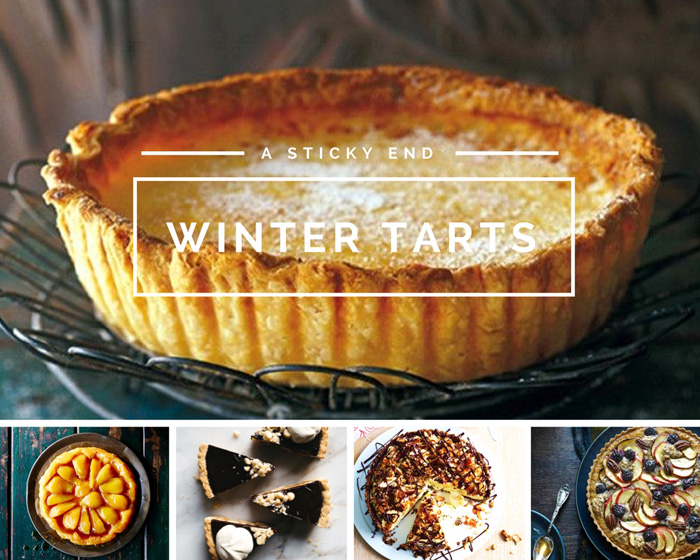 From Maggie's kitchen comes this citrus creation that never fails to delight, adding freshness to the end of a hearty Winter dinner. Baked in a deep-sided quiche tin using sour cream pastry, it is a rich and creamy dessert, with lemon adding a zippy zing and a touch of sweetness from dusted icing sugar.
Pearilously perfect, this tart teams fresh pears with light pastry and a creamy toffee yoghurt sauce. Sure to appeal to all ages, the richness of the toffee mixtures brings out the flavour of one of Winter's favourite fruits and paired with extra yoghurt on top, it is irresistible.
Chocolate, Caramel and Macadamia Nut Tart
Yummm…. Lindt chocolate, caramel, Frangelico and coffee syrup, no need to explain the outrageously rich appeal of this dessert. Add in crème fraiche and roasted macadamias and this is a match made in sweet lover's heaven. Using vanilla bean short crust pastry, this recipe is bound to become a firm family favourite over the chilly season.
Who can resist the combination of banana and rich toffee with a chocolate ganache? This tart screams eat me and as soon as it hits the table, it will disappear in a cloud of crumbs, while the toffee pecan topping lingers on smeared lips. Wickedly indulgent, but the ideal moreish end to a warming Winter meal.
Butterscotch, Apple and Blackberry Crumble Tart
The classic crumble is an art form of its own and everyone has their own version of this crunchy tart topping. Combining flavours such as apple and blackberry with the sticky, sweetness of butterscotch takes this crumble to a new level of deliciousness, with a twist of nuts and spices to add extra punch to the crunch.
For more tart recipes, sweet and savoury, check out our recipe section here.