By David Ellis.
If like us you enjoy your Chardonnay, Margan Family Wines currently have a lovely 2017 made from the fruit of low yielding old vines originally planted by Lindemans on the volcanic soil of the Hunter Valley's Fordwich Sill over 40 years ago.
Close planted and managed with vertical shoot positioning to give a good mix of sunshine and shaded fruit, this early 1970s vineyard crops at around two tonnes per acre, which while quite low for white grapes, ensures full fruit ripeness at lower sugar levels, and high acidity.
The 2017 vintage in the Hunter Valley was hot and dry, resulting in outstanding fruit across the whole spectrum of wine grapes, with Chardonnay perhaps the stand-out performer. As a result, Andrew Margan crafted a lovely 2017 wine, one that's got a wonderfully creamy texture, lively acidity and nice suggestions of nectarine, cashew nut and lime zest on the palate.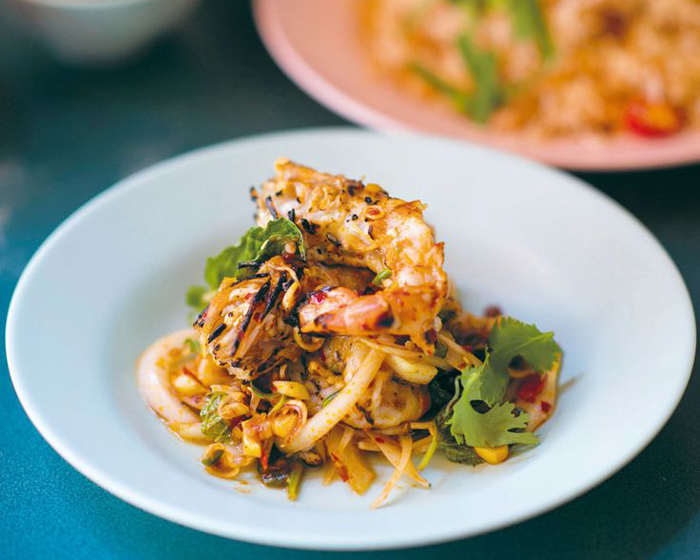 At $20 Andrew suggests that a great food match would be seared scallops with jamon serrano (dry-cured Spanish-style ham,) watercress, hazelnut and blackcurrant vinaigrette. Or for something lighter, a Summer's day ice bucket of fresh prawns. AGFG suggests the above char-grilled spicy prawn salad by Luke Nguyen as a tempting match.
One to Note: for a long time one of the most famous blends in France's Bordeaux region was Cabernet Malbec, until growers there were devastated both emotionally and financially when frosts in 1956 wiped out a massive seventy-five per cent of their Malbec crops, and nervous about re-planting they shifted growing to Cahors in the country's south-west.
Coincidentally around the same time the blend was being put together for the first time in South Australia's Clare Valley – where today many serious aficionados believe Cabernet Malbec has become the "Holy Grail" of the Valley's red wine production.
A master of such blend, Tim Adams Wines, has just released their 2014 vintage; winemakers Tim Adams and Brett Schultz bringing together 70% Cabernet Sauvignon and 30% Malbec for this rewardingly lip-smacking drop. The Malbec component, they say, adds to the complexity of the Cabernet's mid-palate by giving it violet and mulberry flavours, and additional texture and richness that all makes for a full-bodied wine with generous chalky tannins.
This one is priced at $25 and makes for a great match with braised lamb shanks, or a good meaty lasagne.
Winespeak: luscious is used to describe a wine that is full bodied with a rich texture, and usually applies to sweeter, after-dinner wines.