Let the salty Pacific Ocean sea breeze fill your lungs as you take in the spectacular sprawling views beyond to the horizon from the endless jagged headlands of Yamba, the coastal fishing village holding its own as an affluent foodie destination of northern NSW.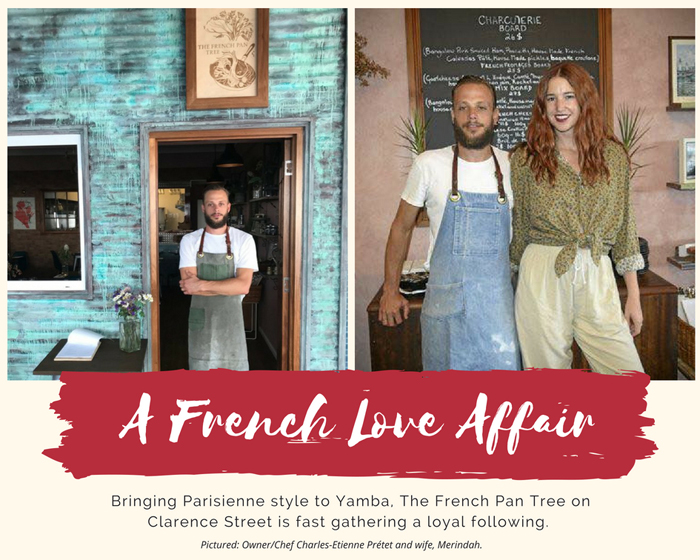 This area is not far in personality from the West coast of France, where ports are lapped at by the waters of the Atlantic Ocean, and Parisian raised Chef, Charles-Etienne Pretet (Charly) spent his holidays growing up, visiting his Grand-papa and Grand-maman.
It was his time spent here watching his Grand-papa fishing the abundance of seafood and tending to his flourishing vegetable garden, coupled by watching his Mother cooking in her Paris home kitchen which created a fierce passion and understanding for the French cuisine, forging an obvious professional path for Charly as a Chef.
Making his way around highly regarded French establishments, learning the intricate details, techniques and skills of the cuisine, he opened his own restaurant Cuistance, next door to the iconic Louvre.
It was in Paris where Charly met Merindah, a beautiful Australian professional dancer from Yamba who was working at the Moulin Rouge. The pair fell in love, and it wasn't long before they set an ambitious goal of returning to the shores of her hometown to share their love affair of the cuisine and open their own French restaurant. In August last year, the dynamic duo realised this dream, opening the doors of The French Pan Tree, residing along Clarence Street.
The restaurant itself is charismatic in style, greeting guests with a cosy courtyard alfresco area and front exterior washed in a palette of sea greens which envelope a redwood timber front door. Inside, the atmosphere is a fusion of classic Parisian style meeting a relaxed arrangement of calming blue chairs, exposed brick walls with pastel hues and an ambient chandelier taking centre stage and spreading a twinkling glow upon diners.
Charly is now doing what he calls "French Touch Cuisine", which is a modern approach to the traditional recipes and techniques of French cuisine mixed with local produce and influences that surround the area.
"I think that we are very lucky in Yamba to be able to source the best produce at our door step, it just requires time and good tips from the local community."
Inspired by Charly and Merindah's love story and their passion for the French cuisine, we asked Charly to share with us a menu of recipes close to his heart which any home cook can prepare.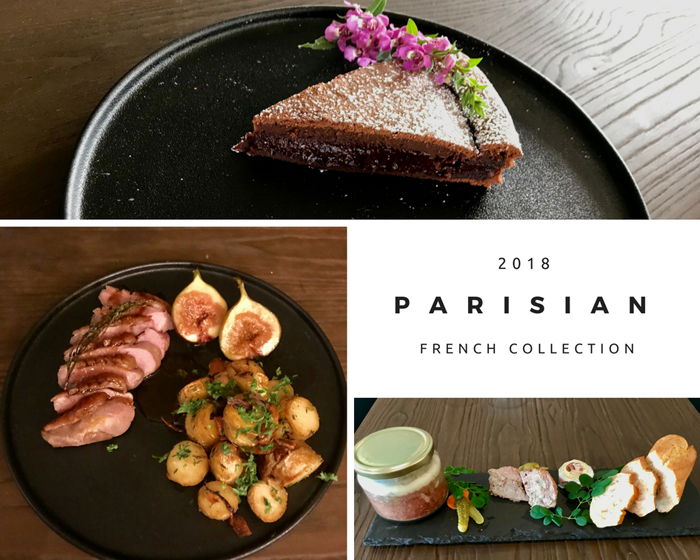 Beginning with a classic paté recipe for entrée, this Calvados Pork and Chicken Liver Pate is simplistic in theory yet complex in flavour. Served on a charcuterie board as would be done so in France, this stylish starter sets the benchmark for a decadent main course to follow.
Charly tells us that duck breast was always readily available in the family fridge, fondly recalling memories of his family's Sunday lunches in France, serving dishes like this Duck Breast, Roasted Figs and Potatoes Salardaise as a main. Combining the denser game flavours of the duck meat with the delicate sweetness of the figs and crisp texture of the potatoes, this dish is sure to be requested time and time again, leaving lasting memories.
The French know desserts and they know them well, especially when it comes to working with chocolate. This Chocolate Cake was a staple household recipe created regularly by Charly's Mother growing up.
"We always had a chocolate cake on the kitchen bench ready for us after school or in the morning before we go to school."
Good quality dark chocolate, a handful of pantry staple ingredients and just 22 minutes of cooking time is all you need to create this silky and decadent cake, finishing the evening on a sweet note and leaving a lasting impression.
Open for dinner service from Wednesday through to Monday, experience a little taste of France for yourself at The French Pan Tree in the sleepy town of Yamba next time you are passing through.