Savour the flavours of fresh spring dining
Stuff your knitted jumper into the back of your closet and grab your sunnies; the days are longer, skies are bluer and everybody is emerging from hibernation to the outdoors to enjoy garden parties, picnics and sunset cocktails. Spring has sprung and with it comes a new menu. Fresh green garden vegetables, seasonal fruit and light, refreshing treats are all highlights for the warmer weather so get inspired with a bite of these sumptuous springtime dishes.
5. Beet, goat's cheese and honey tarts
The union of fresh beets and goat's cheese is hard to ... beat (sorry ...); combine it with puff pastry and honey however, and you veer from the usual salad into a whole different realm of spring feasting. Perfect for sharing around at picnics or even scarfing down in solitude, this recipe by How Sweet Eats keeps it refreshingly simple. Well, that and nobody can say no to layers of buttery, flaky pastry, especially when topped with creamy goat's cheese.
Keep in mind that you may not regularly spot golden beets in Australia – they are available, but you will have to do some heirloom hunting beforehand. Basically, this requires some prior preparation, but the best things are worth searching for, right? Plus, what a great time of year to get exploring around your local farmers markets.
4. Strawberry Rhubarb Sundaes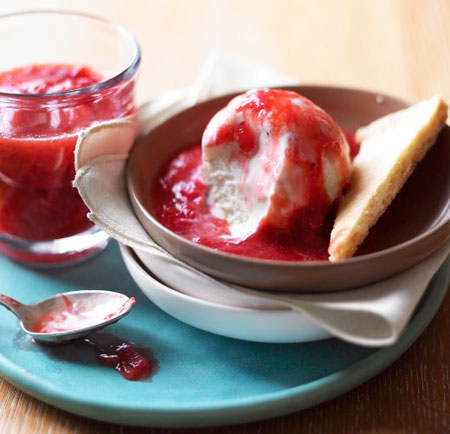 Sweet, tart, creamy and crunchy – we vote spring sundaes for days. A quick and easy recipe by Martha Stewart, this topping can be refrigerated for up to a week – but let's be real, nobody needs a week. The addition of shortbread wedges only serves to further this mouth watering dessert as a favourite sweet spring indulgence.
3. Grilled eggplant with fresh cheese, spring onion, cherry tomatoes and fig
Colour upon colour, this dish encompasses the seasonal flavours you absolutely must shove in your face this spring. Also, figs!
Snapped by photographer and food stylist Monica Walecka, these grilled eggplants filled with fresh cheese, spring onion, cherry tomato and fig can be bulked up with the addition of quinoa or brown rice for an easy dinner, or kept simply sumptuous as is for a lunch worthy of enviable staring.
2. Pea and herb goats cheese tart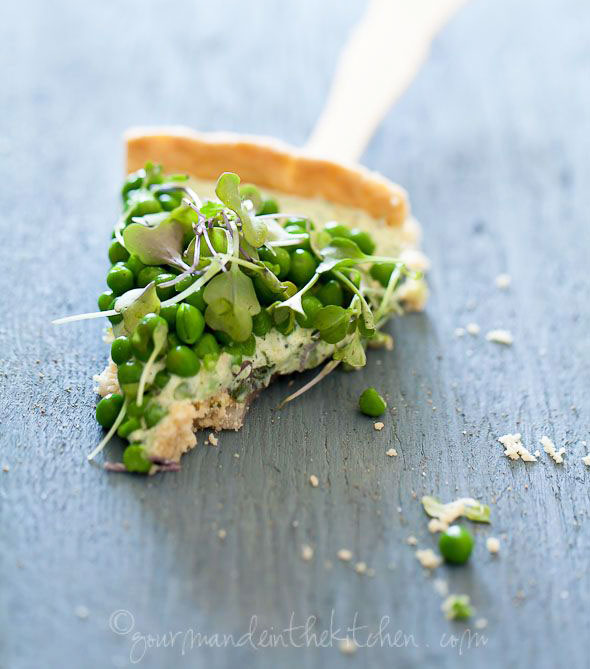 You're starting to see the pattern here – combine some spring vegetables with cheese and it's an instant success. And fittingly, this recipe by Gourmande in the Kitchen does not disappoint. Aka – 'spring on a plate', this picturesque pea and herbed goats cheese tart is made with an almond flour tart base and a creamy filling highlighted with fresh basil, mint, parsley and chives. Topped with a wealth of fresh peas (ideally blanched to retain their snap, flavour and bright colour) and a scattering of micro greens), the contrasting textures of crisp and creamy make this tart a fitting addition to your next backyard garden party, perfect for showing off how your garden grows.
1. Violet and lemon éclairs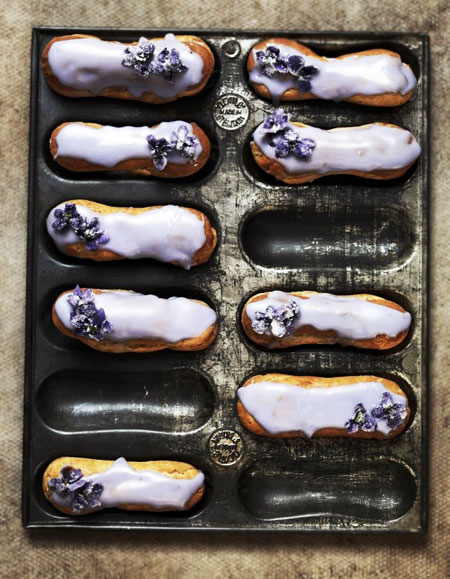 Candied violets and lemon cream = spring's new staple ingredients? We hope so (move along, strawberries and cream). Floral in fragrance and French in nature, these delicately delicious sweet treats made by Twigg Studios are what the essence of spring is all about. The combination of light choux pastry, lemon filling and a topping of candied violet flowers are just made for spring time and impressing your guests over a pot of tea.