"For many years I ran a busy café and restaurant. Year round, the slow cooker would be put to work, quietly simmering away in the background. I'd just throw in a couple of handfuls of dried haricot beans, some mustard, brown sugar and a little smoked pork and overnight this mixture would magically turn into delicious baked beans in time for breakfast service the next day." – Ross Dobson.
Time and again the slow cooker has proved itself as the most enterprising and time-saving kitchen appliance.
Ideal for poaching chicken, ready to be sliced and served on a bed of vegetables, drizzled with a herbaceous dressing, or cooking vegetables in a fragrant tomato base for a Moroccan tagine, the slow cooker is everyone's set-and-forget device, especially as the colder weather sets in.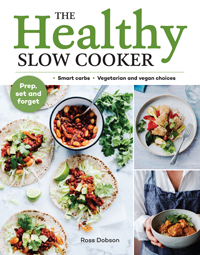 In his latest cookbook, The Healthy Slow Cooker, acclaimed food writer Ross Dobson has compiled more than 100 recipes you'll want to cook over and over again – favourite family pleasers, packed with vegetables, using smart carbs and with lots of flexibility, for when you need to cater for those with dietary restrictions.
"With very little conscious effort on my part much of the food I can make in my slow cooker is not only healthy, but it is also often gluten-free, vegan or vegetarian," he says.
"As the weather grows chilly, it is assigned soup and curry duty, filling the kitchen with fragrant and comforting aromas.
"I also discovered it is the best way to keep parsnip mash warm, while another one gently simmers beef fillet in red wine, which would later be carved and served on the mash."
By healthy, Ross doesn't mean following food fads or trends, but rather taking inspiration from tried and true cuisines, such as the freshness of Asian food with its light broths, clean chilli heat and aromatic herbs and spices.
"I am also excited by Indian cookery, with its full-throttle flavours and layered spice blends that work so well in a slow cooker. Super tasty and healthy legumes and pulses, combined with fresh vegetables embody the wonderful cuisine of the Middle East – and when it comes to North African tagines and stews, it really is as if their cooking techniques were made for the slow cooker."
With chapters including Sunday Suppers, Weekday Dinners, Set and Forget, Soups, Curry Night and Relaxed Weekend, there is something for every cook in this book; including how to choose the right ingredients and slow cooker itself.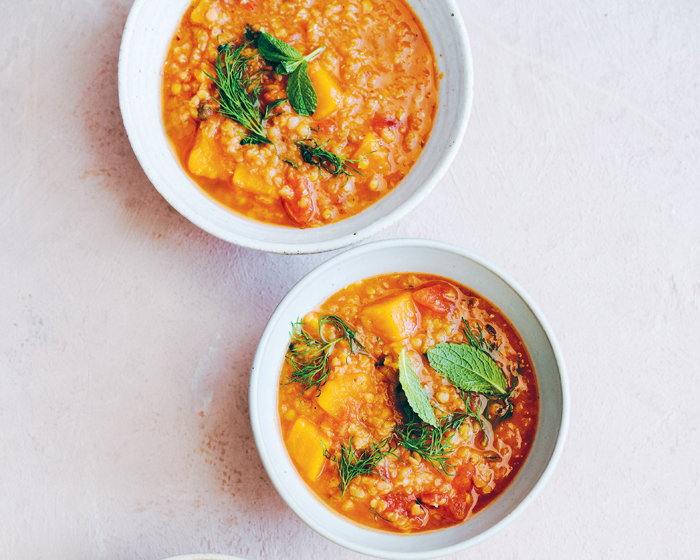 Try this recipe for red lentil, pumpkin and lime pickle soup to warm up a weekday Winter night. Ross says lime or mango, pickle is one of the tastiest condiments to have on hand, with its spice and sweetness ideal to serve with curries.
"It's also pretty good with crackers and cheddar too! A few tablespoons of chopped lime pickle stirred through a soup really makes it dance with zesty flavour."
This soup takes four hours to slow cook and is vegan and gluten-free, best served in small bowls garnished with herbs and crusty toasted sourdough on the side.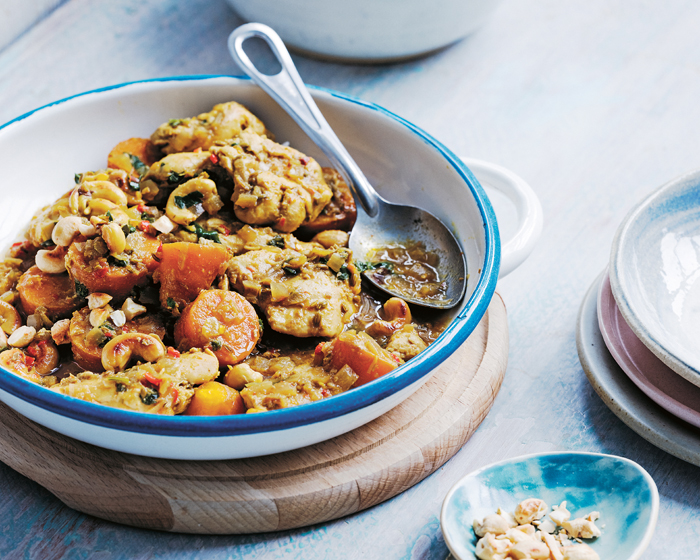 Chicken and cashews make a lovely couple and in this dish they make for a perfect no-fuss, high-impact curry, as everything is done in the slow cooker, with no paste making or frying required.
Using thighs, it is best to trim off all the fat and cut the chicken in half before cooking for five hours in coconut milk, with carrots, onions, garlic, ginger, chilli, ground coriander, fennel seeds and turmeric. Pair with your favourite rice and scatter chopped coriander and extra cashews on the top for added texture.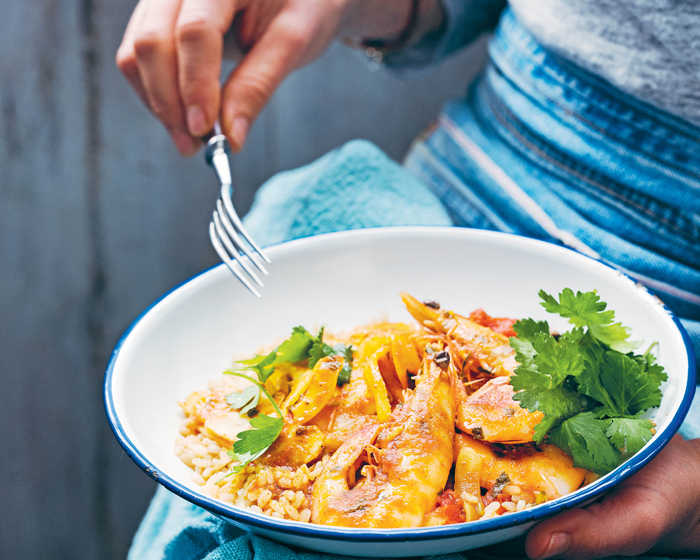 This delicious, exotically spiced recipe for prawns with fennel, saffron and ginger is actually quite simple to make. A slow cooker is surprisingly good at steaming seafood – fish fillets and prawns, layered on top of a bubbling hot sauce, cook reasonably quickly.
Prawns in the shell are used in this dish, as the shells add extra flavour to the sauce as they cook and look more dramatic on the finished plate; Ross says peeled prawns can be used if preferred and will cook in about 15 minutes, ready when they are pink and curled up.
The best news about using your slow cooker to concoct these tasty creations – there is only one thing to wash up at the end. Ross's tip is to fill the bowl with warm soapy water and leave it to soak for a few hours, for stubborn stains, a sprinkling of dishwasher powder added to the water works a treat.
For those time poor, there is nothing nicer than coming home after work to the smell of a home cooked meal that has been bubbling away for hours, making weeknight dinners a treat the whole family will enjoy.
This book will be a saviour for many home cooks and best of all, you will be dishing up healthy meals that will have everyone asking for more.