By Freya Ensbey.
Ready, set, Gyoza! For those planning their trip to the land of temples, geishas and cat cafés of Japan. From hot tub karaoke to bathing and relaxing in your drink of choice, there's something to tickle everyone's fancy in Japan. If you haven't already put Japan on your destination list, go-to adventure experts, Topdeck Travel, have filled us in on their favourite, 10 weird and wacky things to do in Japan. So pack your bags, book your flight and get ready for the ultimate bucket list adventure.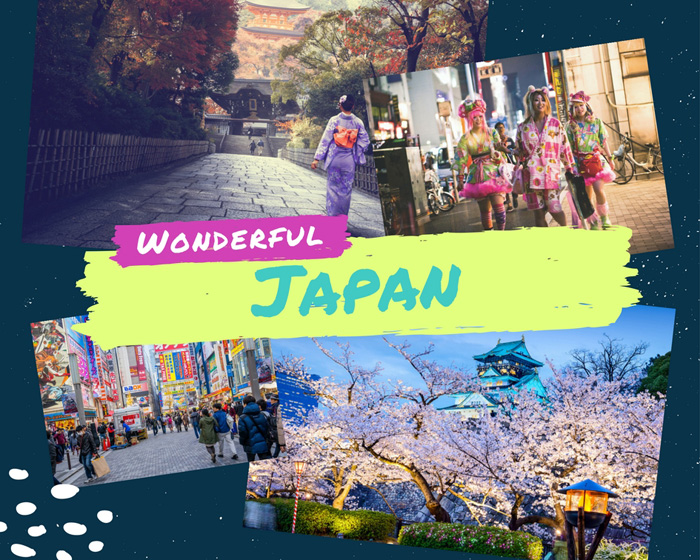 1. Have a bath in a drink of your choice – Ashigarashimo
Dive into a pool of wine or soak up a sea of green tea at The Hakone Kowakian Yunessun Spa and Resort. Located just two hours outside of Tokyo, this rejuvenation retreat has a pool of liquids at the ready, all in the name of health. The top choice is Sake, which is said to help fight against aging and remove freckles.
2. Visit a Cat Café – Tokyo
Calling all feline lovers, dreams really do come true with cat cafés located all throughout Japan. Enjoy some kitty time as you sip on a frothy green match tea latte and play with some furry friends. It truly is a purr-fect way to spend your day.
3. Take a stroll down Takeshita Street, home of the Harajuku girl.
If the name doesn't make you giggle, then the insane style of the Harajuku girls will surely provide you with some entertainment. These girls, made famous by singer Gwen Stefani, have turned this insanely busy street into their local hang out. Make sure you have your phone at the ready for a selfie with one of them.
4. Dine in at the Robot Restaurant – Tokyo
Round up the group and get ready to see Japan in all its shiny, flashing-light-glory. Located in the "neon district" of Shinjuku it's just like Vegas, with a Japanese twist – look out for the giant dinosaur at the entrance. Wine and dine as you watch dancers, "robots" and singers put on the ultimate techno Japanese show.
5. Arashiyama Monkey Mountain – Kyoto
Explore this mountain top oasis, where Japanese Macaques or "snow monkeys" live. Relax in the sun and try your hand at feeding them yourself. Of course there are park rules like "don't look the monkeys in the eye" and "don't touch them" but these playful creatures spend most of their time frolicking about. Don't forget to whip out your phone for an Instagram worthy panoramic view of Kyoto.
6. Hot Tub Karaoke – Tokyo
Calling all committed shower singers! Get ready to belt out some serious tunes, with a twist. Visit the Lovenet Hotel in Tokyo where you and five friends can soak in the hot tub at the "Aqua Suite" while busting out some of your all-time favourite renditions.
7. Spot a Geisha – Gion
Gion is Kyoto's most famous geisha district, filled with shops, restaurants and ochaya or teahouses, where you will be entertained by traditional Geishas and Maiko. From serving drinks to leading drinking games and performing traditional music, these expert hostesses know how to show you a good time.
8. Visit Nijo-jo Castle – Kyoto
Get your samurai fix at the Nijo-jo castle. This impressive structure was built in 1603, with surrounded moat walls and the most elaborate entrance you will ever see. Go beyond the wall and visit inside the impressive gardens with groves and cherry trees. If you've ever wanted to be a ninja for a day, add this onto your bucket list.
9. Get your geek on in Akihabara – Tokyo
Tokyo's framed electronics sector is fast becoming a haven for lovers of manga, anime and retro gaming. There are giant walls of televisions, back alley delights and robotic stores for everyone's delight; but don't worry – if you're gaming knowledge doesn't span past Mario Bro's, the food in this area is also world famous. Watch the sushi masters at work crafting your favourite dish with food fresh from the Tsukiji fish market.
10. Watch wrestling practice at a sumo stable – Tokyo
You've seen it in movies but nothing quite prepares you for the panting, grunting and gallons of sweat that is sumo wrestling. Get up close and personal with some of these amazing athletes but be warned, these training sessions aren't for the faint-hearted.
Be sure to jump online and check out Topdeck's unmatchable deals for Japan holiday packages.