Every good restaurant – particularly those with an AGFG Chef Hat – has a dedicated Sommelier taking care of a carefully curated wine list to accompany the menu.
Who better to ask what's trending in the vino world right now than these knowledgeable wine buffs? Welcome to our 'Wine of the Week' series, where we highlight particular wines on the radar of restaurants around the country.
For a culinary journey with a distinctly French theme in Canberra, treat yourself and loved ones to a dining experience at
Les Bistronomes
located on Blamey Place in Campbell. Inside, this warm and upmarket venue is classically furnished in timeless style, with dark wood, an image of Mona Lisa on the wall along with the Eiffel Tower, as overhead chandeliers cast a soft glow to set a romantic mood for leisurely dining.
Restaurant Manager and Sommelier of this 13-hatted dining destination, Christopher Margherita recommends trying the
2019 Maison Advinam 'Bouffonne'
Merlot, Cabernet Sauvignon, Syrah to celebrate Bastille Day.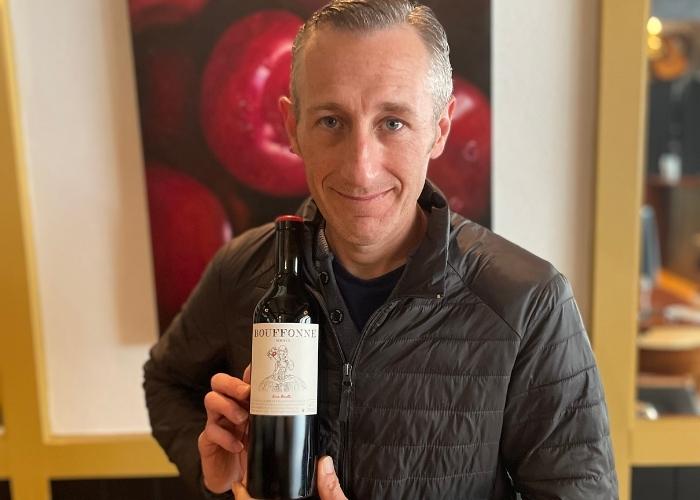 Located in Saint-Morillon in the Graves region of Bordeaux, these wines are produced in Gironde and Roussillon by Anne Buiatti in the philosophy of natural wines; the Maison is fully certified biodynamic and organically farmed.
With a name meaning 'funny lady', Christopher says this vintage is a juicy and velvety hermitage cuv
é
e, with rambling scents of dark, brambly berries, aniseed, garrigue and bouquet garni.
"Expect lovely warm, kitchen compote cooking scents, along with dark berry flavours, sinewy, fresh tannins and a succulent, long and fine finish," he explains. "It feels fancy, but unadorned where the fruit does the work over the winemaking – drink now after decanting for 25 minutes."
Overall there are zero additives and no sulphur, but what really sets Advinam apart is that there is no electricity used in the winery; while wax from the farm's bees is also used to seal each bottle before sale.