Perhaps watching Neymar net one brought it on, or maybe it was just the aroma of really good barbeque that started the thought. Whatever the reason, it's time to get our Brazilian on. Below are our suggestions of some of Australia's most loved Brazilian restaurants to help those with churrasco related cravings. Happy eating!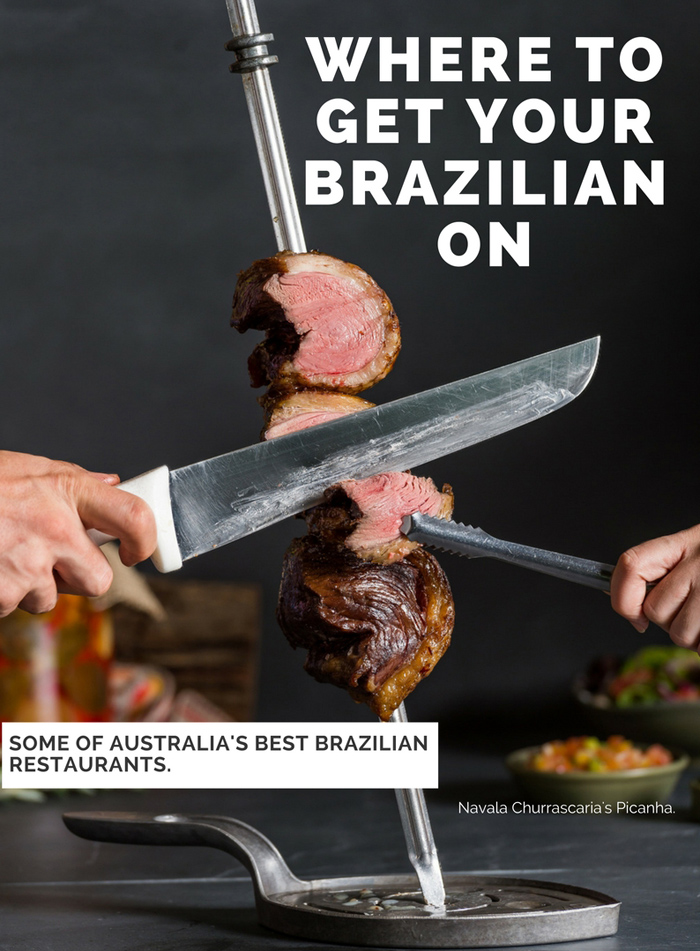 Braza Churrascaria | NSW – Leichhardt, Darling Harbour, Manly and Miranda
Braza is Australia's home of traditional churrasco, the authentic style Brazilian barbeque. Here, Aussie meats are prepared then served in the 'Rodizio' style by Passadores who move around carving meat for waiting patrons, from table to table. Braza can be found in Darling Harbour, Leichhardt, Manly and Miranda.
Navala Churrascaria | QLD
An ideal location for more Rodizio style goodness, though this time with the added benefit of live tunes to go along with the juicy meats. Think traditional Feijoada plates, hot prawn pots and lengthy barbeque degustations.
Skewered Brazilian BBQ | VIC
For mouth-watering Brazilian cuisine on the run, Skewered has us covered. This food tent destination is likely to be found happily buzzing in the background of Melbourne's many markets, festivals, concerts and other cultural events. Aside from the grilled temptations, look forward to a number of tasty accompaniments like the tangy Brazilian salsa and barbequed garlic bread.
The Jungle | SA
Of course the opening line here is 'welcome to the jungle.' Indeed, inside could pass as a jungle theme park, with vines, life sized gorilla statues, tall pines and hanging plant life. The Jungle team employ the familiar Brazilian barbeque concept, which originates from South American cowboys who cooked large cuts of meat on skewers over hot coals.
Mika Airlie Beach | QLD
Featuring a massive, two-meter-tall live barbeque rotisserie, Mika has all the Brazilian fare you will ever need, while also offering some of the best restaurant views in the country. Take a look at the majestic Airlie Bay, through the swaying palms, while munching on tantalising barbeque and sipping a colourful, bespoke cocktail.
Fusion Brazilian Restaurant & Bar | QLD
For a little taste of Brazil's carnival flavour, head to Discovery Drive in North Lakes to find hidden gem, Fusion Brazilian Restaurant & Bar. A spacious alfresco dining area is fitted out to resemble a rainforest, with thatched roofing, lush gardens and ambient candle lighting, making for a tranquil, natural oasis to enjoy authentic Brazilian culture and cuisine.
Coco Banana | NSW
For exciting flavours and exotic cuisine, join in the fun at Coco Banana Brazilian Restaurant found halfway between Sydney and Newcastle at The Entrance. Guests are invited to samba past coastal murals to a candle lit table, laden with white linen napery for ambient dining to be immersed in a world of rich and vibrant culture.
For more Brazilian restaurant suggestions new you, search via your location here.