By Leigh O'Connor.
Offering choices from ice cream to bratwurst and everything in between, food trucks have grown in popularity and are now as much of a dining concept as family-style restaurants and fast-food joints.
Selling food street-side is not a new idea…it dates back to the late 17th Century when living conditions were cramped and people didn't have the resources to cook their own meals. Vendors would sell food from small carts, or street kitchens – starting the craze that has taken the world by storm.
Roy Choi became one of the leaders in the food truck industry when he opened Kogi in Los Angeles in 2008. Serving Korean barbeque, it is considered to be one of the first gourmet food trucks in the United States.
Back Down Under, we are also spoilt for choice when it comes to grabbing a tasty meal from your favourite food truck – here are some of the best we think you should try:
If you love potatoes and good food, you'll love big gnockers! Ladles of homemade gnocchi await eager diners at Italian food truck
Gnokout
, cruising around Brisbane CBD and surrounds. The truck's bright orange exterior and stand-out logo makes it hard to miss along with tantalising aromas wafting from bowls of pillow-soft gnocchi like basil pesto with sun-dried tomatoes, toasted pine nuts and Parmesan.
Watch the planes fly overhead while enjoying the tastiest ice cream and gelati at Greenvale food truck
Airport Ice Cream
on Sunbury Road. This long-established mobile eatery is easily recognisable with its bright red truck covered with delicious images of sweet temptations, as it parks up in the Melbourne aircraft viewing point for all to enjoy the rush of landing planes.
If you are looking for a mobile bar with vintage flair, or Melbourne's coolest café on wheels head to
Big Shot's
classic food truck and find your needs fulfilled. Housed in a beautifully restored 1969 Citroen HY van named 'Bernie', this bar and catering service offers unique experiences from weddings to corporate events. Big Shot operates as a BYO bar - you provide the alcohol and they take care of the mixing and serving of drinks. Expect good coffee, cocktails and times wherever 'Bernie' turns up.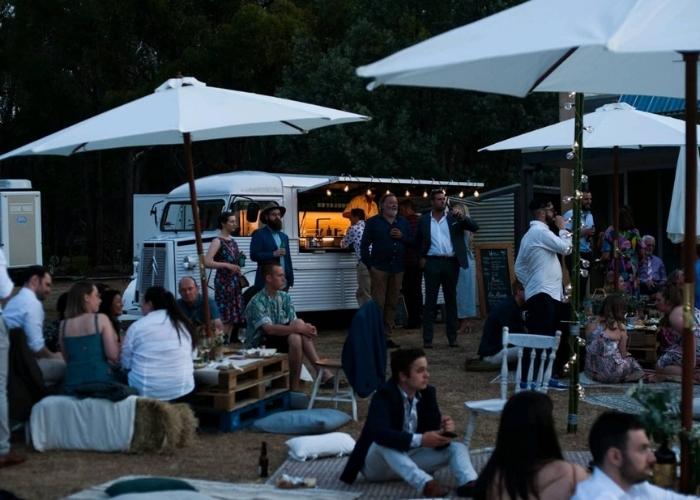 Mobile bar with vintage flair…let Big Shot cater your next event.
Enjoy a day at the park in Wodonga without forgoing your caffeine and food fix from
Bites N Beverage Mobile Café
. This bright yellow food truck can be found at various locations around the city including Sumsion Gardens' Huon Street carpark; dishing up coffee, tea, hot chocolate and chai choices, alongside milkshakes, smoothies and slushies. There's also a light seasonal menu from pies and pasties to rice paper rolls, wraps and quesadillas.
Blend the best things in life – beer and burgers - at
Boozy Burgers
on Cavendish Street in Mittagong. This food truck lives at Eden Brewery and delivers beer burger fusion to foodies stopping in for a cold one; at every step in the burger-making process, the infusion of your favourite frothy beverage has been considered. Think outside the glass as you peruse a menu full of classic burgers, along with speakeasy specials – the kind of burger you only hear rumours of, spoken about in hushed tones in the corner of dimly-lit bars.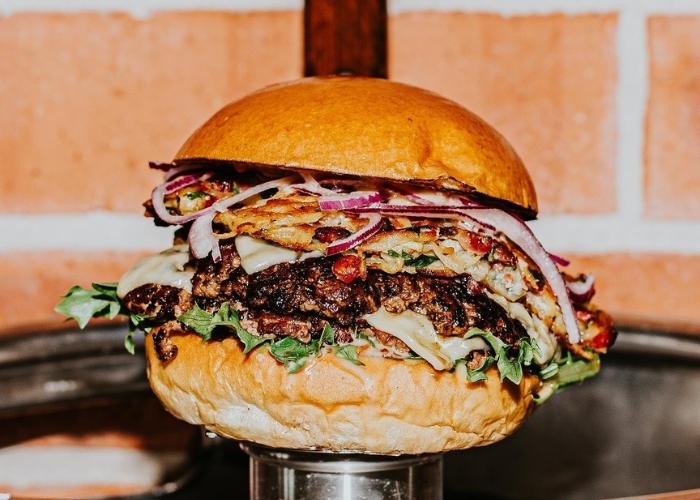 Beer and burger creations you've only dreamed about at Boozy Burgers.
Let every day be Friday with loaded goodness from Gold Coast food truck
Fry Yay
. Your one-stop-shop for all things fries, follow tantalising aromas to find this mobile eatery at various locations around the city, serving up a range of gourmet options from tater tots to sweet potato, shoestring, straight cut, curly and waffle. There are also epic cheat meals and a street eats catering menu from cheeseburger sliders to tacos, pizza, chicken wings and more.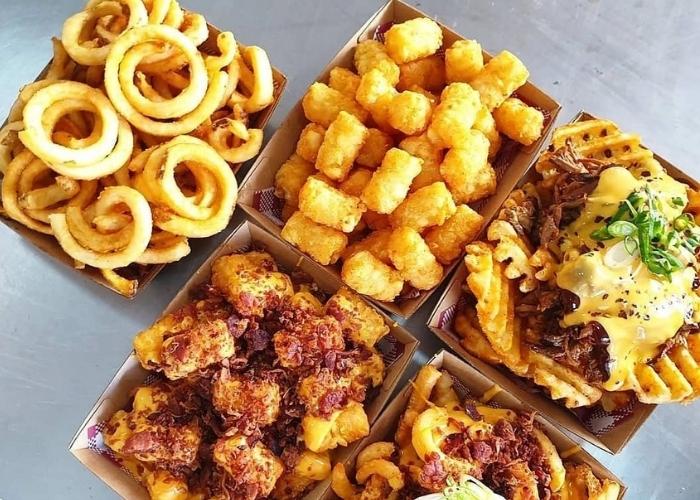 Every day is Friday at Gold Coast food truck Fry Yay.
Follow the aroma of Texas-style barbequed meat to find Smokin Hot 'n Saucy Barbecue in
Broke
,
Islington
and
Penrith
. Big Tex loves loading up the smoker to cook meat for up to 12 hours with exactly the right temperature and spices to create a mouth-watering dining experience; think platters overloaded with beef, brisket, pork and chicken, alongside sides of corn casserole, apple slaw and hot fries.
Brisbane foodies get their souvlaki fix from
That Greek Truck
, as it trundles around the city serving authentic fare like Yia-Yia makes. Setting up at various venues, markets and festivals, this food truck has diners salivating over mouth-watering meat marinated in olive oil, salt, pepper and oregano before being barbequed on board. Kick start a flavour explosion with Cypriot hand-rolled pork, chicken or halloumi sausages and dipping sauce; or warm pita bread triangles served with garlic yoghurt.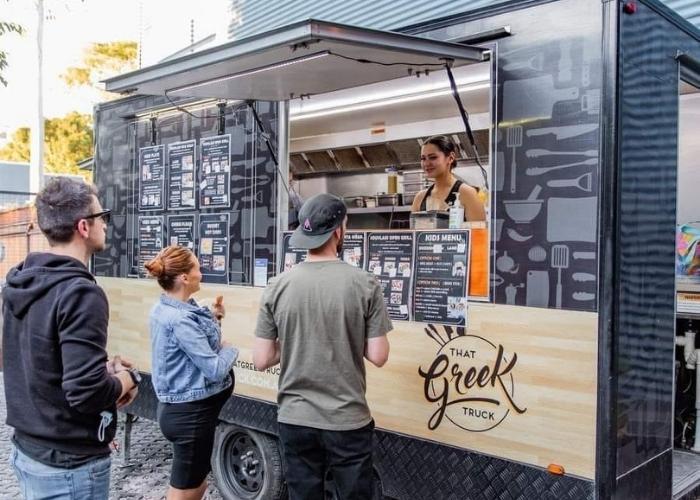 That Greek Truck serves authentic fare just like Yia-Yia makes.
Perth foodies say 'Jamaican me hungry' to authentic Caribbean fare from the comfort of their home or at venues around the city, thanks to
Kazz's Jamaican Kitchen
. This mobile food vendor, caterer and market stallholder, dishes up authentic flavours from a smoking charcoal trailer barbeque and marquee – all the brainchild of British-Jamaican cook Errol 'Kazz' Dunkley. Think temptations like charcoal jerk BBQ chicken, burgers, cassava chips, veggie delights, roast corn, rice and peas to name a few.
Sydneysiders find
Senor Taco
at various markets and events around the city serving authentic birria tacos, quesadillas and freshly made guacamole. Say arriba to mouth-watering Mexican street food at this eatery, where vegan/vegetarian, halal and gluten-free options are all on the menu. A birria taco consists of a slow-cooked stew, where the meat is so tender it falls apart and is topped with gooey cheese before being grilled; wrap your hands around a smoky beef version, or perhaps paprika chicken hits the Mexican mark.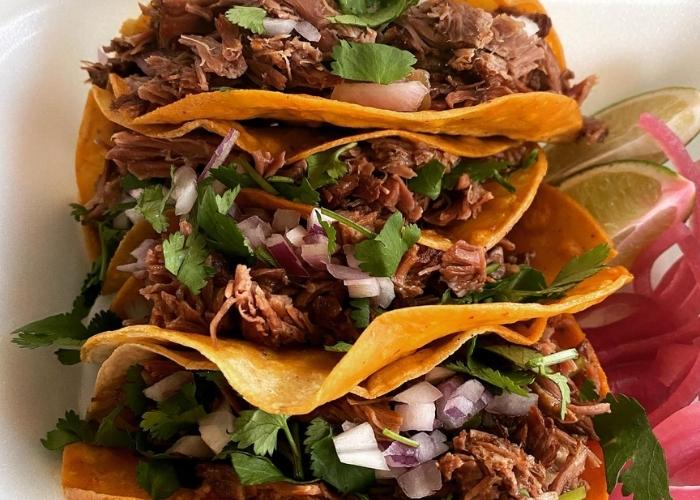 Mexican goodness from Senor Taco in Sydney.
Bringing authentic American fast food to the streets of Perth, step back in time to experience all that
Macs American Diner
has to offer. This food truck is easily spotted around the city with its colourful façade and tantalising aromas of fried chicken, chilli cheese dogs, smoky ribs and burgers. Grab a serve of succulent chicken tenders and dunk them in honey mustard sauce; or chow down on the ever-changing blue plate special, with chicken three ways, alongside fries, carrot sticks and dipping sauce.