By Leigh O'Connor.
Did you know that street food is eaten by almost 2.5 billion people every day?
We've all stopped by a hawker stall while holidaying in Indonesia or Asia and delved into local delicacies on the side of the road. Most cultures have their own form of street food – think falafels, pizza, hot dogs, rice paper rolls, satay skewers and much more.
Here are five of our favourite street food recipes to wow family and friends at home:
Coming to Australia from Vietnam as a refugee in the early 1980s,
Hello Auntie
Chef Cuong Nguyen likes to make old dishes new without compromising too much on integrity. His signature dish has always been pork, as it is very versatile and lends itself to many flavour profiles.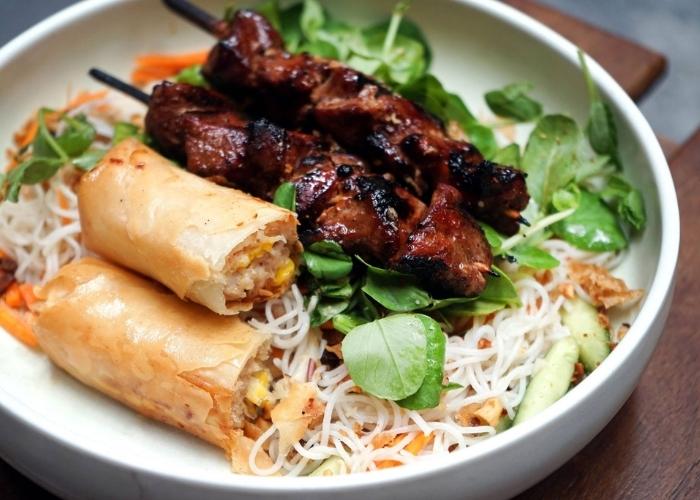 At his Marrickville restaurant one of the favourite dishes on the menu is
bun thit nuong
– char siu pork skewers with vermicelli noodles – an ideal street food recipe with a Chinese-Malay style marinade. Make these at home and watch the happy faces around the dinner table – kids love to eat with their fingers and these skewers are the perfect family temptation.
TV presenter, writer and pioneer of live video streaming, Malaysian-born, Sydney-based livewire
Jackie M
is known for her platinum pixie-cut and no holds barred approach to Asian cooking.
Her recipe for
Otak-Otak
(grilled spicy fish cakes) is a very popular street-side snack especially in Penang, where it is wrapped in banana leaves and steamed – or in Melaka where it is grilled in coconut leaves.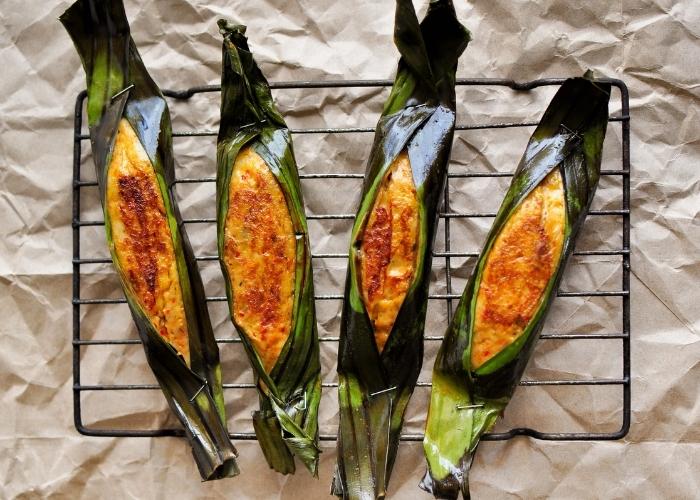 "My version splits the difference – it's wrapped in banana leaves, but follows the recipe and cooking style of the southern version. In the absence of banana leaves, you can also drop spoonfuls of the filling into a pan and fry them as fishcakes."
Highlighting a passion for Asian cuisine and culture,
Sum Yung Guys
on Weyba Road in Noosaville is an ideal spot to share plates and cocktails with friends. Styled to capture the personalities of the four partners, the dining room presents a fun and funky vibe with neon signs, Japanese-style wall murals and wooden furniture, creating warmth and energy, just like the fare on the menu.
Whenever SYG's
prawn toast and gochu mayo
hits the table, it disappears before your eyes; serve this as a snack or starter to a memorable meal.
Tucked away in Parkridge Resort on Alba Close in Noosa Heads with calm grassy surrounds, is a new hub of food and beverage offerings –
ALBA by Kuruvita
. The beautifully designed space combines a cafe, providore, pizzeria and a relaxed all-day bar offering, which evolves into a stylish restaurant and cocktail bar as the day progresses.
Featuring Peter's global and Sri Lankan influences, you'll find
egg and string hoppers
on the menu. Although this dish is eaten throughout Sri Lanka and available at the most basic boutiques, it is one recipe that nobody can agree on. Peter says the sought-after result is one where the sides are crisp and the centre is aerated and soft.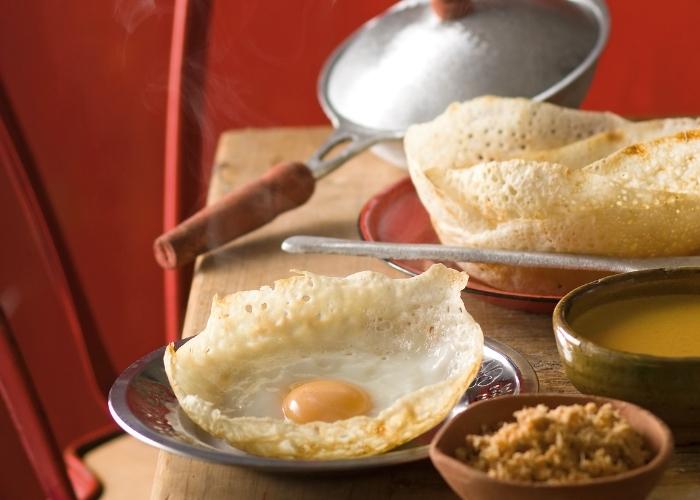 Asif Mamum not only looked after the culinary desires of event-goers at the Australian Tennis Open in 2018, but also catered to some of the top players' requests. He was a little coy about giving too much away, but says they do enjoy their carbs, especially when they are winning.
His
chilli pork belly
recipe was a favourite among many players – with Korean kimchi, yum yum sauce (made with Coca-Cola) and tomato ketchup.
For more street food recipes, click
here
.