By Leigh O'Connor.
Mmmm…brownies - that rich, decadent, purely hedonistic blend of cake and cookie that always has you craving more!
There are a multitude of different versions of how to make these sinfully delicious treats, but one thing they all have in common is so much chocolate they should be illegal.
Come Wednesday, December 8 we can all feel guilt-less as we tuck into our favourite to celebrate National Brownie Day.
Here are five fun facts to turn your frowny, upside-downy:
•Traditional brownies only have five ingredients: butter, sugar, chocolate, eggs and flour.
•There is a mythical creature called a 'brownie' – they are small, good-natured elves who secretly help out and do good deeds at night.
•The first brownie ever made, like other culinary mishaps, was actually a mistake; the baker didn't have any baking powder and ended up with an unleavened fudgy treat.
•The most expensive chocolate brownie will set you back $US15,000 and can be found on the Crystal Menu of Brulée in Atlantic City.
•The most popular brownie recipe has walnuts.
The best way to celebrate National Brownie Day is to hunker down over a slice and a cup of coffee at your favourite café – here are six of our picks on where to go:
Brazen Brownies & Dessert Bar
on Station Street in Fairfield serves brownies so addictive you won't be able to stop at one. Offering a cosy escape from city hustle and bustle, take a bear hug pic with Brazen's friendly Grizzly mascot on the way indoors; where a delectable range of handmade dark and white chocolate brownies await, alongside artisan gelato, fruit sorbet, sundaes, smoothies, shakes and coffee.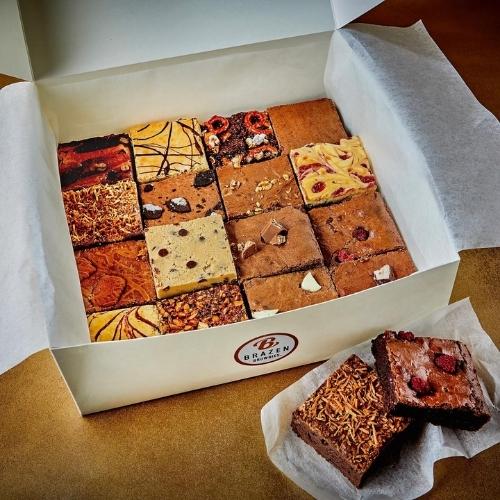 You won't stop at one at Brazen Brownies & Dessert Bar in Fairfield.
When in Bacchus Marsh, a visit to quaint and quirky café
Baby Black Espresso Bar
on Church Street is a must. A treasure trove of little rooms filled with an eclectic array of furniture and decorations awaits inside this converted cottage; while outdoors a lovely courtyard beckons for balmy sunny days as you enjoy a latte and a white chocolate Nutella blondie brownie.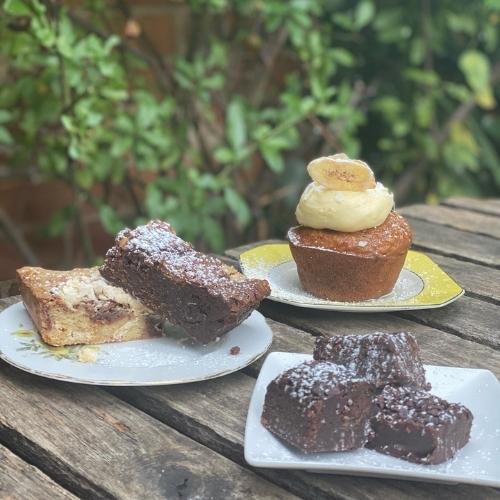 Baby Black Espresso Bar has brownies to die for.
Find all things pastry along with celebration cakes at
Banksia Bakehouse
on George Street in the heart of Sydney's CBD. Named after and inspired by native Australian fauna, this trendy bakehouse rocks a vibe of brown leather banquettes, hanging foliage, white curved counters and an open kitchen, so diners can watch the Chefs in action. Make sure to order a slice of flourless chocolate brownie, with coffee caramel and salted chocolate crumb.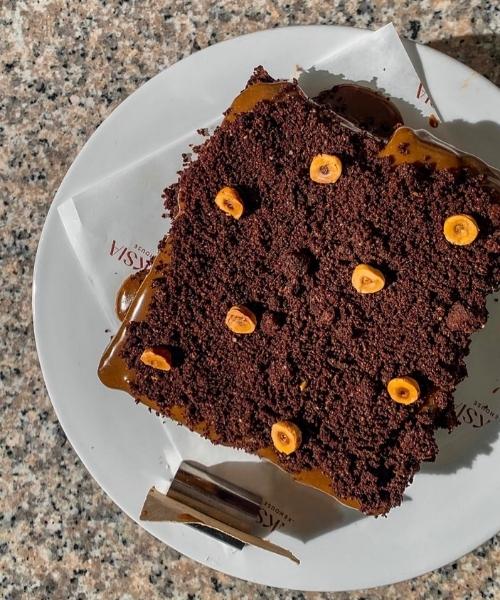 Banksia Bakehouse's flourless chocolate brownie with coffee caramel and salted caramel crumb.
Hip and happening foodies head to
Blue Café Inc
on Invermay Road in Launceston. Located in the middle of Inveresk Railyards and housed in a former power station, this café attracts not only local Mums, prams and pensioners, but also students and sports-minded diners, ready for a coffee and gluten-free vegan brownie, after hitting the nearby running track.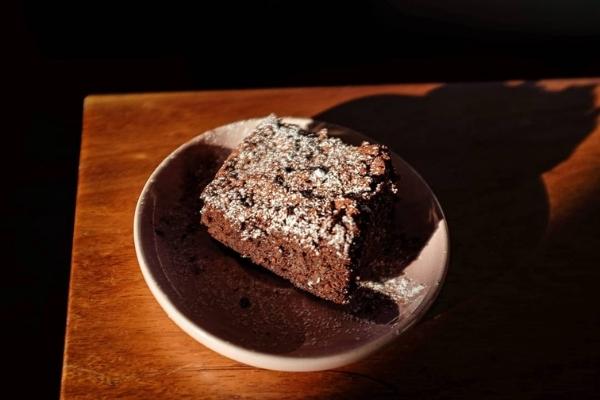 Enjoy a coffee and slice of gluten-free vegan brownie at Blue Café Inc in Launceston.
Situated in a beautiful, early twentieth century Queenslander at the entrance to town,
Maple 3 Café
offers a quaint escape for casual dining in Maleny. Take in views of the passing foot traffic from the covered decking, enjoy an alfresco ambience in a side courtyard, or opt to dine inside a spacious room, fitted out with warm timber floors, as you sip a cappuccino and devour a raspberry white chocolate brownie.
Celebrating all things egg for daytime dining,
The Naked Egg
café has fast gained a loyal following of Yarraville locals, located on Ballarat Street just a short stroll from the Sun Theatre. Diners find a place to relax among a cheerful interior decked in a mix of crisp white and bold burnt orange decor, ideal for a catchup with friends over a brew and chocolate gluten-free brownie.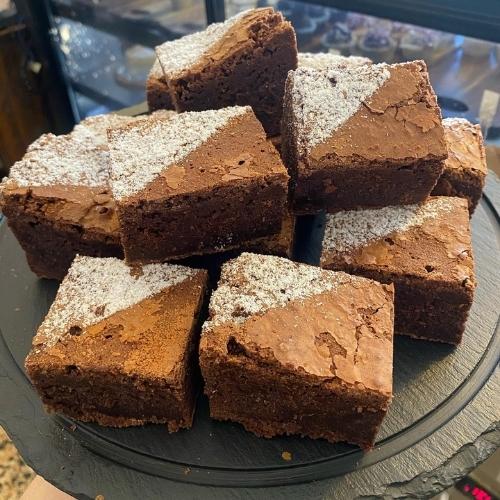 Stop by The Naked Egg for a chocolate gluten-free brownie.
For more cafes to appease your brownie addiction, click
here
.